One of the best 'out of the box' crab appetizers, this Instant Pot Crab Cheesecake is sumptuous. Made with canned crab meat and cream cheese, it's the perfect recipe for when you want to make something savory!
---
Cheesecake has always been a delight to serve at the end of meals. But cheesecake at the beginning of a meal, that's a whole other ballgame! Creamy, soft, and savory all in one, crab cheesecakes are heaven here on earth!
Who invented this canned crab recipe? No one knows. But thank heavens they did.
Maybe the crab cheesecake is an innovative version of the Maryland crab cakes. Or maybe someone ran out of ingredients for their cajun crab dish and decided to throw together a cheesecake at the last minute.
It probably went viral like the Tiktok hot chocolate bombs, but in a time before social media. That's why we don't know who to credit for this amazing dish.
But the idea of tender crab meat in a savory cheesecake on a saltine cracker bed is just sublime! Now we can indulge in cheesecake made without sugar and not feel too guilty about it. It's savory, you know!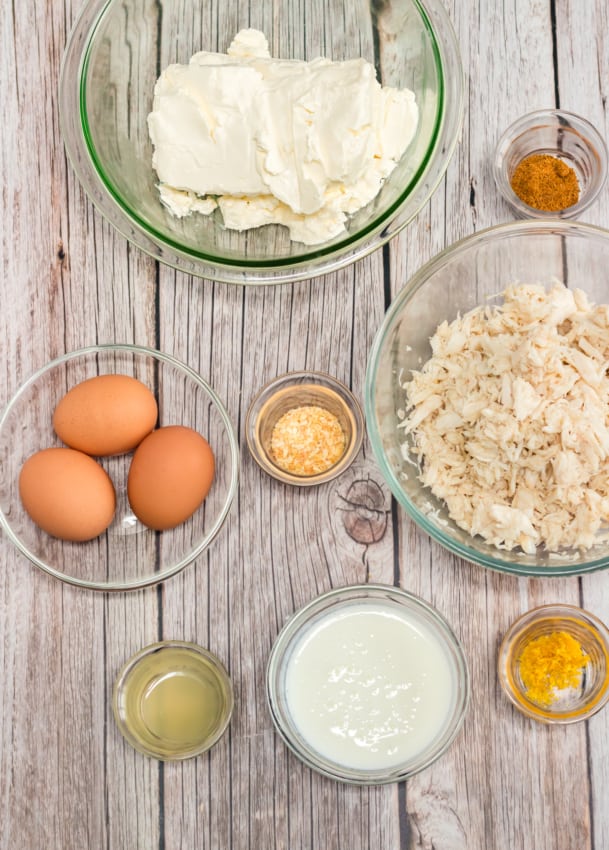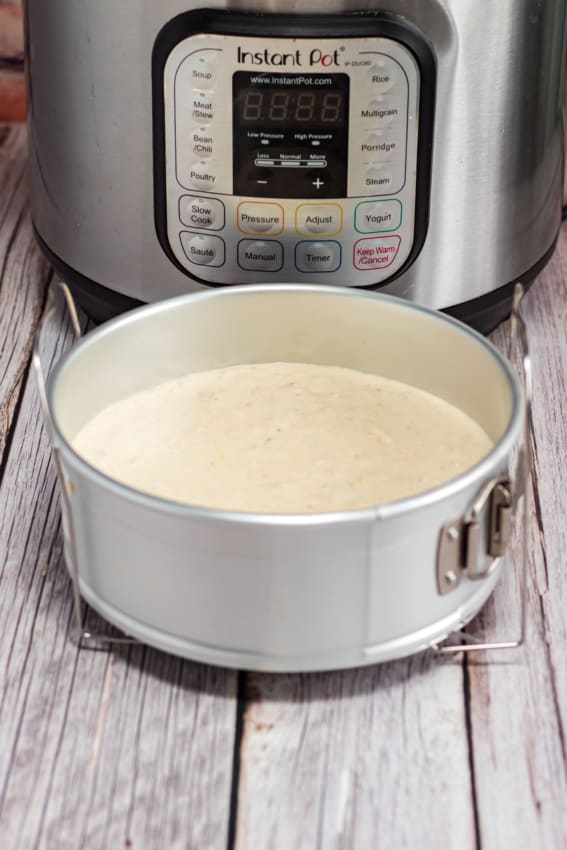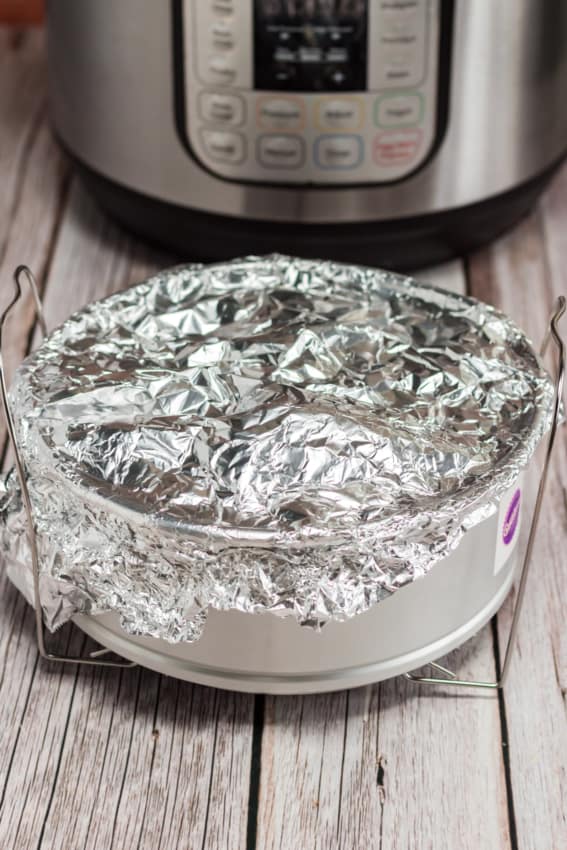 ---
Recipe Pointers For Crab Cheesecake Recipe
Let the cream cheese reach room temperature before using.
If you like shrimp, you can add some finely chopped or ground shrimp to the recipe.
Or if you love corn, add some parboiled sweetcorn to the cheesecake for extra sweetness.
Make the crab cheesecake at least a few hours before serving! (This will give it time to set.)
Goes perfect with warm crusty bread or crackers!
You can also serve this with salad or with cut veggies like carrots, cucumber, asparagus, or bell pepper sticks!
Serve warm or cold!
FAQs about Crab Cheesecake Appetizer
What can I use instead of saltine crackers?
You can use Ritz crackers or any other sodium rich cream crackers.
Can this crab cheesecake be made spicy?
Yes, you can make this crab cheesecake spicy by adding a teaspoon of chili powder, paprika, Cajun seasoning, Creole seasoning, or your favorite hot sauce to the cheesecake filling before baking. Add two teaspoons to make it really hot!
Why do you use canned crab meat?
Canned crab meat is the easiest to use. It has been cooked and cleaned before being canned. If you choose to use fresh crab meat instead, you will need to cook a lot of crabs first and then remove the meat from them. It can take hours. So it saves time and effort to use canned crab meat, which is quite often lumped crab meat.
Is lump crab meat a real meat?
Lump crab meat is real crab meat. It's the delicate white meat from the smaller pieces of the crab's body and is often used in crab cakes or seafood salads. This is also why it's perfect in a cheesecake lump crab recipe.
How do I store the crab cheesecake?
Cover the creamy crab cheesecake with aluminium foil and store in the refrigerator for up to 3 days. Reheat before serving.
Can leftover crab cheesecake be stored in the freezer?
No, we don't recommend storing leftover crab cheesecake in the freezer. It will change its texture.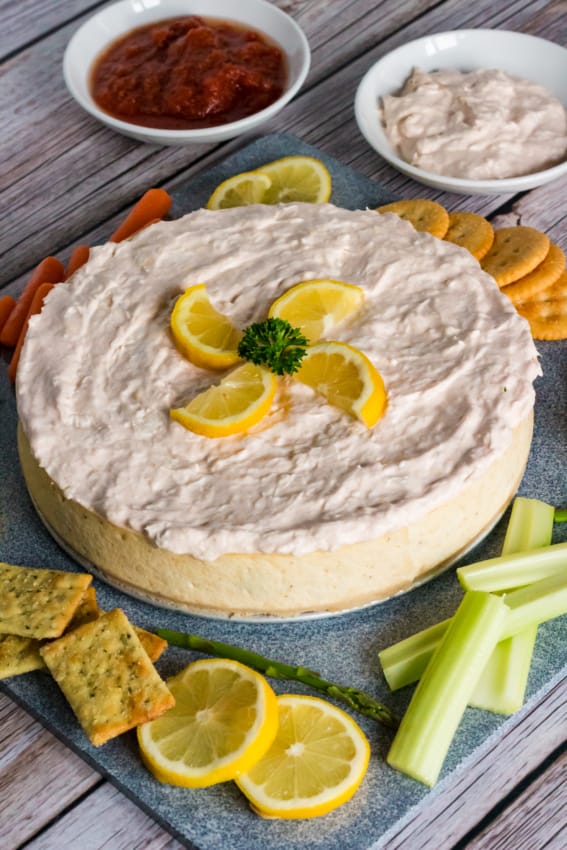 Yield: 10 Portions
Instant Pot Crab Cheesecake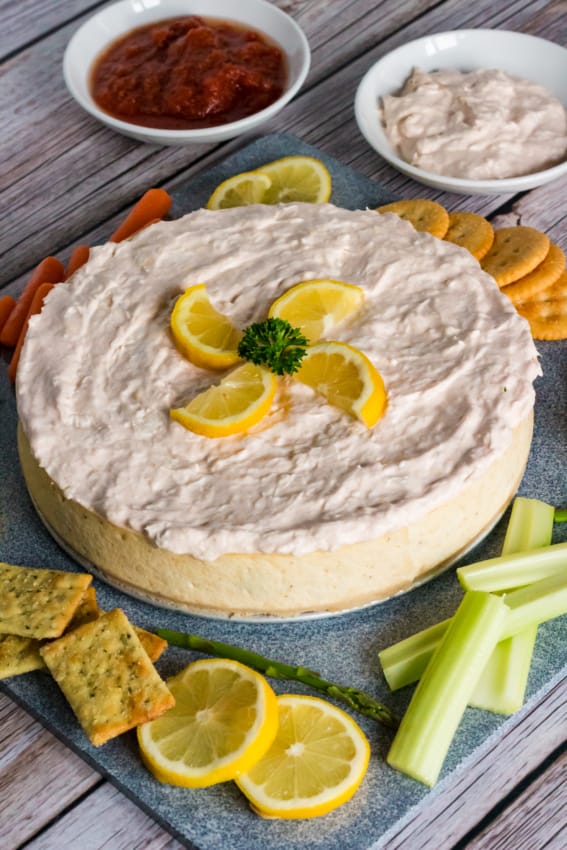 One of the out of the box crab appetizers, this Crab Cheesecake is sumptuous. Made with canned crabmeat and cream cheese, it's the perfect recipe for when you want to make something savory!
Total Time
1 hour
5 minutes
Ingredients
Crust
1½ c saltine cracker crumbs
¼ c butter melted
Crab Cheesecake Filling
16 oz cream cheese softened
¼ c buttermilk
3 lg eggs
½ tbsp minced onion
juice from 1 lemon
zest from 1 lemon
1 tsp seafood seasoning (such as Old Bay)
2 c canned crabmeat
Topping
4 oz cream cheese softened
¼ c sour cream
½ c crabmeat (optional)
2 tbsp seafood sauce
1 tbsp lemon zest
Instructions
Crust
Cut parchment paper to fit the bottom of a 7-inch springform pan. Spray the paper and sides of the pan with a non-stick cooking spray.
Crush saltine crackers in a food processor.
Mix crackers and butter together.
Press the cracker mixture into the bottom and about 1-inch up the sides of the springform pan.
Place the crust in the freezer while making the filling.

Crab Cheesecake Filling
In a large bowl, mix cream cheese and buttermilk until smooth.
Add eggs, one at a time, mixing thoroughly after each one.
Add lemon juice, lemon zest, minced onion, and seafood seasoning and mix until combined.
Fold in crabmeat and pour the mixture into the crust.
Cover pan with foil, sealing the edges.
Add 1½ cup water to the bottom of the Instant Pot.
Set cheesecake on the trivet and lower into the Instant Pot.
Seal the Instant Pot and set to high pressure and time to 40 minutes.
Allow the steam to release normally after time is up.
Remove foil and allow to cool.
Topping
Mix together all ingredients except crab meat.
Fold in crabmeat if desired.
Spread on top of cooled cheesecake.
Chill for several hours before serving.
Serve with crackers and cut vegetables. (Serve with extra seafood sauce if desired.)