A traditional Mexican breakfast dish, Chilaquiles Verdes is ready in a matter of minutes. Day-old tortillas cut into triangles and fried with salsa, chiles and cheese could never taste better!
---
What are Chilaquiles?
Chilaquiles are a very popular Mexican breakfast dish made by frying tortilla chips, cooking them in red sauce (salsa roja) or green sauce (salsa verde) sauce, and topping them with crumbled cheese and onions. Hence the names Chilaquiles Rojos and Chilaquiles Verde.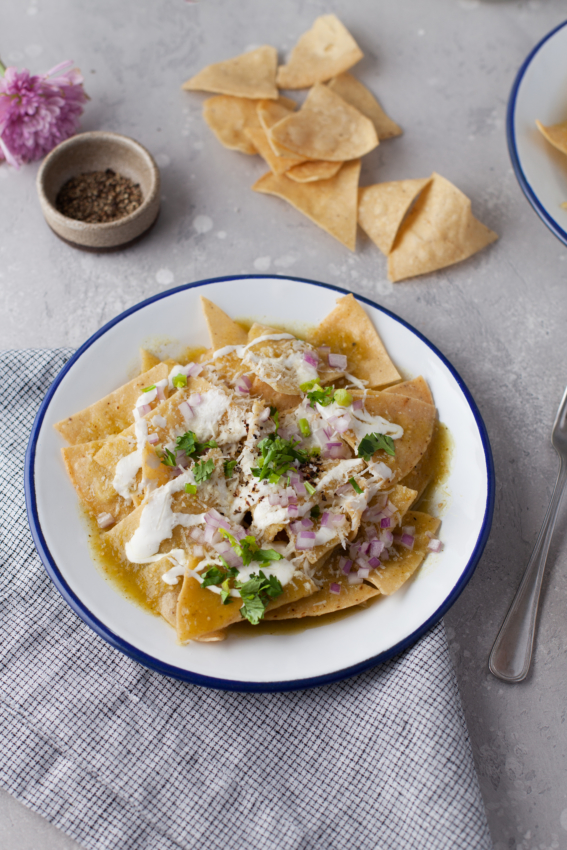 ---
Where Did Chilaquiles Originate?
Chilaquiles comes from the Nahuatl word chīlāquilitl where "chilatl" which means "chile water" and "quilitl" means "edible plant", which when put together means "greens and plants in a chile water".
The Nahuatl language is from Central Mexico and the versatile Aztec method of preparing Chilaquiles has been around for 100s of years.
The main ingredients in the dish are fried tortillas cut in triangles and chile sauce. But every region of Mexico has its own special garnishes that they added to the dish. Some added eggs, some added chicken, some added chicken, most added queso fresco, some add cream, and so on.
The garnishes varied too – onions, salsa verde, salsa roja, radish, etc. As you travel from one region of Mexico to another you'll notice these items change.
The recipe for chilaquiles made it to the US via "El cocinero español" or "The Spanish Cook" book written by Encarnación Pinedo in 1898, and became popular here too!
Since chilaquiles use staple foods from the Latin American region – corn and chiles – they are an important part of Mexican history and culture.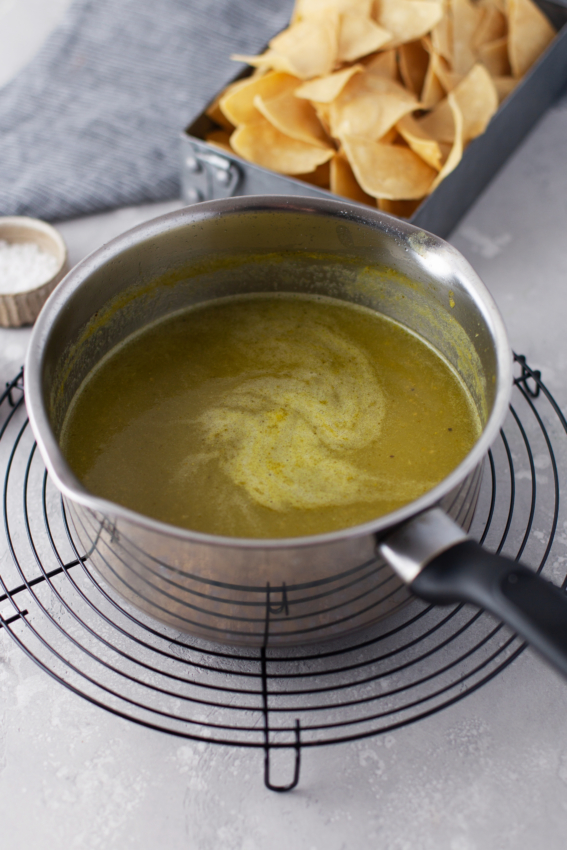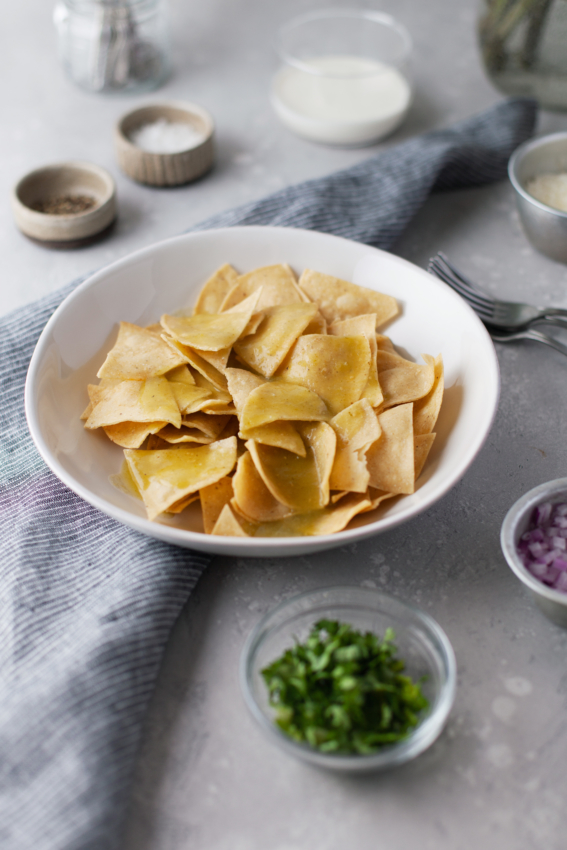 ---
Recipe Pointers For Chilaquiles Verdes Recipe
You can cut the tortilla triangles (10 to 12 wedges) as big (6 to 8 wedges) or as small as you want, but bigger is better.
Top with fried eggs for a fuller breakfast!
You could bake chilaquiles too, but they taste best fried.
If you want it meatier, add boiled and shredded chicken or fried bacon.
Without the fried eggs and shredded chicken, this recipe is vegetarian!
Garnish with cilantro and crumbled panela or cotija before serving!
Serve with a side of sliced tomatoes, radishes, lime wedges, salsa cruda, or refried beans.
To make this recipe vegan, skip the eggs and chicken, and use vegan cheese instead of the panela or cotija, and cashew cream instead of the cream.
If you want it spicier, add one more guajillo chile.
If you want it less spicy, add more cream while cooking.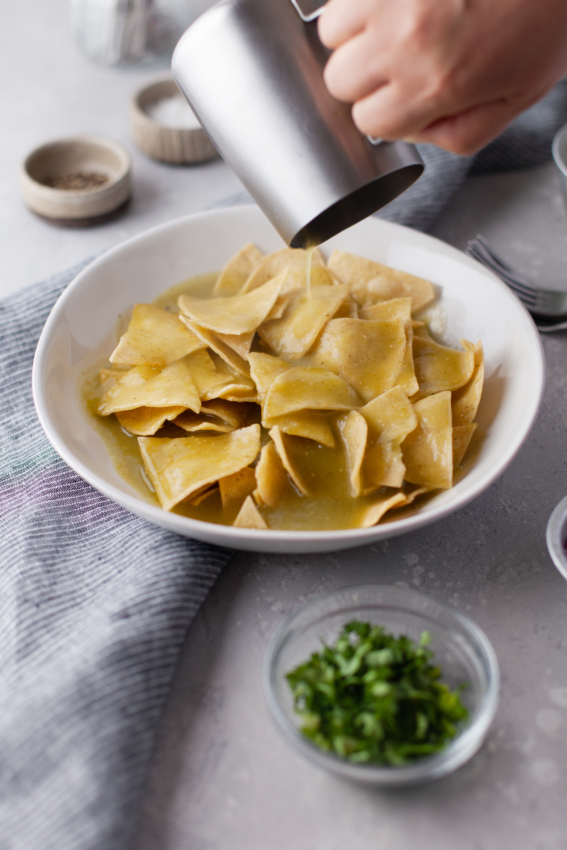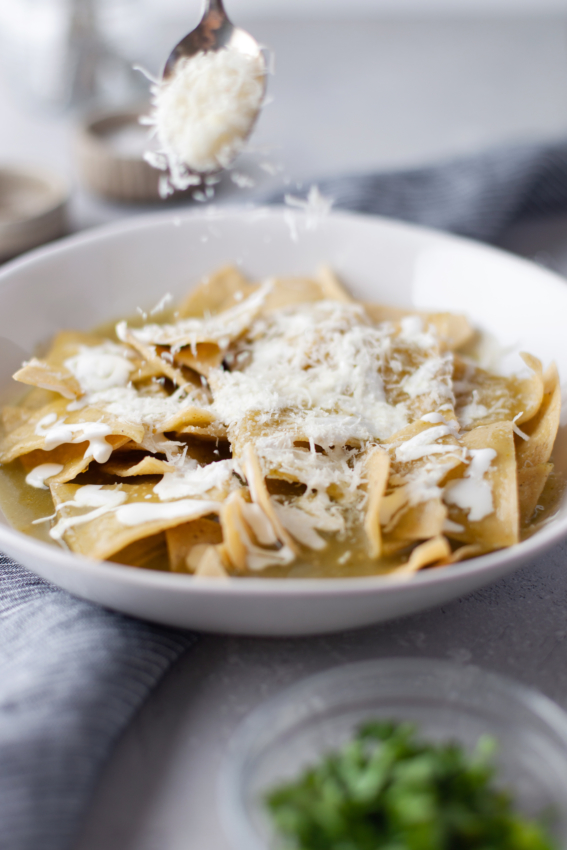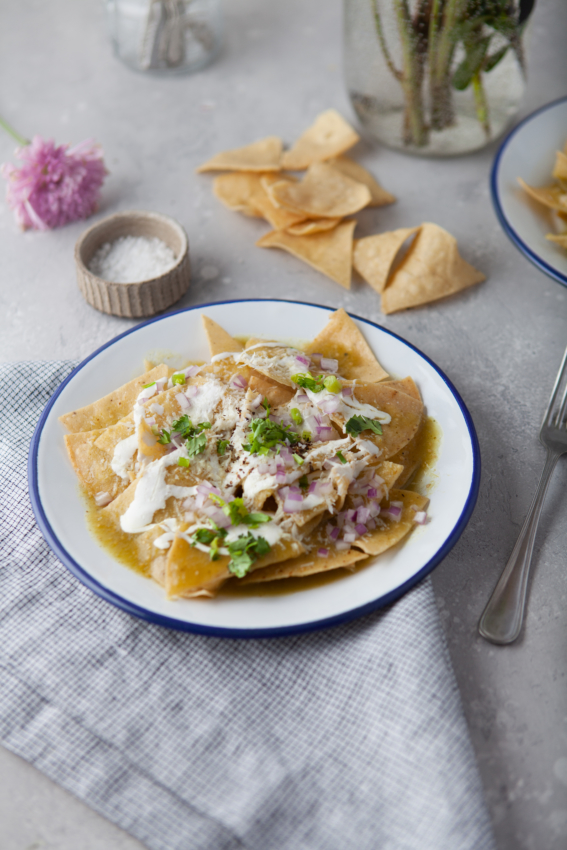 ---
FAQs about Chilaquiles
How to pronounce chilaquiles?
Chilaquiles are pronounced chee-lah-kee-lehs or chee-luh-key-lays.
What is epazote?
Epazote is a perennial herb that's used in Spanish and Latin American cooking. Also referred to as skunkweed or stinkweed because of its smell, epazote has a flavor like cilantro, anise, or licorice.
Is epazote necessary?
Epazote gives the chilaquiles its pungent flavor; but it's used in cooking because it helps to break up and expel intestinal gas, much like ginger does.
You can leave out the epazote if you want to and replace it with cilantro or Mexican oregano that will give you similar flavors. If you want a herb that has the same carminative (gas expulsion effect) as epazote, use fennel instead.
Can you use store-bought tortilla chips?
Yes, you can use store-bought tortilla chips, but you shouldn't. Store-bought chips are denser and harder than fresh homemade chips. So it's better to use homemade if you can.
What's the difference between nachos and chilaquiles?
Nachos are hard tortilla chips that can be eaten with dips or covered with melted cheese. As opposed to this, the tortilla chips used in chilaquiles are called totopos.
These are handmade and homemade fried chips but are softer than nachos, while also being lighter and crisper. They're often eaten with as part of a dish like Chilaquiles.
What's the difference between chilaquiles and migas?
Chilaquiles and migas both use most of the same ingredients. But the difference lies in how the leftover tortillas are used.
In the chilaquiles, the tortillas are fried and then topped with salsa and the other ingredients, and lastly the eggs.
In the migas, the fried chips or unfried chips are first scrambled along with the eggs and then topped with the salsa.
What do you eat with chilaquiles?
Chilaquiles is quite filling on its own, so you don't need to eat anything esle with it. But you could add more toppings such as fried eggs, crumbled cheese, shredded chicken, cilantro leaves, or diced avocado.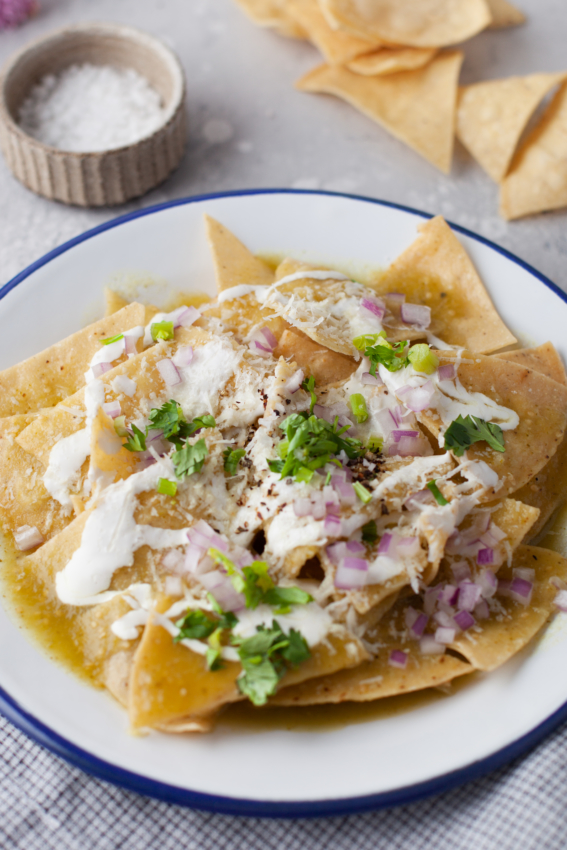 Can you make chilaquiles ahead of time?
No, it's best to make chilaquiles fresh and eat them on the same day. You can however make the sauce ahead of time and store it in the refrigerator for 5 days or in the freezer for 3 months.
Mexican Chilaquiles Verdes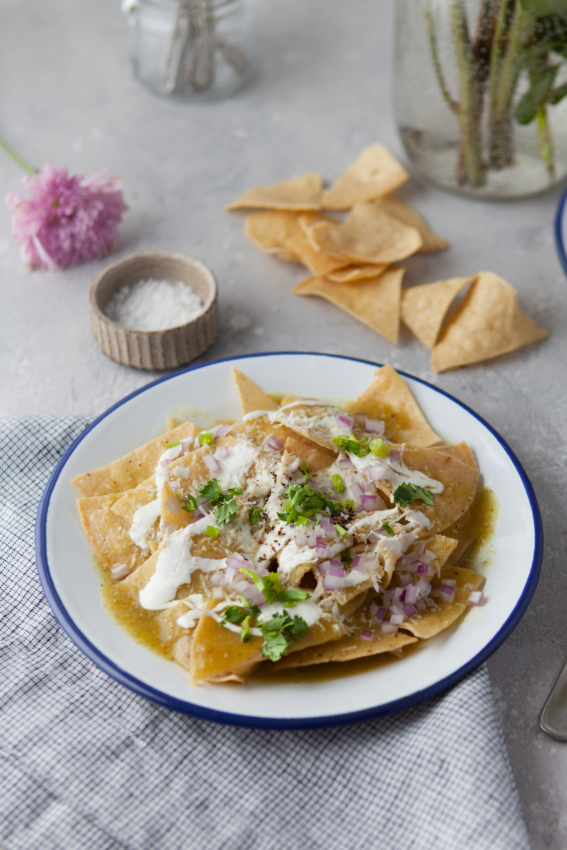 A traditional Mexican breakfast dish, Chilaquiles Verdes are ready in a matter of minutes. Day-old tortillas cut into triangles and fried with salsa, chiles and cheese could never taste better!
Ingredients
10 tortillas cut into triangles
epazote (optional)
1/4 cup of cilantro
2 serrano chile
1/2 red onion, chopped
1/2 cup of cheese - panela or cotija, crumbled
1/2 cup of shredded chicken (optional)
2 eggs (optional)
1/3 cup of cream
lots of oil to fry tortillas
2 cups of salsa - see salsa verde recipe
Instructions
For salsa verde:
Place the tomatillos and serrano peppers in a saucepan, and cover them with water. Bring them to a boil and then simmer for 10 minutes. Remove ingredients with a slotted spoon, and save the water you boiled the tomatillos and peppers in.
Place the cooked tomatillos, serrano peppers, onions, garlic, cilantro, and 2 cups of the water used to boil the tomatillos and peppers with in a blender until they are all finely chopped and mixed.

For chilquiles:
Prepare a frying pan full of oil and start frying the tortillas until golden and crisp; in batches, if needed. Drain on a paper towel.
Clean your skillet from oil. Put the salsa with salt, guajilo, and epazote for a few minutes.
Throw in the tortilla chips. Add in chicken and mix delicately to avoid breaking anything.
Once warm (about 2 minutes), remove from skillet and put on a plate, then top with crumbled cheese, cilantro, onion.
If eating with eggs. Quickly fry your eggs on the same pan and top your chilaquiles with them.
Notes
If you don't like the taste of raw onion, you can cook it together with salsa.