Incredibly easy to make, Mexican coleslaw is fresh and full of flavors. With cabbage as a base, this mayo-less taco slaw made with lime and garlic is zesty and light!
---
Mexican food makes you think of hot chili peppers, spicy pozole, salsa verde, tasty shrimp tacos served with guacamole, and more. But did you know that there's a Mexican slaw that has only a hint of heat?
What is Mexican Coleslaw?
Mexican coleslaw is a delightfully crunchy salad made of cabbage (usually green, sometimes red) with carrots, and cilantro. Chopped fine or grated, these fresh veggies get drizzled with a lush Mexican vinaigrette made of honey, lime juice, minced garlic, olive oil, hot sauce, pepper, and salt.
Made without mayo, it's lighter, fresher, and crunchier than regular coleslaw. Since it's made with fresh on-hand ingredients it's also easy to customize the slaw to your liking. Hence why you'll find so many variations of it across Mexico.
You'll find it served as street food in Mexico, but this 5-minute Mexican slaw really easy to make at home too!
---
How to serve Mexican Cabbage Slaw?
Mexican coleslaw can be eaten on its own, or in any of the following ways:
It's perfect for taco nights, picnics, barbecues, or grab-and-go lunches!
---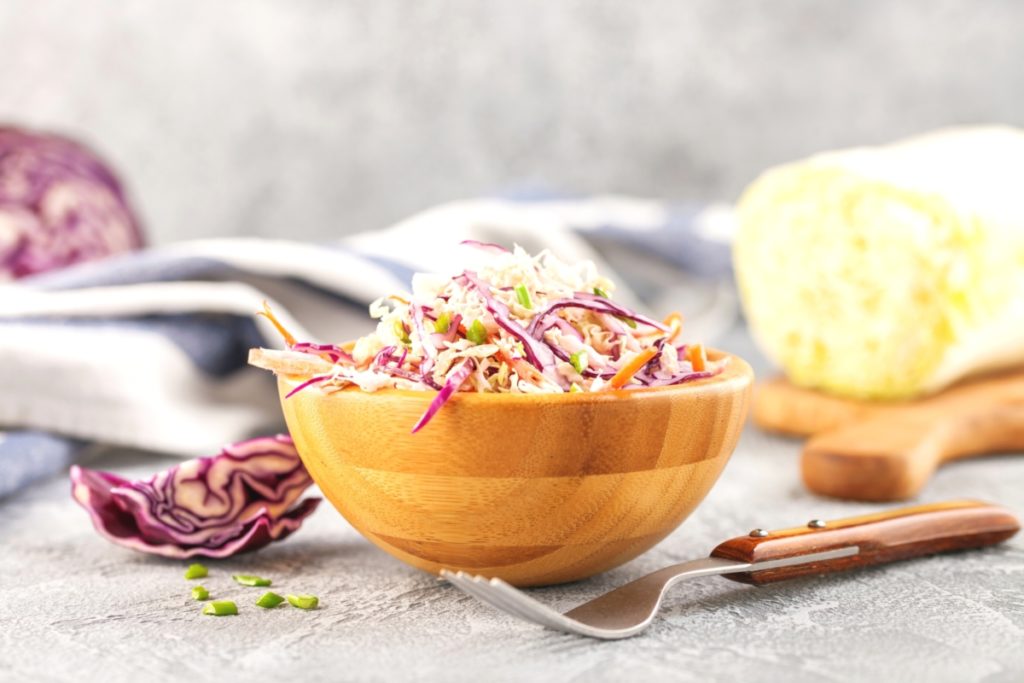 ---
Tips For Making Mexican Coleslaw
Mexican slaw is perfect for adding to tacos for a light snack or meal.
It's perfect for hot summer days!
You can use a mix of green and red cabbage.
Don't want to cut cabbage? Use a pre-made cabbage mix.
Add more hot sauce if you want it spicy.
Missing the mayonnaise? Add a few tablespoons of sour cream or yogurt instead.
Refrigerate overnight for more flavor!
---
FAQs about Mexican Coleslaw or Taco Slaw
What other ingredients can I add to the Mexican slaw?
You can also include sweet corn, chopped bell peppers, pickled jalapeno peppers, or diced red onions. I have also eaten versions of this salad with sunflower seeds, crumbled cottage cheese, or black beans.
Which cabbage should I use for this slaw?
The most popular cabbage used in Mexican slaw salad is green cabbage. If green cabbage is not available, you can use Napa cabbage or red cabbage.
Can I make this Mexican slaw for meal prep?
To make a meal prep for Mexican coleslaw, you need to simply cut all the veggies and refrigerate them in airtight containers till you're ready to use them.
You can also make the dressing and store it in another container, preferably in a number of small glass jars, so you can use it one at a time. You can use this dressing for up to a week.
Just toss the veggies with the dressing right before serving!
How long can I store leftover Mexican taco slaw?
If you want it crunchy, it's best to consume the slaw within the first 2 days. However, taco slaw can be stored in the refrigerator for 3 to 4 days in an airtight container. To bring back a bit of the flavor after day 2, add a teaspoon of vinegar.
Can I freeze leftover Mexican slaw?
Technically Mexican coleslaw can be stored in an airtight container in the refrigerator for up to 3 months. However, it will lose its crunchiness and crispness. So I don't really recommend it.
Yield: 4
Mexican Coleslaw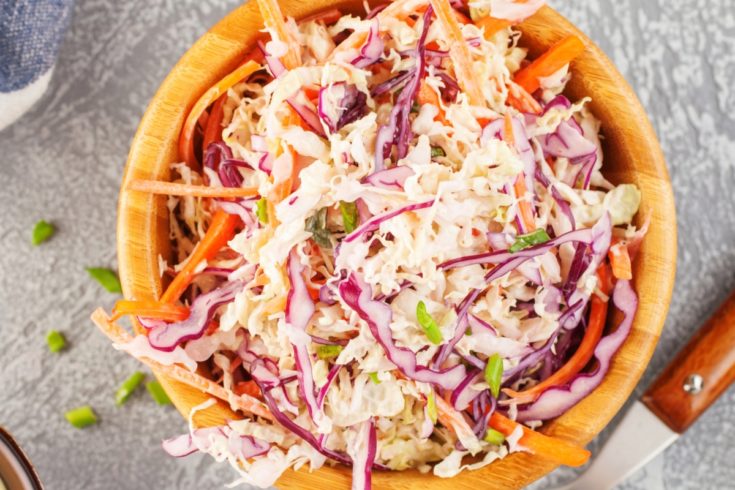 Incredibly easy to make, Mexican coleslaw is fresh and full of flavors. With cabbage as a base, this mayo-less taco coleslaw made with lime and garlic is zesty and light!
Ingredients
4 cups very thinly sliced green cabbage OR a bag of pre-shredded mixed cabbage
1 1/2 cups peeled and grated carrots
3 tablespoons of yellow corn (optional)
1/3 cup chopped cilantro
1/3 cup lime juice
1/2 cup olive oil
1 teaspoon honey
2 cloves garlic minced (or 1/2 a spoon of powder garlic)
dash of hot sauce
salt and pepper to taste
Instructions
In a medium bowl toss together the cabbage, carrots and cilantro and set to rest.
Combine the dressing ingredients together with a whisk or hand blender.
Pour over the coleslaw mixture and toss. Serve and enjoy!
Notes
This salad is even better when marinated overnight in the fridge before serving.