This classic Mexican breakfast dish is made from crispy tortillas mixed with eggs, tomatoes, onions and jalapeno.
Important note: migas are NOT the same thing as chilaquiles. It's an entirely different dish. They use different types of tortillas and one is drenched in eggs, while the other in salsa with an egg being optional.
---
What is Migas?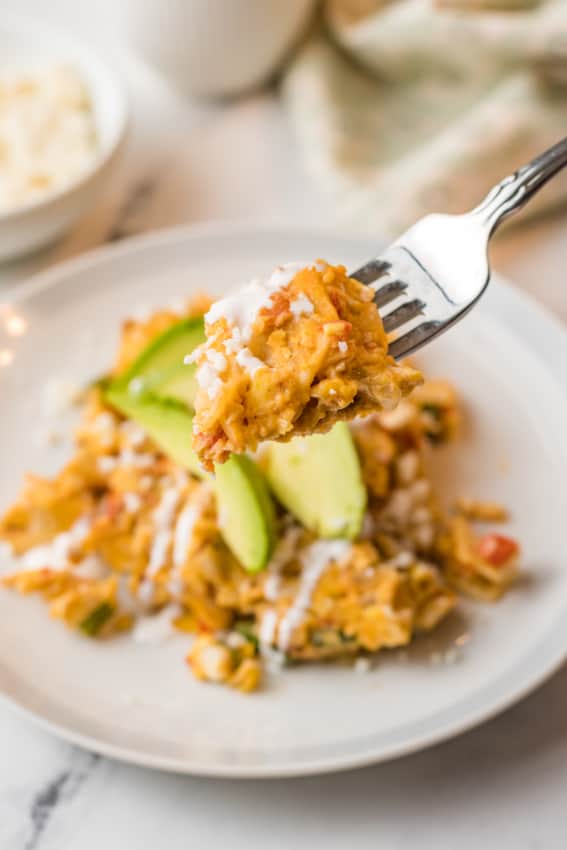 The perfect wholesome meal, migas is a popular breakfast dish in Mexico.
In most of Spain, the migas uses day-old bread that's soaked with water, and cooked with olive oil, garlic and paprika. Chorizo sausages, bacon, or pork belly may be added to it in different regions, as well as chopped red bell peppers, tomatoes, and herbs. Some regions of Spain even have chocolate in their migas.
The Portuguese migas uses a similar recipe but may also include tomatoes, wild asparagus, kale, pinto beans, or black-eyed peas. Fried eggs aren't a necessity for these migas recipes.
Different from the Spanish and Portuguese migas that is made with breadcrumbs, the Mexican migas is made with leftover torillas and almost always includes a fried egg topping.
The traditional Mexican migas is made by frying torn pieces of a day-old tortilla till they're crispy. These fried tortillas are then cooked with onions, tomatoes, and jalapenos before being scrambled with eggs. Chorizos or other sausages may be added in before serving the migas with salsa. And there you have it. A wholesome and hearty Mexican breakfast!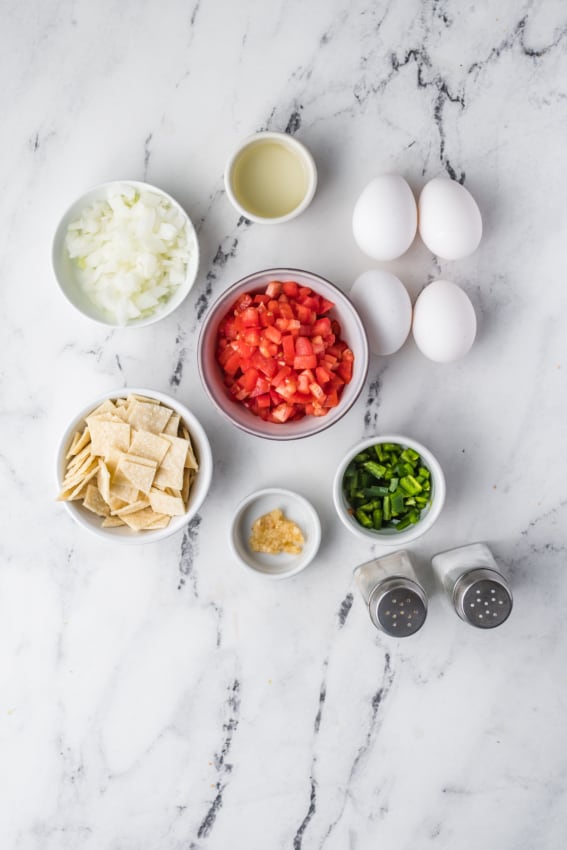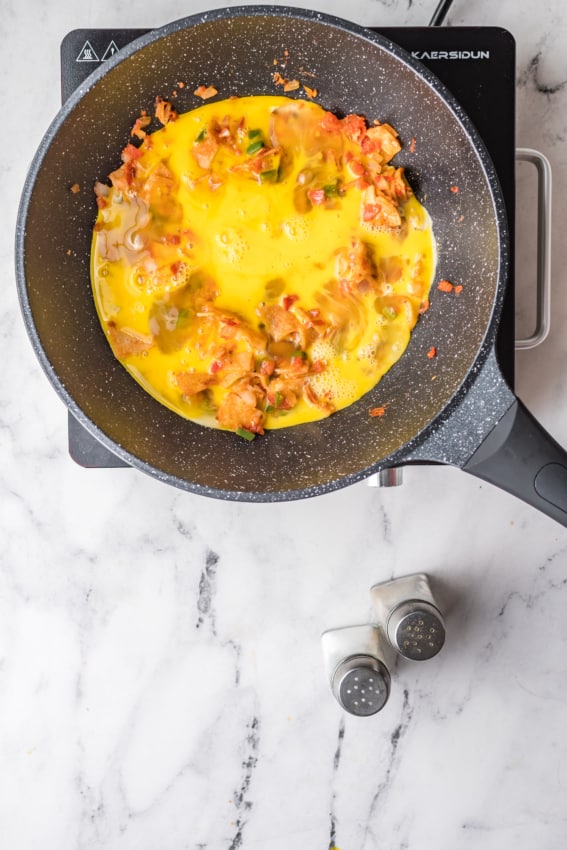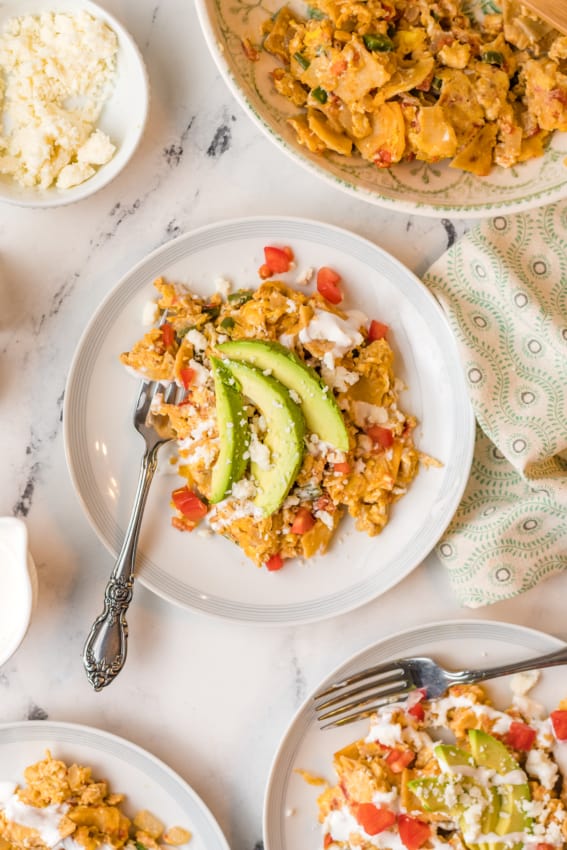 ---
What do I need to make Migas?
You'll need a good skillet of course along with these ingredients.
Oil – you can use any kind you want
Tortillas – you will need corn tortillas for this
Onion – I prefer white for this recipe, but any is fine
Garlic – you can use the pre-minced if you like
Roma tomatoes – these are a nice meaty, but juicy tomato, but any is fine
Eggs – you can use whole or just whites
Salt and pepper
Jalapeno – you can use more or less according to how spicy you like your food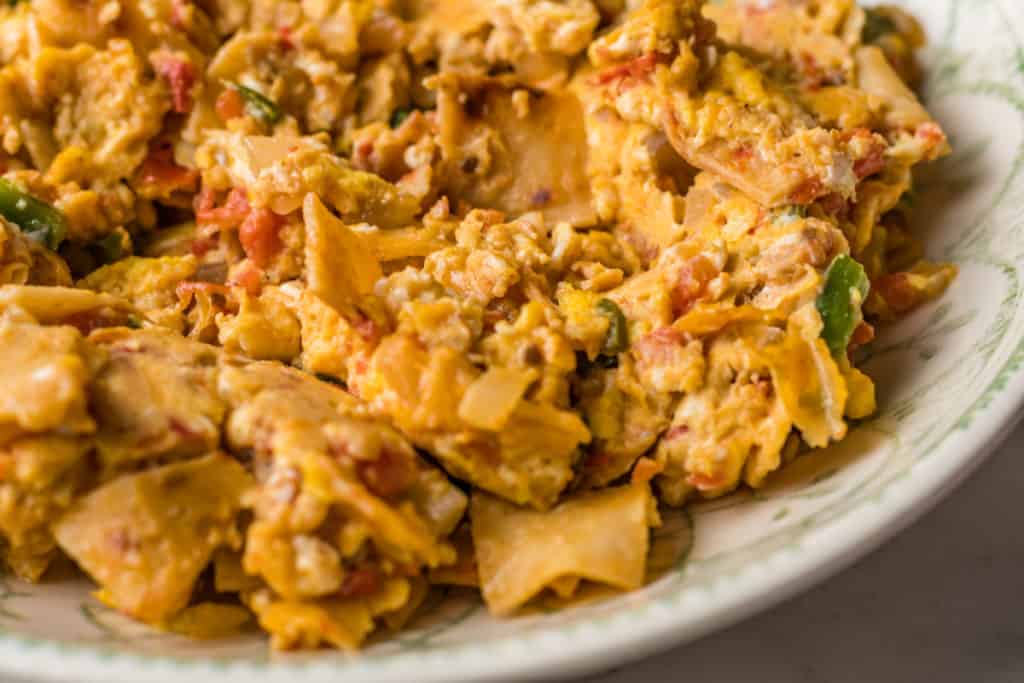 ---
Recipe Pointers For Migas
Cook the tortillas till crisp. As they cook with everything else, they will get a bit soggy, so if they are not cooked crispy enough, they will get too soggy when cooked.
Cook the onion, tomato, and jalapeno till tender before adding the eggs so you won't overcook the eggs trying to get the vegetables softer.
Don't overcook the eggs, they will cook a bit even when turned off.
Top with some sliced avocados, chopped cilantro, crumbled queso fresco, or fresh salsa before serving.
Or serve with a side of guacamole, diced onions, sour cream, or Mexican crema!
Migas also goes really well with the traditional Mexican horchata!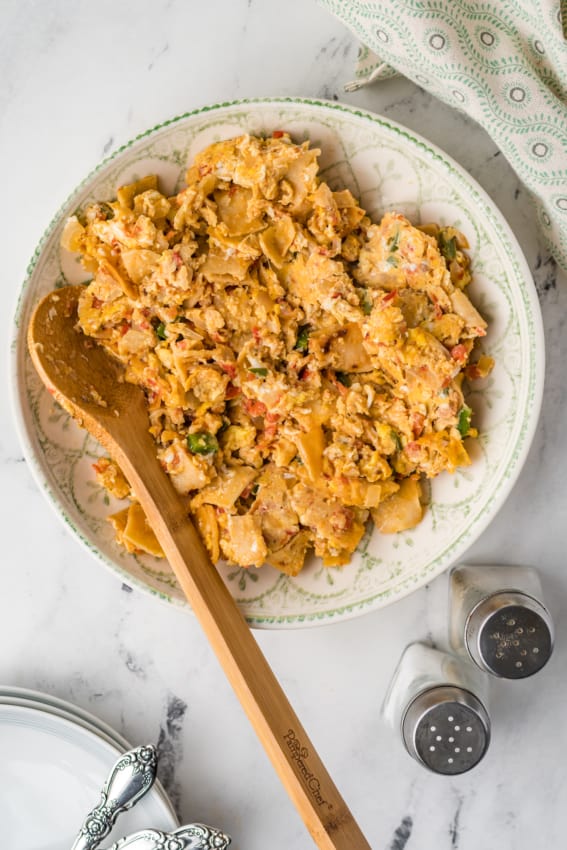 ---
FAQs about Mexican Breakfast Migas
What does migas mean?
Migas means crumbs. This is because the original migas made in Spain used breadcrumbs in the recipe. The Mexican version of migas uses shredded day-old tortilla pieces.
Can I use 2 or 3 day old tortillas?
Yes, as long as the tortillas are in good condition, you can use them. Staler tortillas make better tasting migas.
What can I use instead of tortillas?
If you're in a hurry, you can use tortilla chips instead of cut up tortillas.
How do I serve Migas?
Serve these with some cream over the top, avocado, cilantro, queso fresco and if you like it spicy, add some salsa. Or you can serve the Migas with a side of refried beans and try putting them in tortillas to eat like tacos.
What is the difference between migas and chilaquiles?
Chilaquiles and migas are both made with eggs and fried tortillas. The difference lies in the way the eggs are added.
In the chilaquiles, the eggs are added as a topping at the end, after the mix of fried tortillas and salsa is ready. In the migas on the other hand, the fried tortillas are scrambled with the eggs, tomatoes, onions, and jalapenos, and salsa and other toppings might be added later.
How do I store leftovers?
Migas is best eaten immediately, but it can be stored in an airtight container in the refrigerator for up to 3 days. Reheat before serving.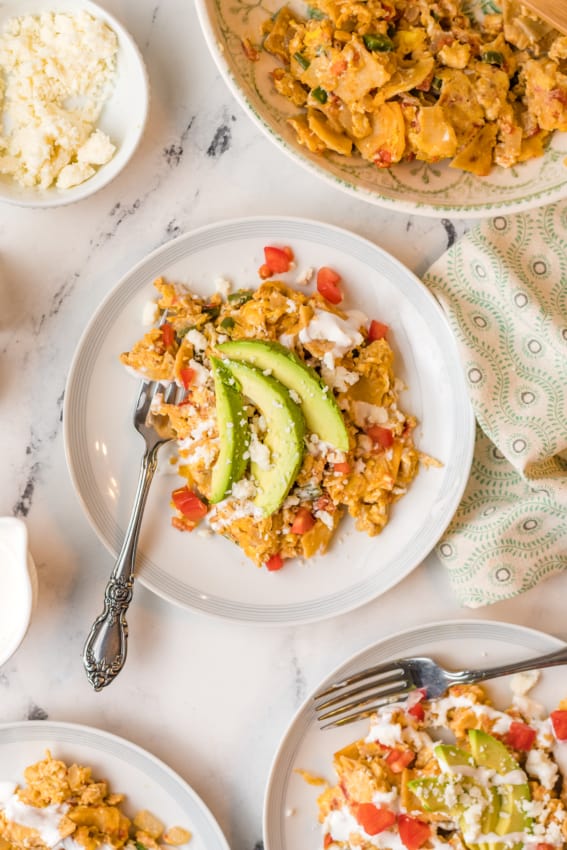 This classic Mexican breakfast dish is made from crispy tortillas mixed with eggs, tomatoes, onions, and jalapeno.
Ingredients
1 Tablespoon oil
4 corn tortillas, cut into pieces
¼ cup onion, diced
1 teaspoon garlic, minced
2 Roma tomatoes, diced
1 jalapeno, deseeded, diced
6 eggs
½ teaspoon salt
½ teaspoon pepper
Instructions
In a large skillet, heat the oil.
Once it is hot, add the tortillas and fry till crispy.
Add the onions, garlic, tomatoes, and jalapeno. Cook for a few minutes till the vegetables are tender.
Add the eggs and scramble into the tortillas.
Add the salt and pepper andstir to combine.
Remove from heat and serve with sliced avocados, a bit of cream, queso fresco, cilantro and some salsa.