Enchiladas or chilaquiles for breakfast? Why not!
Mexican food is so flavorful and wide-ranging that you could eat it for breakfast (desayuno), lunch (almuerzo), or dinner (cena) and never get tired of it. Some of the best desayunos in the world are Mexican!
From the wholesome and hearty breakfast burritos and tamales to the sweet and light pan dulce and molletes, here are some popular Mexican breakfast dishes to enjoy in Mexico!
Also check my ultimate guide to Mexican food.
---
1. Chilaquiles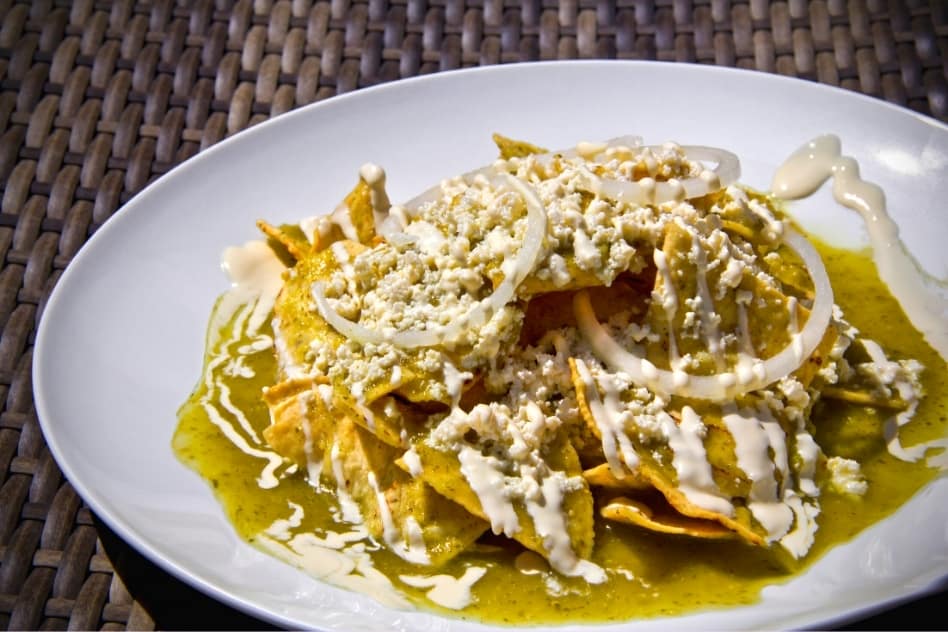 Chilaquiles are actually my favorite dish from Mexican food, but it may seem odd for some to eat it for breakfast. Don't worry, I thought it was odd too, but now I'm hooked.
It's a dish made of tortilla chips (totopos) with either green or red salsa, topped with your choice of meat, onions, white Mexican cheese (usually Panela or Cotija) and cream. It can also be topped with fried egg.
You can try chilaquiles pretty much at every restaurant, but some only serve it in the morning. Actually, if you can still order chilaquiles in the evening – run away! It's probably going to be awful and old (I have a few friends who made this mistake).
2. Molletes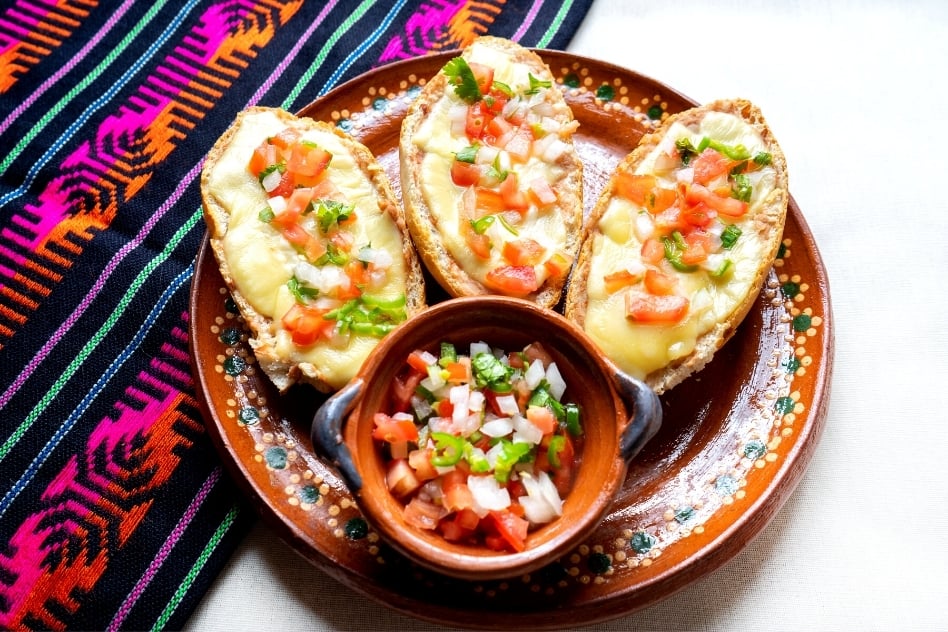 Molletes are simply baguettes called bolillos cut in half, hollowed out a bit, and covered with refried beans, and jalapeno peppers, and cheese.
They're then put in the oven till the cheese has melted. A truly inexpensive breakfast that may be a cousin of the garlic bread!
You can find variations of them with chorizos on top or with salsa. There's even a sweet version that is simply the bolillo bread lathered with butter, then topped with honey or sugar and broiled.
It's a very filling dish, trust me.
---
3. Enchiladas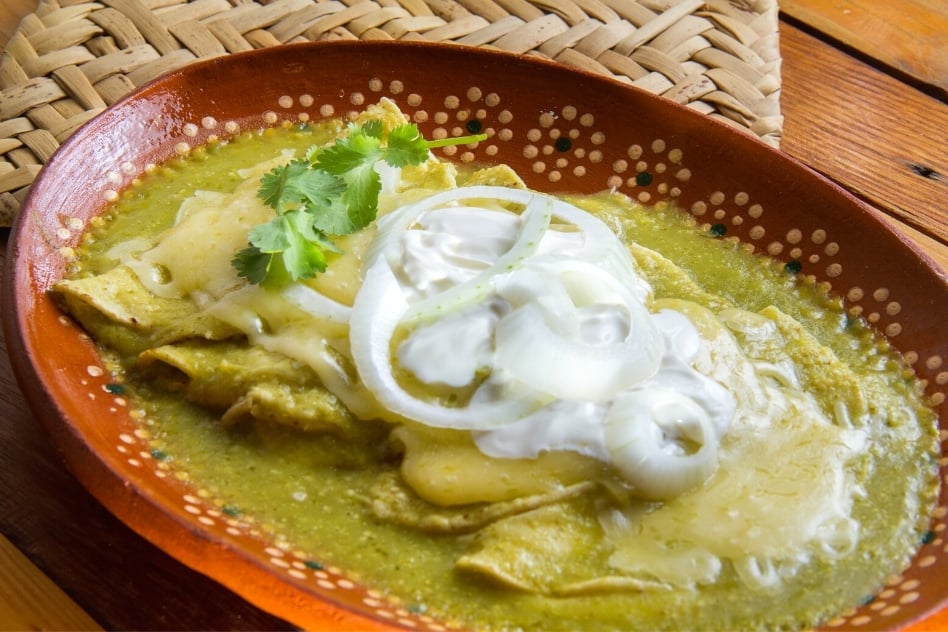 Surprise! Spicy enchiladas are a breakfast dish as well. Enchiladas are one of a few dishes that don't change when served in another country or as Tex-Mex.
It's a tortilla filled with a meat of choice, rolled and topped with salsa. Vegetarian enchiladas are made with plantains instead of chicken.
They're typically served with chopped onions, cream, and cheese on top. You can pick your salsa: roja (red), verde (green), mole (made with chocolate sauce), or suiza.
The last one, suiza is a creamy greenish looking sauce made of cream, cheese and salsa verde. Personally, it's my favorite salsa.
4. Tamales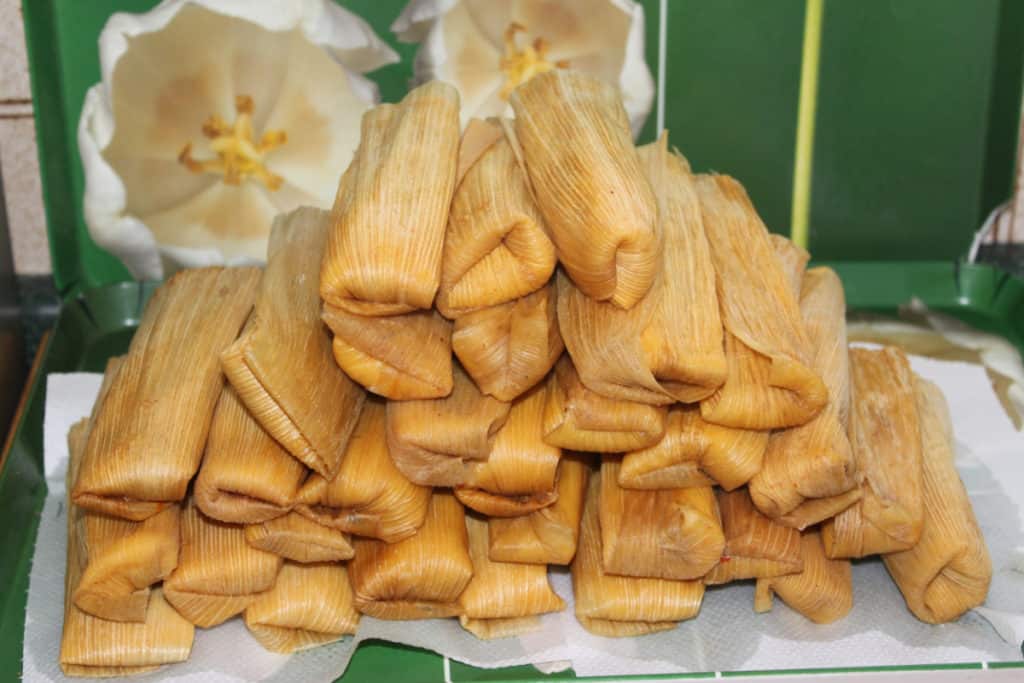 If you ever go to the bigger towns in Mexico, especially Mexico City or Oaxaca, you'll hear people on the street or inside the metro yelling "tamales!" or "tamales oaxacenos". It's a common dish that's being sold by many vendors, usually on the street.
Tamales in Mexico are made with corn masa and usually have a savory filling of chicken with salsa verde, mole, and cheese. Everything is wrapped in the tamales, then in the corn husks, then steamed.
Unless you're in Oaxaca. There tamales wrapped in banana leaves.
For breakfast, you'll often have your tamale with atole, atolli, or atol de elote which is a traditional hot beverage made from corn and masa.
5. Tortas
Unlike in Spain, torta in Mexican-Spanish isn't a cake. It's basically a thick sandwich on a white bread roll, that is also called lonche in Northern Mexico because it can be grabbed as a snack for lunch too!
They should be served hot, but many stores and vendors will sell them cold and pre-prepared so you can quickly grab one for lunch.
One of the popular versions ofbreakfast torta is the torta de huevo which features egg as the main ingredient.
Other popular Mexican tortas include the torta de jamon which is filled with ham, torta de adobada filled with adobo meat, torta de milanesa which is filled with another kind of meat, torta de aguacate filled with avocados, and the torta ahogada that is drowned in a red sauce.
6. Guajolota or Torta de Tamal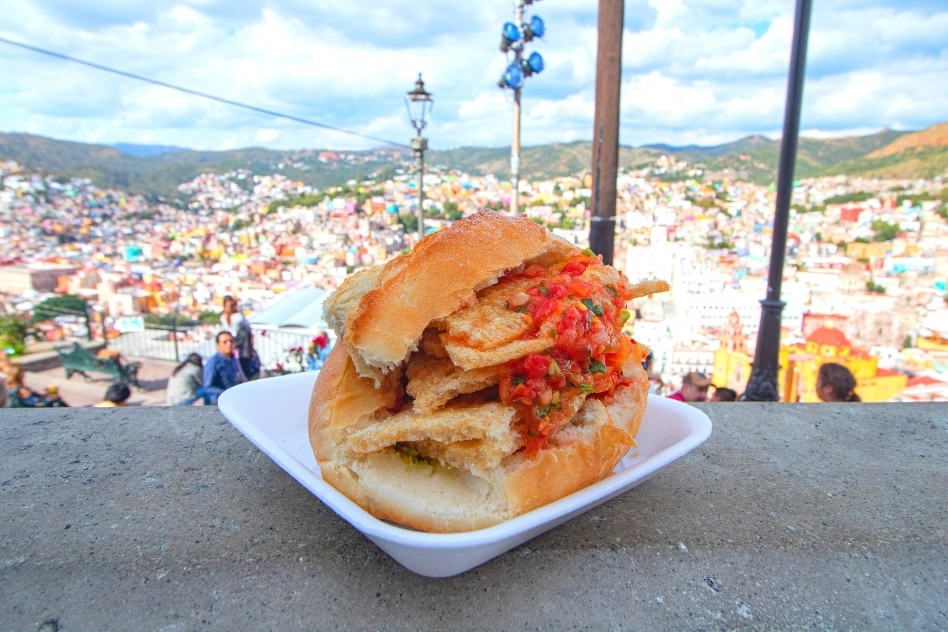 Guajolota or torta de tamal is the last must-have on your Mexican breakfast list. Made with soft bread called bolillo, these tamale sandwiches are filled with cheese, vegetables, chicken, or meat. In Oaxaca, they also contain mole negro.
Hearty and loaded with carbs, this corn masa based dish is really delicious!
7. Huevos
We cannot forget about breakfast eggs in Mexico. If you visit a restaurant you might be surprised by how many different types of eggs are on the menu.
7.1. A la Mexicana
Huevos a la mexicana are the most popular dish. The eggs are lightly scrambled and cooked with tomatoes, onions, and serrano chile. They're usually served with beans and tortillas on the side.
7.2. Huevos Rancheros
Huevos rancheros means 'ranch-style eggs'. They are fried eggs with tomato salsa fresca and often avocado or guacamole, usually served on top of a warm tortilla.
7.3 Huevos Divorciados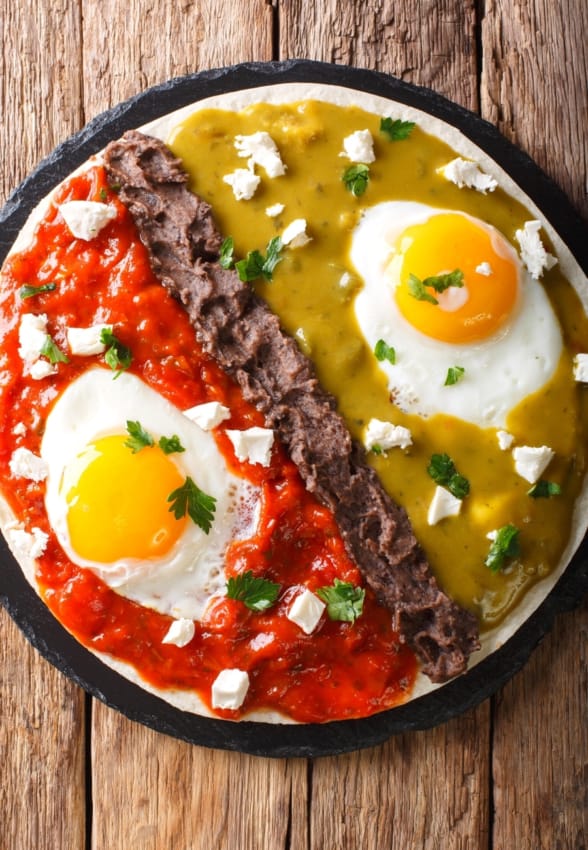 Huevos divorciados or divorced eggs are a different take on the huevos rancheros. They are basically fried eggs covered with two different salsas – roja (red) & verde (green) served on a bed of fried corn tortillas.
7.4 Huevos Motulenos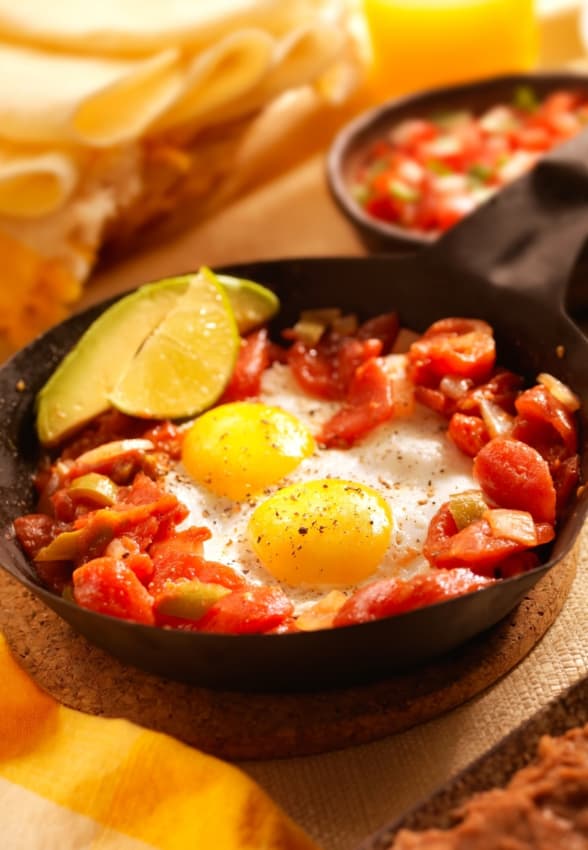 Huevos motuleños are popular in the Yucatan Peninsula, as they originated from the town called Motul. The dish consists of fried eggs on top of black beans and salsa on top of corn tortillas.
The black beans are often accompanied by crumbled queso fresco cheese, ham, plantains, or something else.
7.5 Huevos con Migas
Migas con Huevo or Huevos con Tortilla, often referred to as simply Migas is a hearty version of huevos.
Migas means crumbs! So naturally, torn up or rather cut up pieces of a day old tortilla are fried till crispy, and then scrambled with eggs, chopped onions, peppers, and chorizos. Served with salsa, you'll find this popular breakfast dish all over Mexico.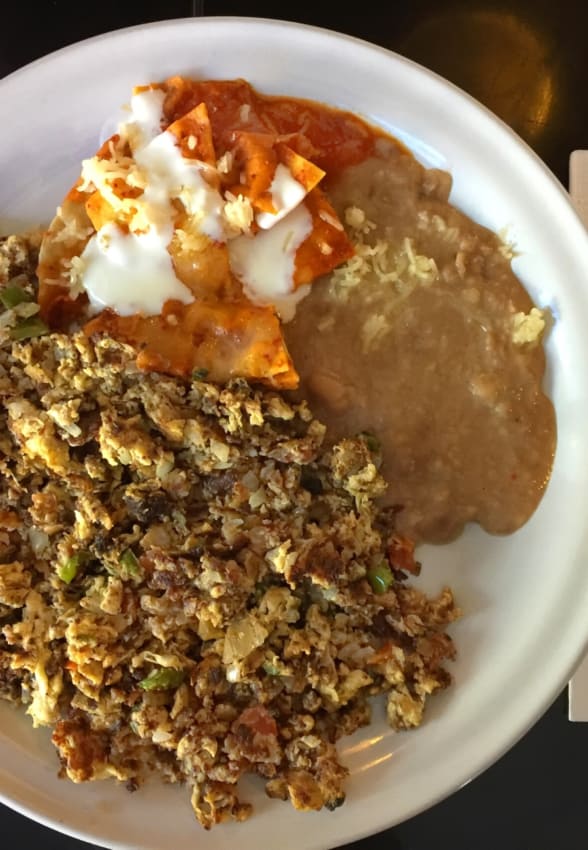 ---
8. Pan Dulce (Pan de Muerto)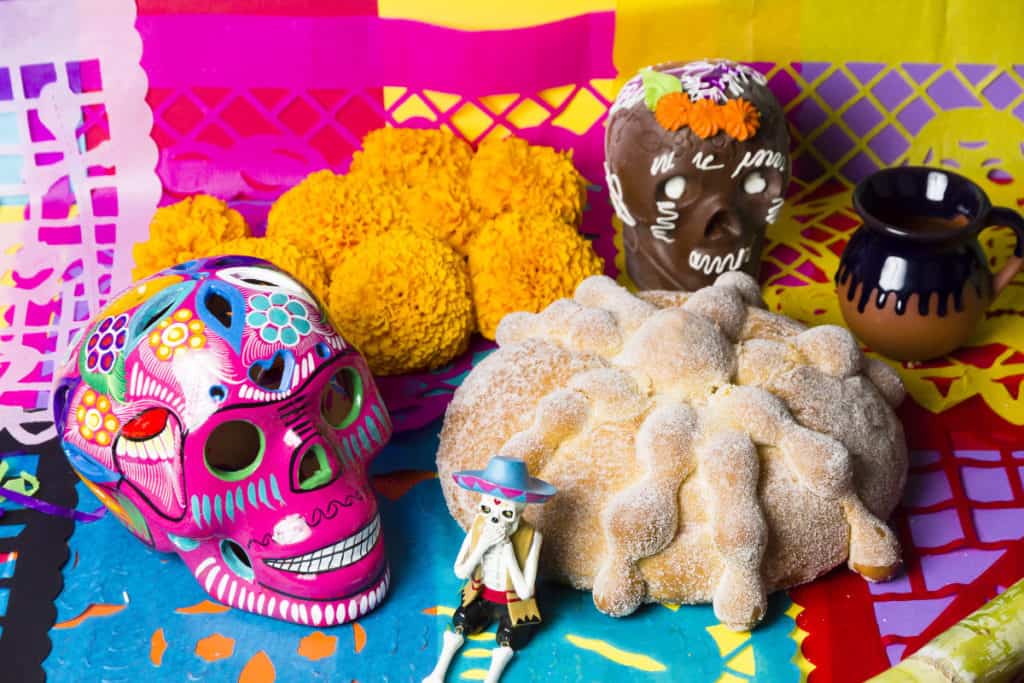 Panaderias, the Mexican version of bakeries, where you can buy bread and sweet pastries (pan dulce), are everywhere in Mexico. Usually, Mexicans eat them for breakfast or right after.
There are MANY different types of pan dulce, so you can never get bored of them – conchos, besos, cuernos, campechanas, marianas, marranitos, and more.
While there are many types of pan dulce (sweet bread) the most well-known and best one, in my opinion, is pan de muerto. It's typically sold in September and October leading up to the Day of the Dead celebrations in Mexico.
Usually anise flavored, this sweet bread is decorated with finger-bone shaped pieces. On Dia de Muertos, you'll find pan de muerto on many ofrendas aka home altars in Mexico.
---
9. Camotes Enmielados (Candied Sweet Potatoes)
Candy and breakfast don't normally go well together. But come to Mexico, and you'll find many people eating candied sweet potatoes for breakfast. Why? Maybe because although it's a sweet way to start the day, sweet potatoes contain over 80 good nutrients.
Camotes Enmielados, as they're locally know, are made by boiling the sweet potatoes in a candied syrup of cinnamon and the raw piloncillo sugar. You'll find these on the ofrenda for Dia de Muertos too!
Served by street vendors at markets or in small carts, you'll find them most popular in the State of Michoacan.
---
10. Migas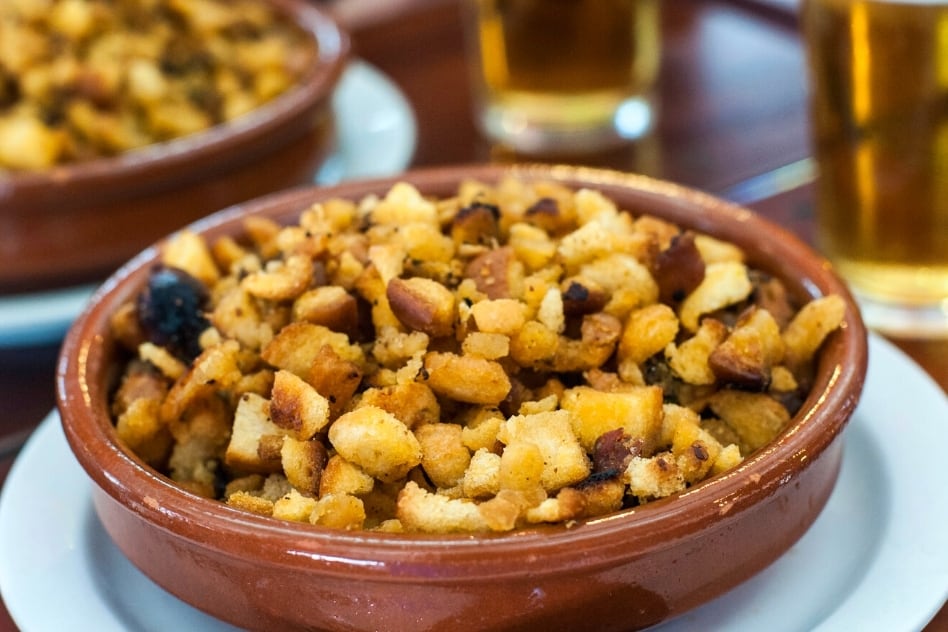 Migas in Mexico City take on a different style, especially in Downtown Tepito. The neighborhood may be famous for the cartels and the Barrio Bravo market, but it's also famous for the hangover cure version of Migas.
Disclaimer: I don't recommend venturing into Tepito if you're visiting Mexico City. Unless you're with a local (but even still) please don't. You can get migas in other parts of the city.
This Migas is a type of garlic-flavored soup made with diced chunks of day-old bolillos bread. Ham bones, oregano, pork shanks, chicken stock, epazote herbs, chipotle meco chiles, habanero chiles, and onions may be used in the broth.
Just before serving an egg is dropped into the broth bowl and allowed to cook with the warmth from the soup. Boiled eggs are also served on the side.
11. Quesadilla Fritas
Another perfect Mexican breakfast, the quesadilla fritas is much more than a simple quesadilla.
Made of tacos stuffed with scrambled eggs, cheese, ham, beans, fresh herbs, and topped with your favorite salsa. The cheese typically used in a Quesadilla is the stringy Mexican cheese called Oaxaca or queso Oaxaca, but Chihuahua, Monterrey Jack, or mozzarella will work too!
Some quesadilla fritas also include mushrooms, chicken, beef, pork, chorizo, squash blossoms, epazote, or huitlacoche. They're often topped with guacamole, tomatoes, salsa, avocados, serrano chilies, and cilantro.
12. Taquitos
Also known as tacos dorados, taquitos are made of small tortillas that are filled with cheese, chicken or beef. These are then rolled up and deep fried, and topped with guacamole and Mexican sour cream (crema) before serving.
You'll sometimes find them sold with lettuce or cabbage at the street vendors. And if the taquitos get too large compared to normal sizes, they're called flautas instead!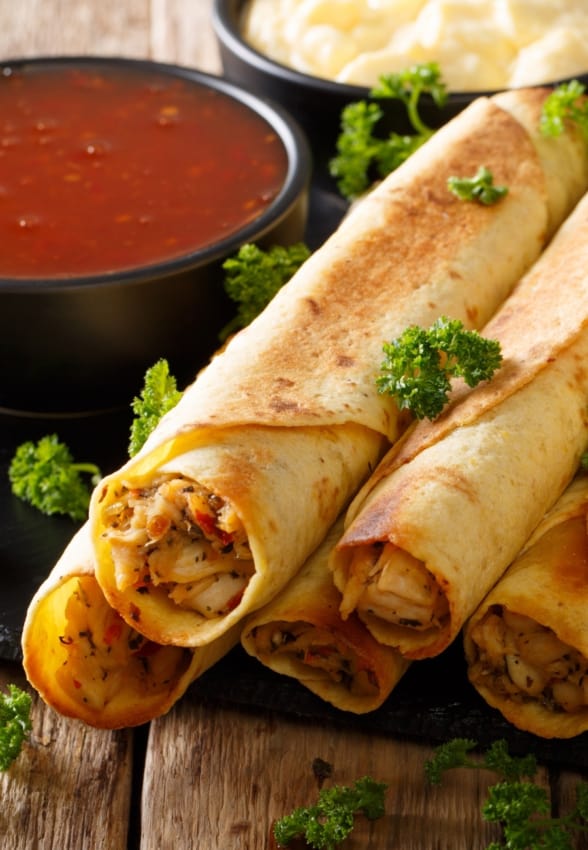 ---
13. Burritos
Eaten for breakfast, lunch or dinner, the burrito originated in the city of Ciudad Juarez in Chihuahua, Mexico.
Legend has it that a street food vendor named Juan Méndez would transport food on his donkey during the 1910s Mexican Revolution.
To keep the food warm, Mendez wrapped it in flour tortillas and sold them as such. The 'food of the little donkey' or 'food of the burrito' soon became popular and these tortilla wrapped meals soon came to be called burritos.
You'll often find them stuffed with beef, pork, chicken, rice veggies, refried beans, tomatoes,, lettuce, cheese, guacamole, salsa, crema, and other ingredients.
Whenever the hunger pangs hit you in Mexico, stop at a food stall for burritos, burritas, or tacos de harina.
14. Horchata de Arroz
Made from white rice, cinnamon, and vanilla, horchata de arroz is plant-milk beverage in Mexico. A derivative of the Spanish horchata de chufa, the horchata de arroz is often found in taquerías in Mexico.
One of the three popular aquas frescas, horchata de arroz is a must have for breakfast, and found in stabilized form in stores too.
---
15. Aguachile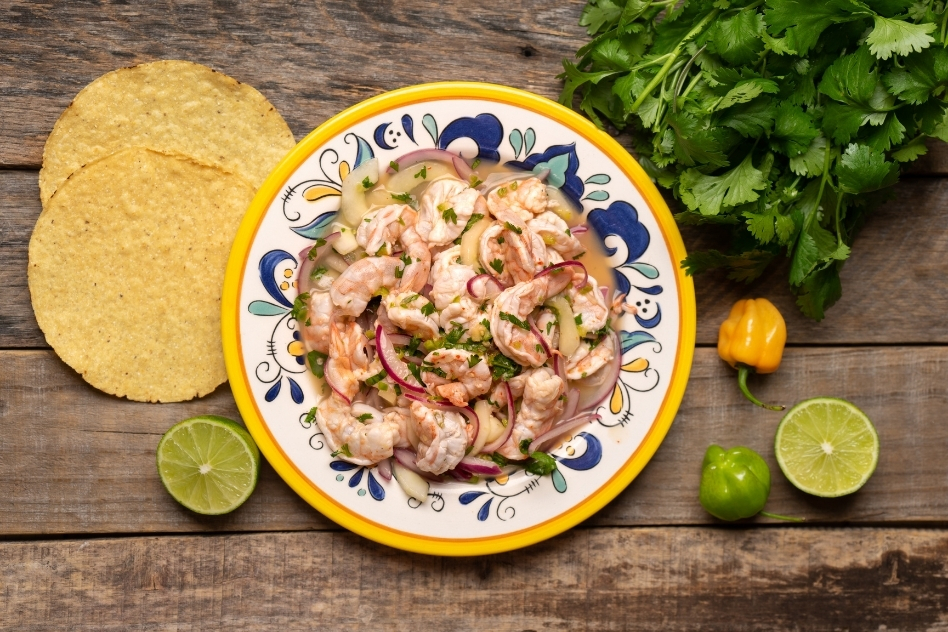 One might wonder why raw shrimp made it to the list of Mexican breakfasts to enjoy. But aquachile, the popular Sinaloan dish is a wonderful hang over cure. It's also the perfect spicy and light breakfast.
Once made with shrimp, and Sinaloan chiltepine peppers boiled in water; the dish is now made with shrimp that has been soaked along with sliced onions, sliced cucumber, chili peppers, lime juice, cilantro, and salt.
16. Biónicos
One of the more indulgent breakfast options, Bionicos is a dessert from Guadalajara, Mexico. it originated in the late 20th century as a fruit salad topped with yogurt or crema and mixed with granola.
You'll find all types of fruit, including papaya, banana, apples, strawberries and raisins in the salad, with honey topping everything off! And as its name says, Bionico makes everything 'better'! Haha!
---
17. Menudo or Pancita
Add one more to the list of hangover cures! What is it with Mexico and hang overs?
This popular hangover cure, Menudo is also known as mole de panza (stomach sauce) or pancita (little stomach).
The recipe consists of a stew made of beef tripe (stomach) that's cooked for several hours with cilantro, onions, red chili paste, lemon juice, and salt. You'll find Menudo served with tortillas, diced onions, chiles, and lemons.
Menudo is also an important part of wedding celebrations in Mexico, so if you get the chance to try this time-intensive dish, don't miss it!
18. Papadzules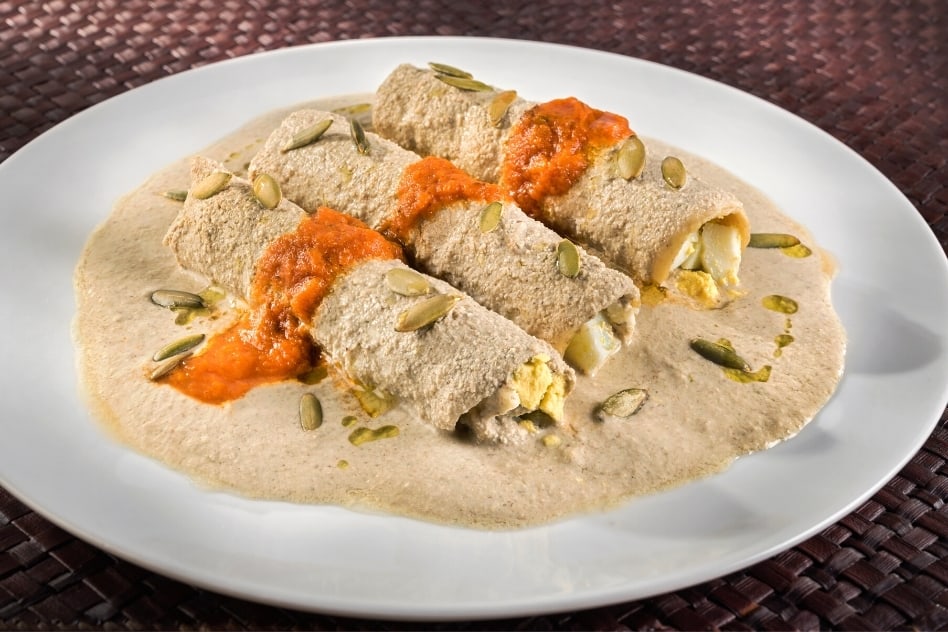 Papadzules are a traditional Mexican dish from the Yucatan region made of corn tortillas that look a lot like enchiladas.
The major difference between enchiladas and papadzules is that the papadzules are made with a filling of hard-boiled eggs that have been chopped as opposed to other meaty ingredients.
The papadzules are then cooked in a sauce made of pepita (pumpkin seeds) that have been blended, toasted, and finally ground. This is finally topped with a tomato and chili sauce before serving!
---
19. Enfrijolada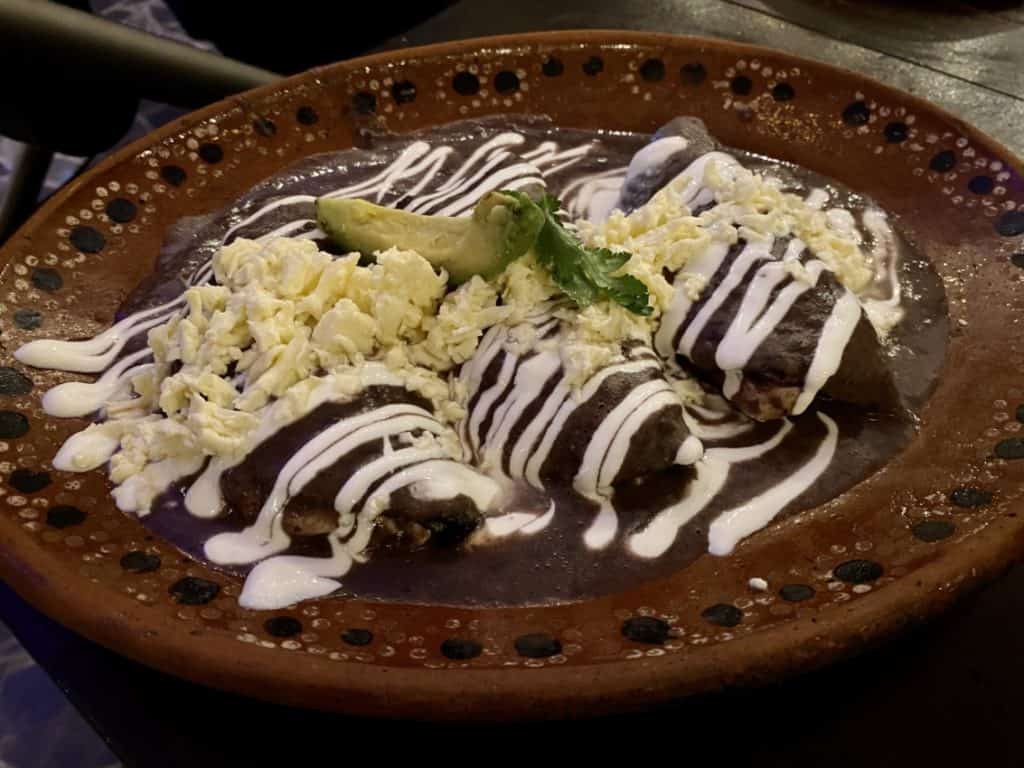 Another popular Mexican dish is the bean smothered enchilada that's called enfrijolada. They're named after the frijol or refried beans that top them.
This popular breakfast dish consists of corn tortillas that have been filled with chicken, cheese, veggies, and topped with refried beans instead of the regular chili sauce. You'll find them at most street food vendors!
20. Pambazos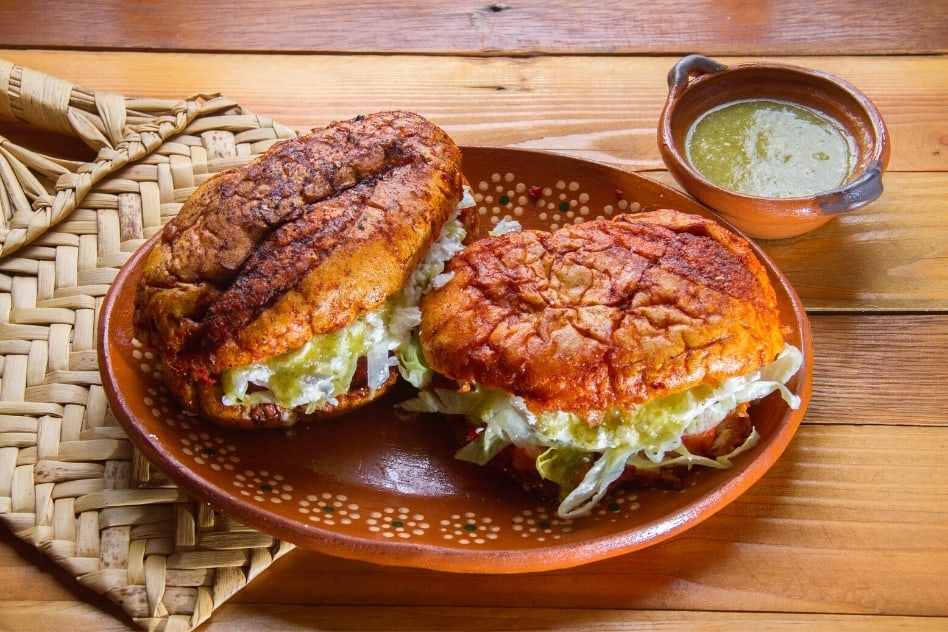 Cold tortas aren't really worth your attention if you ask me, but if you have a chance to try Pambazo – do it!
In Mexico City, a Pambazo is a sandwich made of a particular type of Pambazo bread that is a lot softer than bolillo. The Pambazo is stuffed with potatoes and chorizo, cheese, cream, and then drenched in a red guajillo chile sauce. Once it's drenched, the bread is fried till it becomes crispy on both sides.
You'll find pambazos sold by many street food vendors with different toppings – queso fresco, salsa, or crema. Some are even topped with shredded lettuce!
How many of these popular Mexican breakfast dishes have you tried? And what's your favorite?