Oven-baked and delicious, these roasted buffalo cauliflower wings served with ranch sauce are a crispy vegan treat!
A popular vegan and veggie alternative to buffalo wings, the buffalo cauliflower wings are as popular a Superbowl snack as any other! Served with a savory ranch dressing, they're just the right kind of spicy!
What are buffalo wings originally? The original buffalo wings are chicken wings cooked in a hot sauce. The vegan version we make uses cauliflower instead.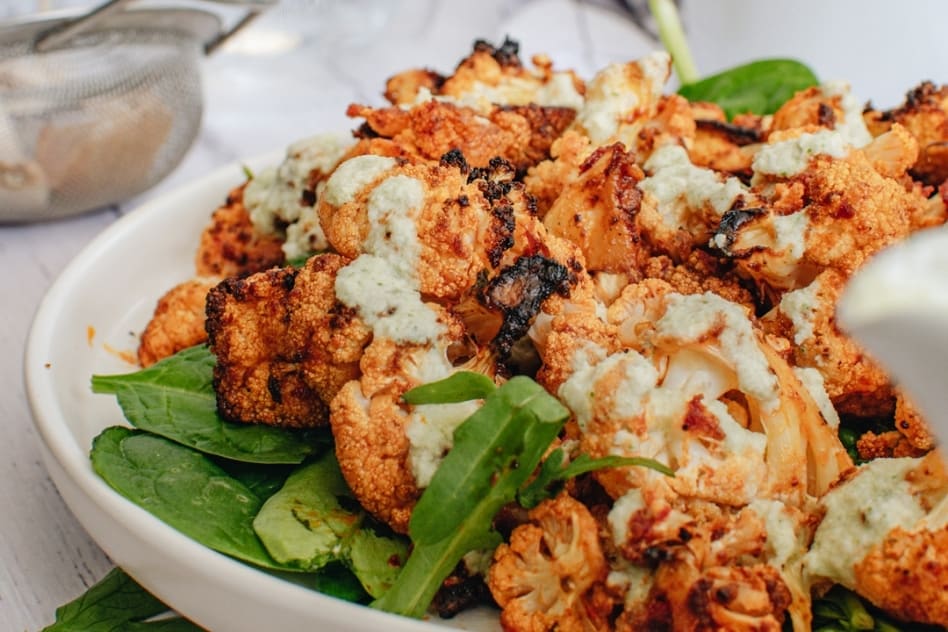 ---
Where Did the Buffalo Sauce Originate?
Buffalo sauce came to be in 1964. Teressa Bellissimo, owner of the Anchor Bar in Buffalo, New York needed to cook up a quick snack for her son and his friends.
She took leftover chicken wings, cooked them in a hot sauce with melted butter and cayenne pepper, and the buffalo wings were born. Teressa served the wings with celery sticks and blue cheese.
Her son's teenage friends loved the dish so much that she started adding it to the Anchor Bar's menu, and it was a hit!
That's the simple story of buffalo wings, and no, it has nothing to do with buffalos!
How Did Buffalo Cauliflower Wings Become Popular?
In the 2010s, vegan bloggers discovered that cauliflower went really well with buffalo sauce.
The breaded cauliflower was coated in a sweet, tangy, and spicy sauce, just like buffalo wings, and crispy vegan wings history was made!
Soon restaurants and pubs all over started serving these vegan buffalo wings. The unique taste of the cauliflower florets in buffalo sauce makes it a hit with vegetarians and non-vegetarians alike.
Try this recipe to make these cauliflower wings at home!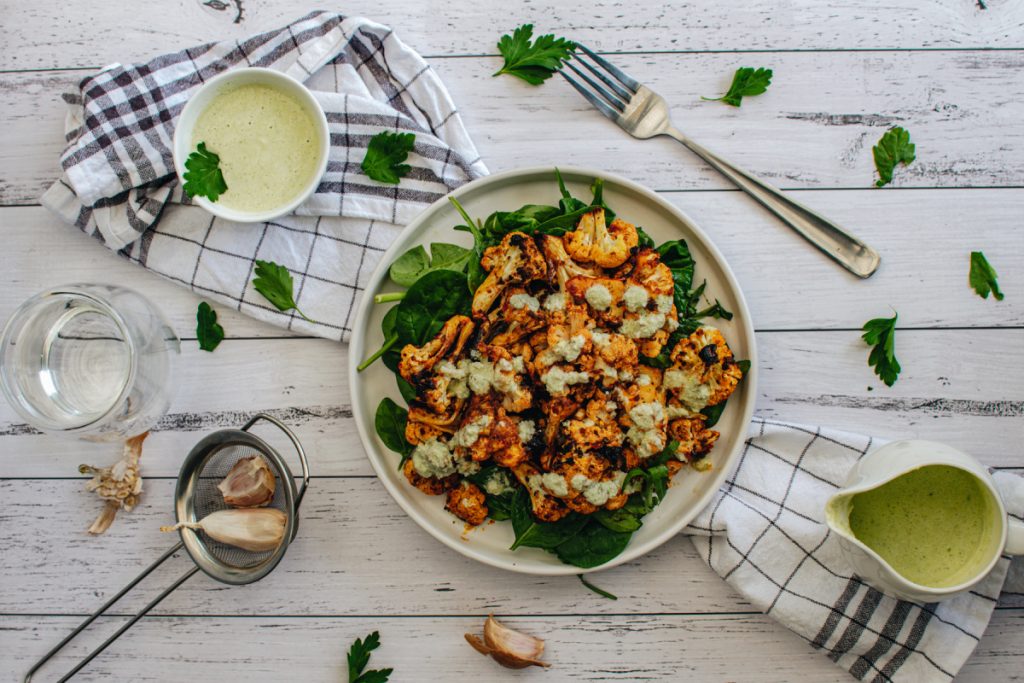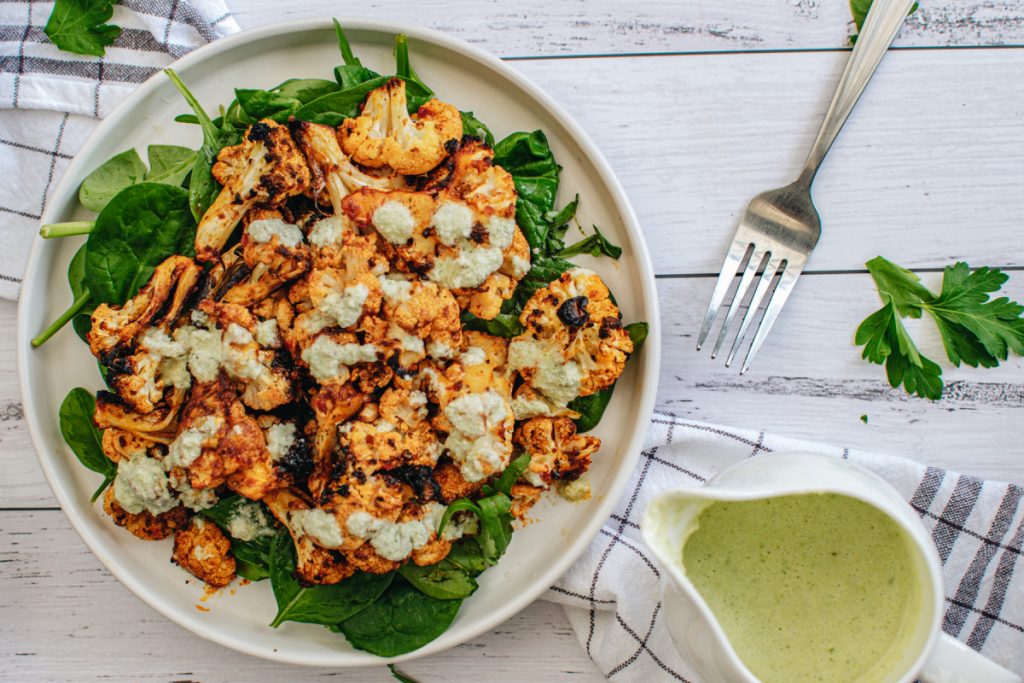 ---
Recipe Pointers For Vegan Cauliflower Wings Recipe
This plant-based recipe is also dairy and gluten-free!
If you want a bready texture, roll the cauliflower florets in vegan almond flour or oat flour before baking.
Don't bake for too long as the cauliflower will get mushy and soggy.
If you don't want the buffalo sauce too spicy, reduce the amount of chili and paprika used.
Serve piping hot on a bed of collard leaves or with celery sticks!
This flavorful vegetarian dish is also low-calorie and low-carb.
Serve as a snack or as a side for dinner.
The ranch dressing can also be used as a dip for other veggies!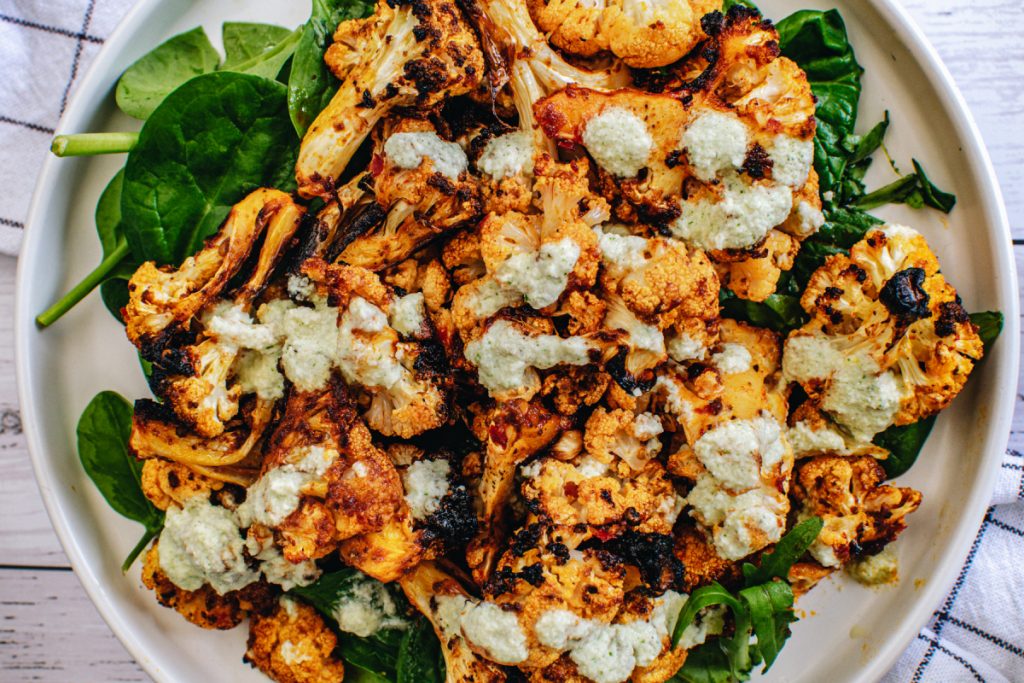 ---
FAQs about Vegan Buffalo Cauliflower Wings
What is the buffalo flavor?
The traditional buffalo flavor is a mix of hot sauce and butter.
How do you make the buffalo sauce vegan if it contains butter?
To make the buffalo sauce vegan, we substitute it with olive oil instead of butter.
Do I have to line the pan with a baking sheet?
You don't need to line the pan with a baking sheet. But it's useful so that you don't end up with a crusty tray. And it's easier to clean up too!
How long does the ranch dressing last?
If stored in the refrigerator, homemade ranch dressing will keep for up to 2 weeks.
What size should I cut the cauliflower florets?
Cut the florets to about half the size of chicken wings. Don't cut them too small or they'll get mushy in the oven.
I'm allergic to cashew nuts. What can I substitute for ranch dressing?
If you're allergic to ranch dressing, you can replace the cashew nuts in this ranch dressing recipe with half a cup of vegan yogurt such as soy yogurt.
Yield: 6 Servings
Roasted Buffalo Cauliflower with Ranch Sauce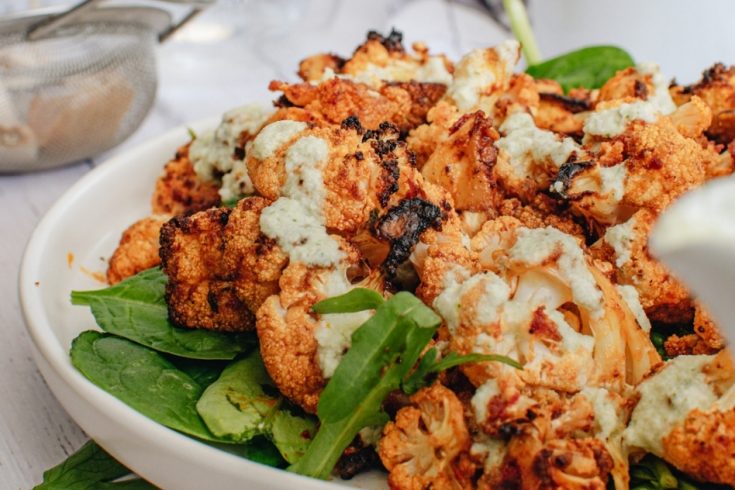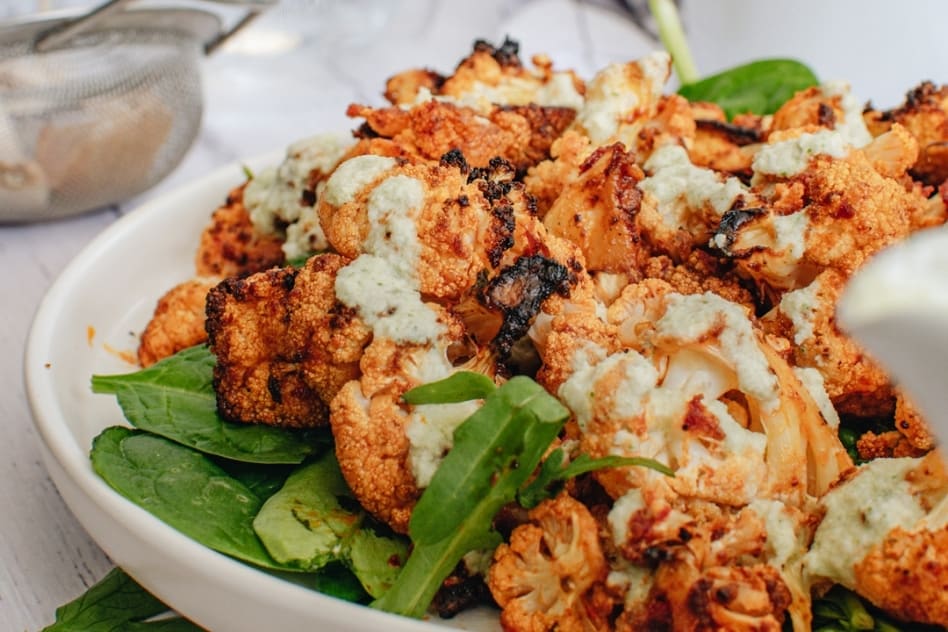 Oven-baked and delicious, these roasted buffalo cauliflower wings served with ranch sauce are a crispy vegan treat!
Ingredients
1 large head cauliflower
1 tsp garlic powder / chopped garlic
½ tsp dried oregano
½ tsp salt
¼ smoked paprika
¼ ground pepper
1 tsp crushed chilli
3 tbsp olive oil
2 tbsp fresh parsley
Ranch Sauce
½ cup soaked cashews
½ cup water
2 tbsp lemon juice
1 tbsp olive oil
2 cloves garlic
salt
¼ cup fresh parsley
Instructions
Preheat oven to 375°.
In a small bowl whisk together the crushed chilli, olive oil, lemon juice, all the spices and salt. Whisk well to combine. Pour the hot sauce mixture over the cauliflower florets and toss well to coat.
Spread the cauliflower in a single layer over a lined baking sheet and bake for 25-30 minutes, gently tossing the cauliflower approximately halfway through cooking. Cook until the cauliflower is tender and browned around the edges.
For the ranch sauce, blend every ingredient until getting a smooth cream.
Serve immediately. Chopped parsley on the top, optional.