From Wedel chocolate to Krówki Fudge and Prince Polo wafers, these lovely Polish candies make for exciting ways to indulge your sweet tooth.
Best Polish Chocolate
Poland, where I am from, has surprisingly a lot of local choices for chocolate and candy. I might be a bit biased, but I truly believe polish chocolate can compete on an international scale.
Some of the candy below can be ordered in the 'Taste of Poland' box on Amazon. You will get a selection of just chocolate or mixed goodies of the best ones delivered right to your doorstep.
In my earlier blog posts, I talked about traditional polish food, now it's time for those with a sweet tooth to get to know some of my favorite polish chocolate and candies.
---
I do not even want to go into how much money I spent during my student years on these chocolate bars. They were my almost daily indulgent during hard study sessions.
My favorite was always the chocolate with strawberry jelly filling. You may wonder, what makes the Wedel chocolate bars so special?
Wedel is the oldest chocolate brand in Poland. It has been established in 1851. That's over 170 years of chocolate making and many years of making it absolutely perfect.
To put it in comparison with another famous brand – Milka, which was established in 1901. It gives us poles 50 years more experience in making chocolate than the swiss!
The chocolate is very soft and comes in many different flavors, that you can choose from. Apart from my favorite – strawberry, you should also try coconut, full milk, and hazelnut.
---
2. Chocolate Covered Wafers – eg Prince Polo
Let's start with one of the first and most traditional polish chocolate bars, which has gained international fame amongst fellow Europeans in the Czech Republic, Slovakia, Ukraine, and even Iceland!
That's right, Prince Polo (sold under the name Prins Póló) has been the most-sold chocolate bar in Iceland for decades.
Prince Polo is a wafer, usually consisting of four layers, with a creamy filling and covered in chocolate. The original flavors were dark and milk chocolate, but during the '90s when Poland opened itself to the World, new flavors were introduced. The two most notable are hazelnut and coconut.
---
If you ever will be invited to a polish family for celebrations, chances of seeing Ptasie Mleczko served on a table with tea or coffee will be very high.
This is one of the most traditional chocolate bars in Poland. It consists of a soft marshmallow-like filling, either in vanilla, chocolate, or cream flavor then covered in either milk or dark chocolate.
A very common way to eat Ptasie Mleczko is to first peel off the chocolate with your mouth and then finish by eating the filling. All my fellow countrymen will know what I am talking about.
---
4. Wedel Drinking Chocolate
The Wedel brand for Polish people is like Milka for the Swiss or Cadbury for the Brits. We are very proud of our iconic Wedel chocolate. I personally find it a bit less sweet, but more flavourful, than its foreign competition.
There are a few chocolate drinking cafés run by the Wedel brand in the main cities of Poland: Krakau, Wroclaw, and Katowice. There you can order their classic hot chocolate.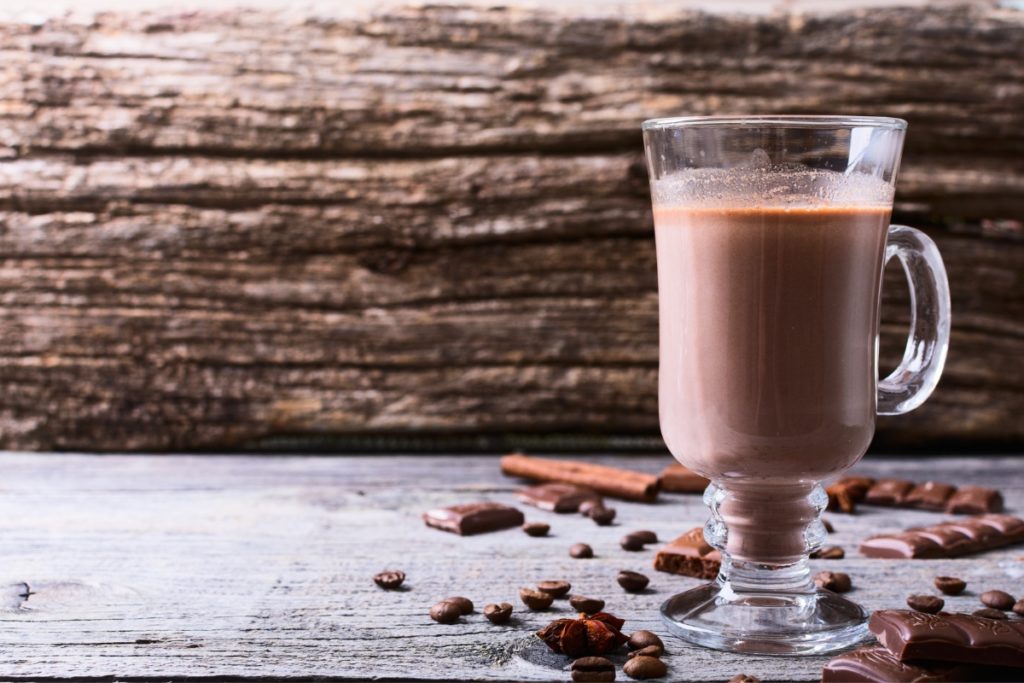 ---
Speaking of Wedel, Torcik Wedlowski is one of the brand's creations. It's a Torte, made out of waffles and covered in chocolate. It became synonymous with celebrations.
It's quite common in Poland to gift someone with Wedel's Wafer Torte during birthdays, anniversaries, or Valentine's day.
---
When I first introduced one of my British friends to our polish Delicje they immediately screamed out Jaffa cakes!
Delicje are indeed a bit like Jaffa cakes, but better. I am not saying this just because I am Polish!
It's a Genovese type of sponge cake topped with jam and covered in chocolate. Whilst Jaffa cakes are generally orange flavored, our Polish Delicje are traditionally filled with cherry or raspberry jam.
In Poland, they are also manufactured by Wedel, but in recent years a few other brands came with their own versions of Delicje. I still think Wedel is the best one, so definitely give it a try.
---
For generations, Michałki are the most beloved chocolate pralines among Poles. Christmas or any other holiday wouldn't be the same without Michałki. First, we would eat some barszcz, followed by pierogi or krokiety, and ending with a Michałki eating session.
Michałki, are traditionally sold per kilo. They take their name from a popular polish male name – Michał. This little candy bar is made out of soft peanut filling and covered in milk chocolate then wrapped in an iconic silver wrapping.
Just thinking about it makes me miss my home.
---
Mieszanka in polish means a mixture. Mieszanka Wedlowska is a mix of different types of chocolate-covered pralines with a soft filling. The candies can have caramel, hazelnut, coffee, or orange flavor. Each flavor has its own name for example Bajeczny or Pierrot.
As kids, we used to play a game, where we would blindly pick a candy from a bag and then try to guess which one was it.
Bajeczny – plain chocolate with bits of puffed wafers
Pierrot – peanut butter and chopped peanuts
Toffik – toffee flavored caramel color
Mocha/.Kawus – hot chocolate and coffee flavor
Irys – a fusion of milk and caramel flavor
Wiedenski – cherry jell-o covered in chocolate
Wenecki – coconut flavored
Paryski – fruit flavored with a center of cherry/raspberry jelly
---
A true classic amongst polish candy. They became very recognizable after the brand producing them – Wawel, run a TV commercial in the 90s and 2000s with a very distinctive jingle singing: Malaga, Tiki Taki i Kasztanki.
This chocolate praline trio consists of three flavors: Malaga is the vanilla flavor with pieces of raisins and a dash of alcohol (my favorite), coconut and peanut mix (Tiki Taki), and cocoa with waffle mix (Kasztanki). All are covered in milk chocolate.
There is no kid in Poland, who doesn't know this flavorful trio
---
Chocolate-covered prunes are very iconic polish candy and all big candy brands like Wedel or Wawel have their own versions of it.
However, the most famous one is called Śliwka Nałęczowska (a true tongue breaker) and it is produced by Solidarność dating back to 1964 when it first appeared on the market.
No wonder a chocolate-covered prune has become one of the most traditional candies. After all, Poland grows 120k tons of plums each year!
---
11. Danusia bar
Danusia is another classic chocolate candy bar manufactured by the Wawel Brand. Danusia is a chocolate bar filled with chocolate-peanut filling with a small hint of alcohol. All of this goodness comes covered in dark chocolate.
You read that ride it's chocolate, filled with chocolate wrapped in chocolate. You should definitely give it a try.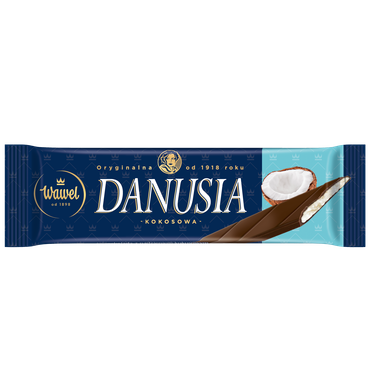 ---
12. Pawełek bar
Pawełek chocolate bar was the most commonly eaten chocolate bar amongst my friends during my primary school years.
It's a small bar divided into 5 small squares. The classic filling is toffee and that's what I always bought as a kid. Nowadays it comes in 5 flavors: caramel, cream, advocat, coffee, and duo, which is a fusion of white caramel chocolate and a dark one.
During Christmas time you can also expect special edition gingerbread flavor. I am yet to give it a try, but since I am a huge gingerbread fan, I am sure I will love it.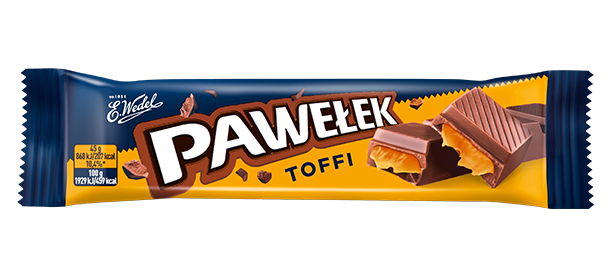 ---
Popular Polish Candy:
Pierniki is a polish name for gingerbread and the spices used for their manufacturing definitely require an acquired taste. Some love is some hate it. I am definitely in the first camp.
I can't imagine Christmas without the taste and smell of Pierniki in my house. It certainly brings back childhood memories of comfort and complete bliss.
Pierniki Toruńskie have been named after the famous Polish city Toruń. It's also the famous birthplace of the polish astronomer Copernicus.
The little heart-shaped gingerbread have been manufactured there since the middle-ages! Talk about an established brand.
---
Draże are litte balls filled with coconut filling and covered in dark chocolate. Kind of like the Maltesers but way better.
If there is one candy that reminds me the most about my childhood in Poland, it will be Draże, particularly from the Wadowice Skawa brand which dates back to 1909. I was obsessed with them.
At the time, they were one of the most affordable candies on the market and this is where most of my pocket money was spent.
The black cover with a cartoon pirate printed on the front is what you want to look for. The design remained the same since the 90s and I hope it won't change.
The 'Taste of Poland' candy box I mentioned earlier includes draże but you can also buy them separately. It's worth ordering it, just for this little delight.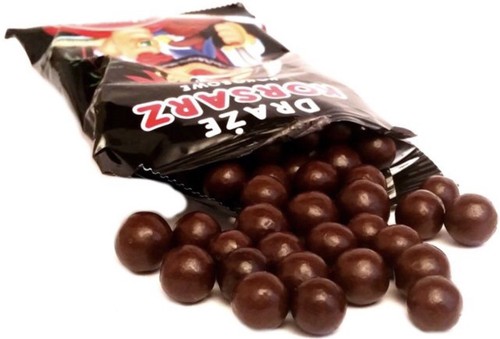 ---
Adults born in the 80s in Poland will always remember Kukułki, a candy that was always prevalent in our grandparent's houses.
Kukułki are hard caramels filled with cocoa flavor mixed with a little bit of alcohol. They are produced by the Wawel brand so you can also buy them together with Raczki – a similar candy, but associated by Polish kids with grandmothers.
The popularity of Kukułki has slowly faded over the years as new types of candy were introduced after the fall of communism and the introduction of democracy in Poland in the 90s however Kukułki will always have a soft spot in my heart (and stomach).
---
16. Pańska Skórka (Maiden's Skin)
If you asked someone from Western Poland what type of candy Pańska Skórka is, they probably would look at you confused.
This is a very regional sweet treat, popular in the Masovian region in mid-north-eastern Poland.
But what are they? Pańska skórka is a traditional, hand-made candy made out of sugar, fruit syrup, egg whites, gelatine, and potato starch. The ingredient list might not sound very appealing, but trust me, they are divine!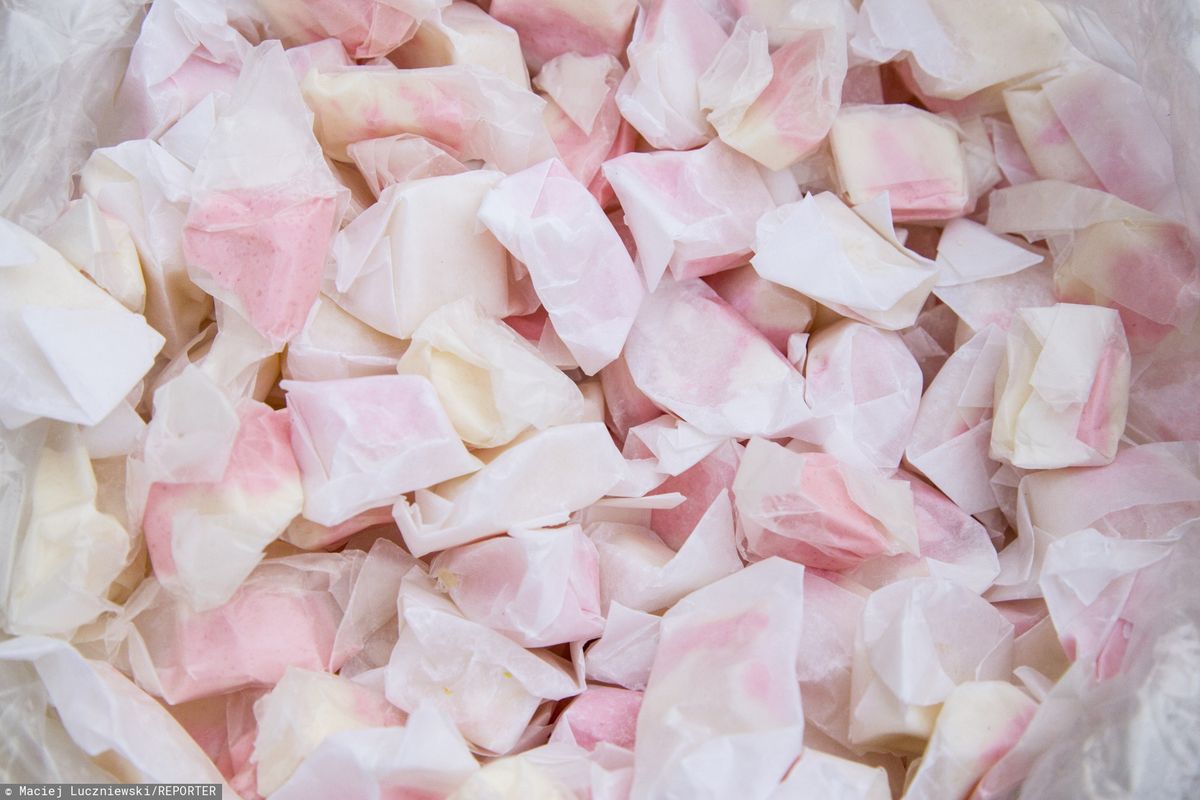 ---
17. Sezamki: Sesame Seed Bars
I always thought of Sezamki as a healthy snack. I mean it's sesame seeds and seeds are healthy with lots of nutritional value, right? well, not until you cover them in a lot of sugary syrup.
That's exactly what Sezamki are. Bars made out of sesame seeds and lots of sugar. They are actually pretty easy to make at home. Again Wedel is the leading brand in Poland producing Sezamki.
---
Last but not least, Krówki are one of the most famous polish candies. I even once stumbled upon a version of Krówki called Mou Polacca in a supermarket in the Dolomites in Italy.
The name Krówki translates to little cows. They are made out of condensed milk and tons of sugar. Not the healthiest of options but it is oh-so-tasty!
When it comes down to proper consistency of the fudge, it's a never-ending battle and the poles are divided into two camps. Camp one claims that the fudge should be soft to the point that it works like glue, sealing your jaw when you eat it. I am not joking!
The other camp, where I personally belong, believes that Krówka should be crumbly and drier, so you can bite it off.