Two layers of choux rise unevenly to form the peaks of the Carpathian mountains. Sandwiched between these rocky peaks, the budyn is a lush vanilla cream custard that makes you grab a second helping of the Polish Karpatka cake!
---
What is the Polish Carpathian Cake?
Karpatka dates back to mid 20th century. The recipe was developed around the 1950s but it didn't become popular until the 80s.
Nowadays the Carpathian cake is one of the staple cakes in the polish kitchen. Its name is derived from the Carpathian mountains, which the uneven shape of the cake strongly resembles.
The Carpathian mountains are the third longest mountain range in Europe and stretch from Austria, through Poland all the way to Romania and Serbia.
Karpatka is usually topped with a thin layer of icing sugar, just like the Carpathian mountains are often covered with a dust of snow.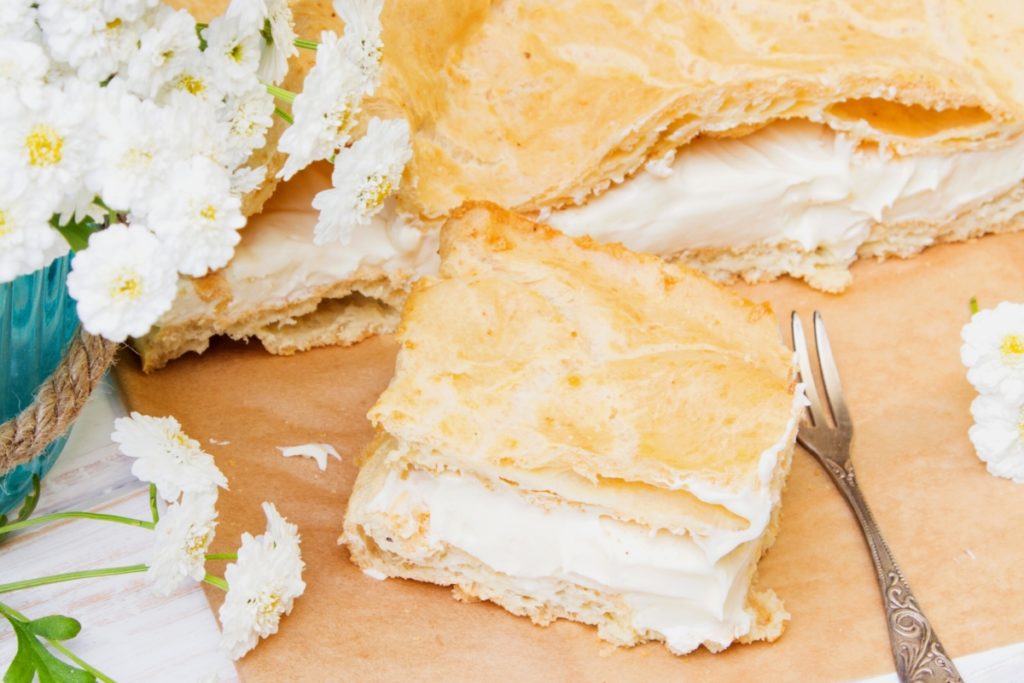 ---
Tips & Pointers for Karpatka Cake
Don't flatten the Karpatka cake dough. Let it be uneven!
Allow everything to cool down before assembling together.
You can make the vanilla cream filling a few hours ahead and allow it to cool.
If you're in an absolute hurry, you can use store-bought ready-to-eat vanilla pudding.
Chill the cake in the refrigerator for a few hours before serving.
Dust powdered sugar on top before serving.
Karpatka cake can also be topped with chocolate glaze.
If you like this recipe, you might also like the Polish papal cream cake recipe.
---
FAQs about the Polish Carpathian Cake
How do you pronouce Karpatka?
Karpatka is pronounced carh-pat-ka.
Does this Polish cake have any other names?
Karpatka cake is usually referred to as Carpathian Cake or Polish Carpathian Mountain Cream Cake. It's sometimes also called Polish Eclair Cake.
What is the difference between Karpatka and Kremowka?
Karpatka is made with a choux pastry while Kremowka is made with puff pastry. It's often said that the Karpatka cake is the peasant's version of the Kremowka cake.
What is Budyn? What if I can't find it?
Budyn is a Polish vanilla pudding available in the pre-mix form. If you can't find it, use any other vanilla-flavored pudding as a filling.
How to store the Carpathian cake?
This Polish Carpathian cake can be stored in the refrigerator in an airtight container for 2 to 3 days. Do not store for longer or the filling will get soft and mushy. Do not freeze!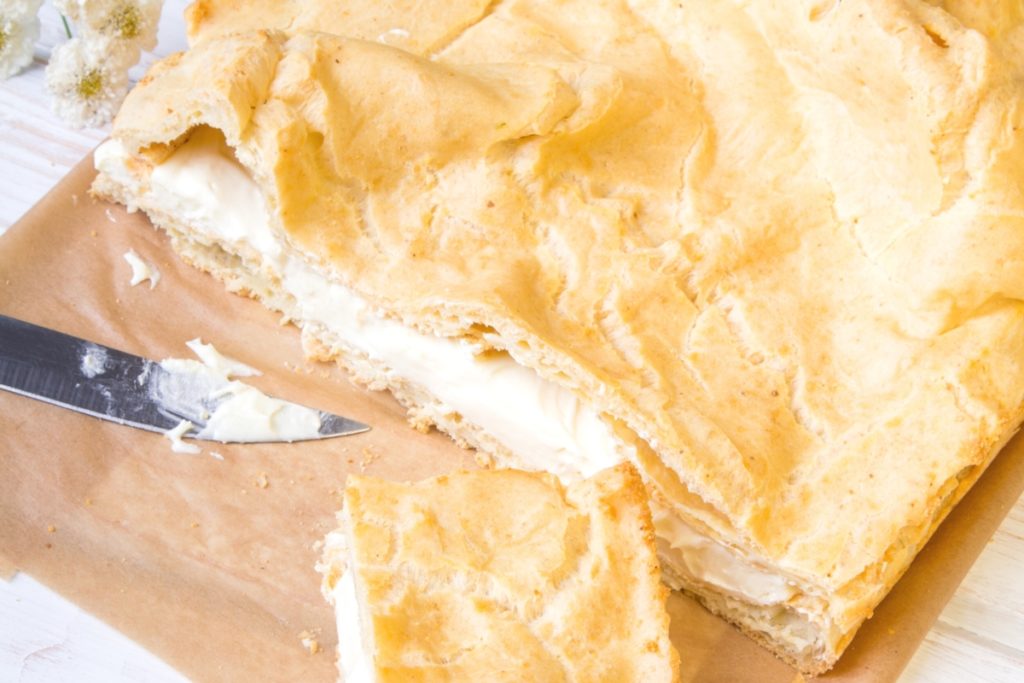 Yield: 16
Polish Carpathian Cake: Karpatka Recipe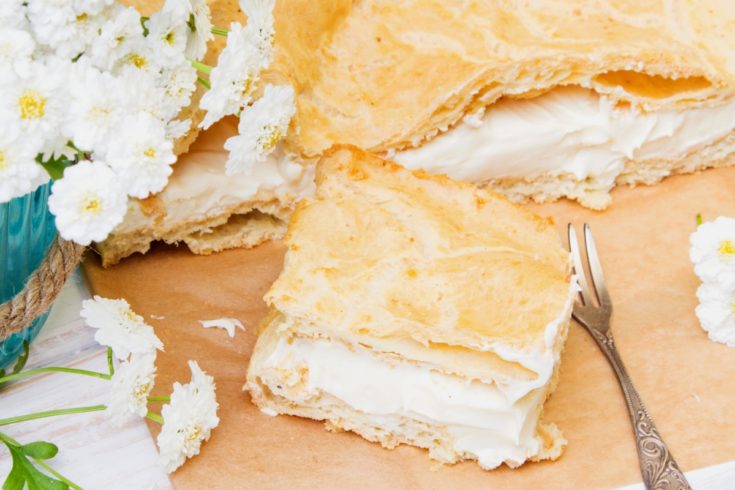 Two layers of choux rise unevenly to form the peaks of the Carpathian mountains. Sandwiched between these craggy peaks of the Polish Karpatka cake!, the budyn is a lush vanilla cream custard that makes you grab a second helping!
Additional Time
20 minutes
Total Time
1 hour
25 minutes
Ingredients
Cake Dough
1 cup of flour
1 stick (1.2 cup of butter)
5 eggs
1 cup of water
Cake Filling
2 Budyn (Polish vanilla puddings)
2 cups of milk
2 sticks of butter
1 tsbp of vanilla extract
Instructions
Preheat the oven to 390F. Always start the preparation of karpatka by cooking the pudding for the custard cream because it has to cool down completely on its own.
Pour 1.5 cups of milk into a saucepan. Bring the milk with vanilla extract to a boil. Meanwhile, mix half a glass of remaining milk with 2 bags of pudding powder.
Turn down the heat to low and pour in the well-mixed custard powder with milk. Keep mixing until it is smooth and thick.
Transfer into a glass dish, cover so it doesn't dry up, and wait until it cools down.
Now, you start working on the dough. Start preparing the dough by melting the butter with 1 cup of water in a pot. Bring to a boil, then reduce to a simmer.
Add flour to the pot stirring until smooth. Take off the heat and wait for it to cool completely, so set it aside.
When the mixture is cooled down a bit, mix it with eggs until you get a smooth dough with no lumps. You can use a mixer for this step.
Line 2 baking sheets (14''x17'') with parchment paper.
Using a spoon, spread the dough onto the parchment paper. It doesn't have to be smooth so it gets wavy while baking.
Bake for about 30 minutes, one baking pan at a time. Remove the first one from the baking pan to cool down.
Now, get back to finishing the cream. Once your pudding is completely cooled down, use a mixer to mix in the butter until smooth.
Place ready pudding cream on the bottom of the cake and level its surface. Then cover with a second pastry and sprinkle with icing powdered sugar on top.
Recommended Products
As an Amazon Associate and member of other affiliate programs, I earn from qualifying purchases.