Krokiety are golden brown Polish pancakes that are eaten with red borscht soup for Christmas. Of course, they're perfect for other times of the year too and taste great with mushrooms, sauerkraut, onions, or meat!
---
Krokiety is a savory Polish pancake that's quite often made by rolling a nalesnik (closer to French crepe than American pancake) that's stuffed with a meat or sauerkraut filling. Popular all over Poland, they can be filled with meat or veggies.
When eaten for Christmas Eve dinner, the krokiety must be vegetarian and is stuffed with a mix of mushrooms and sauerkraut.
Where did the Krokiety come from?
There is no certain history about how the krokiety developed. Legends are that it may have originated in France centuries ago. This is quite possible considering that the French word croquette is derived from the word 'croquer' which means 'to crunch'.
A 17th-century recipe by François Massialot used a filling of truffles, meat, cheese, then coats them with bread before frying them. An early 19th-century recipe by French cook Louis Eustache Ude in an English cookbook also used a thick binder.
In modern times, the French croquettes don't use a dough batter, but the Polish ones still do!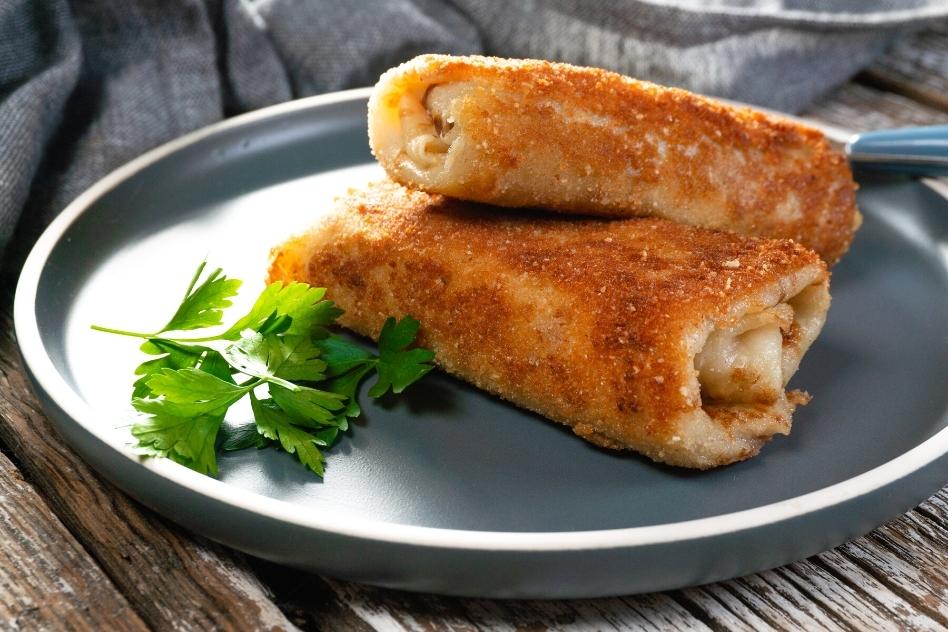 ---
What Are The Different Versions Of Krokiety?
Depending on the filling used, there can be many versions of the Polish krokiety.
Krokiety z kurczakiem – Krokiety with a chicken filling.
Krokiety z miesem – Krokiety with a minced meat filling.
Krokiety mieszane – A mixed filling of cheese, fried onions and mushrooms.
Barszcz z krokietem – A street food option, the mushroom kroiety is served with red beetroot borscht.
Krokiety mięsno-grzybowe – With a filling of minced meat and sliced mushrooms.
Krokiety kapustą kiszoną i grzybami – Filled with sauerkraut and mushrooms.
Krokiety z farszem mięsno-kapuścianym – Filled with meat and fresh cabbage.
Krokiety z soczewicą – Filled with lentils.
Krokiety jajeczne – Krokiety with a filling of finely chopped eggs.
---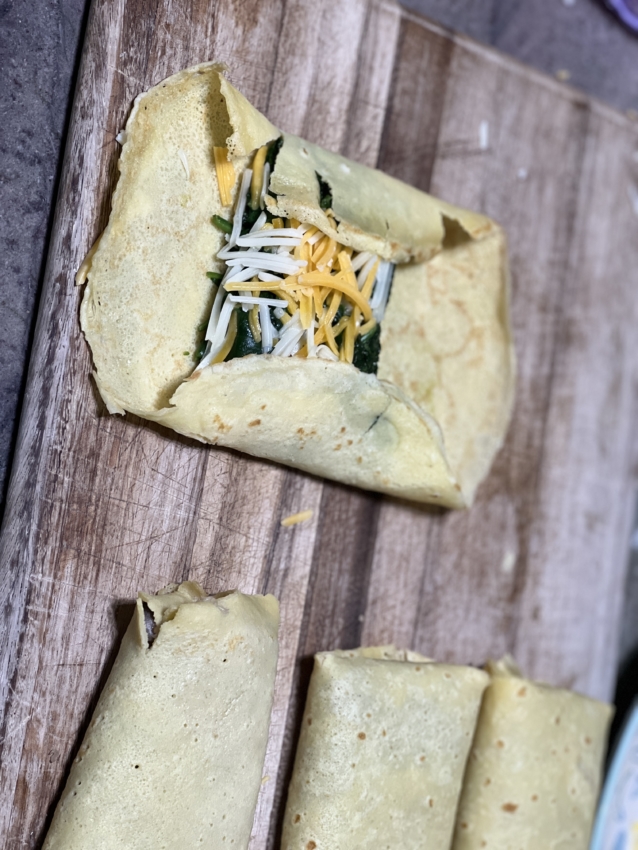 ---
Recipe Pointers For Making Krokiety
You can eat the krokiety on its own or with red borscht.
Make sure the batter is not too thick or too runny.
For Christmas Eve dinner, the krokiety are filled with mushrooms and fried onions since meat cannot be eaten.
For a truly unique taste, replace the sauerkraut filling with arugula.
Add a few spoons of sparkling water to the dough to make it fluffier!
For a richer taste, serve topped with melted cheese!
---
FAQs about Polish Krokiety
What to serve with Krokiety?
Krokiety can be eaten on its own. It can also be served with sour cream, red borscht, or chicken rosol soup.
Can the Krokiety be made Glutenfree?
To make the krokiety gluten-free, replace the flour with gluten-free flour and replace the breadcrumbs with panko. Keep in mind, that the recipe won't work with almond flour.
What to do if the Krokiety pancake falls apart while turning over?
If the pancake falls apart while turning it over, it means it's too thin. Add a few more spoons of flour to the batter and whisk well before making more pancakes.
What meat can I use for the krokiety fillings?
You can use any meat of your choice for the krokiety – chicken, turkey, beef, pork, or a mix of different meats. For veg krokiety for Christmas, use mushrooms, onions, and sauerkraut.
How long can you store Krokiety?
Cooked krokiety can be stored in the refrigerator for a week or in the freezer for 3 to 4 months. Reheat by frying in butter, lard, or oil before serving.
What mushrooms should I use for Christmas krokiety?
To make Christmas krokiety, use king bolete, borowik, porcini, or bay bolete mushrooms in the kapusta z grzybami filling.
Yield: 12
Krokiety Recipe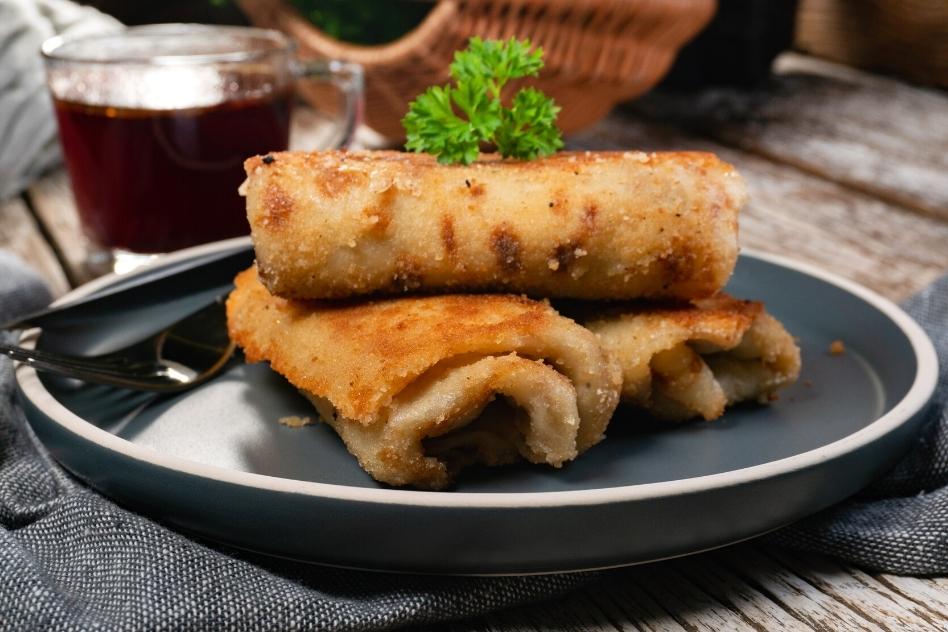 Perfectly browned and fragrant Polish krokiety are a great idea for lunch and delicious addition to red borscht soup for Christmas, or any regular day.
Total Time
1 hour
20 minutes
Ingredients
Krokiety Pancake Batter:
2 cups of all-purpose wheat flour
2 glasses of milk or water
2 tablespoons of butter or oil
3 medium eggs
1/2 teaspoon of salt and sugar
Krokiety Coating Batter:
2 medium or large eggs
2 tablespoons of wheat flour
half a cup of good breadcrumbs
oil for frying
Instructions
Put two glasses of flour into a large bowl and break 3 eggs into it along with 2 glasses of room temperature milk or water and one spoon of oil. Whisk together by hand or use a blender.
Preheat a flat pan of about 8" diameter. Spray with oil.
Pour enough dough into the pan until the mass freely covers the surface of the pan. Each time when pouring a batch onto the pancake, lift the pan over the burner to spread it evenly. Turn it over after about 1-2 minutes. Repeat until you run out of dough.
Insert the filling into each krokiet (see recipe for cabbage & mushroom filling). Place a large portion of the stuffing in each pancake.
Use the stuffing to make a thicker roll by placing it on one side of the cake.
First, roll the sides of the pancake inward (they don't have to touch each other). Then put the top of the pancake on them and start curling the krokiet.
Prepare 3 plates. lace two tablespoons of flour on a flat plate, whipped eggs on another, and breadcrumbs on the last one.
First, just lightly coat each croquet in the flour. Then dip it in the egg, and finally coat it in breadcrumbs.
On a bigger pan heat up some oil and fry your krokiety until they're brown, for about 1-2 minutes on each side.