Synonymous with Utah (where I actually live!), these cheesy funeral potatoes topped with crunchy cornflakes are a truly comforting dish. Make this ultimate comfort food at home that your kids will love!
---
This cheesy potatoes dish is so comforting and heartwarming. No wonder it's served at funerals too.
A popular side dish at the funeral dinners of the Church of the Latter-Day Saints, these "Mormon Potatoes" are also known as "funeral potatoes", "cheesy potatoes", "potato hot dish", or "potato casserole".
They're also called "party potatoes" because you'll find them at dinner parties, holidays, and sometimes at Thanksgiving or Christmas celebrations.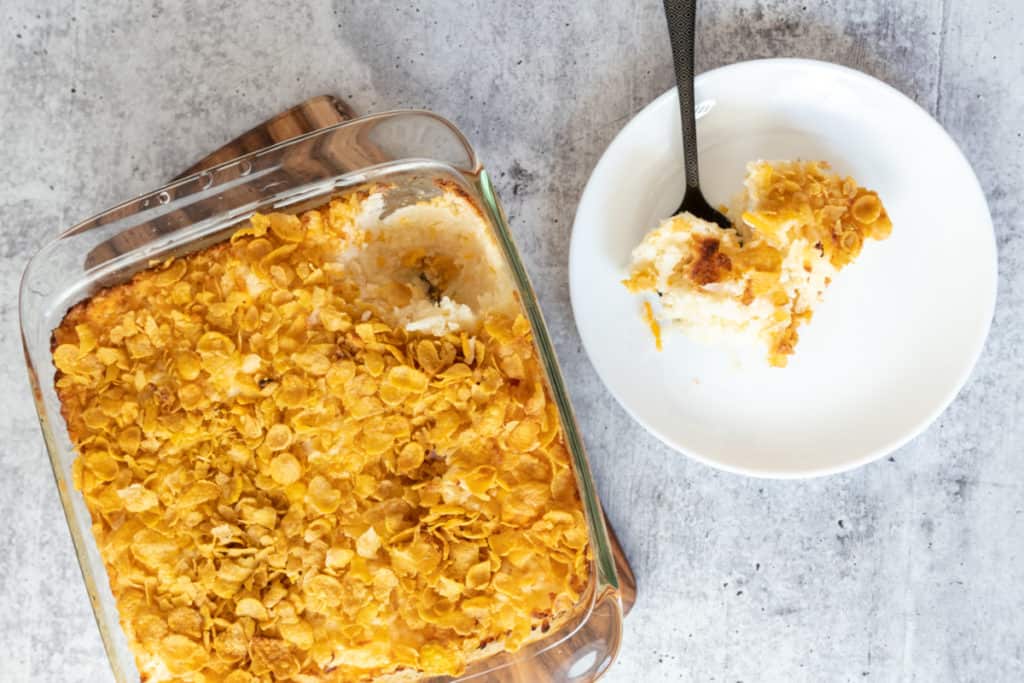 But did the Mormons invent these cheesy funeral potatoes? We don't know. The history of this classic dish has been lost to time.
Cheesy potatoes are a traditional dish throughout the Mid Western and Inter-mountain West states of the USA. These states include the popular Mormon regions known as the Mormon Corridor, Jello Belt, or Mormon Belt – Utah, Wyoming, Nevada, California, Idaho, and Arizona.
In fact, the Mormon potatoes are so popular in the State of Utah that when Salt Lake City hosted the Winter Olympics in 2002, a series of pins commemorating funeral potatoes were released.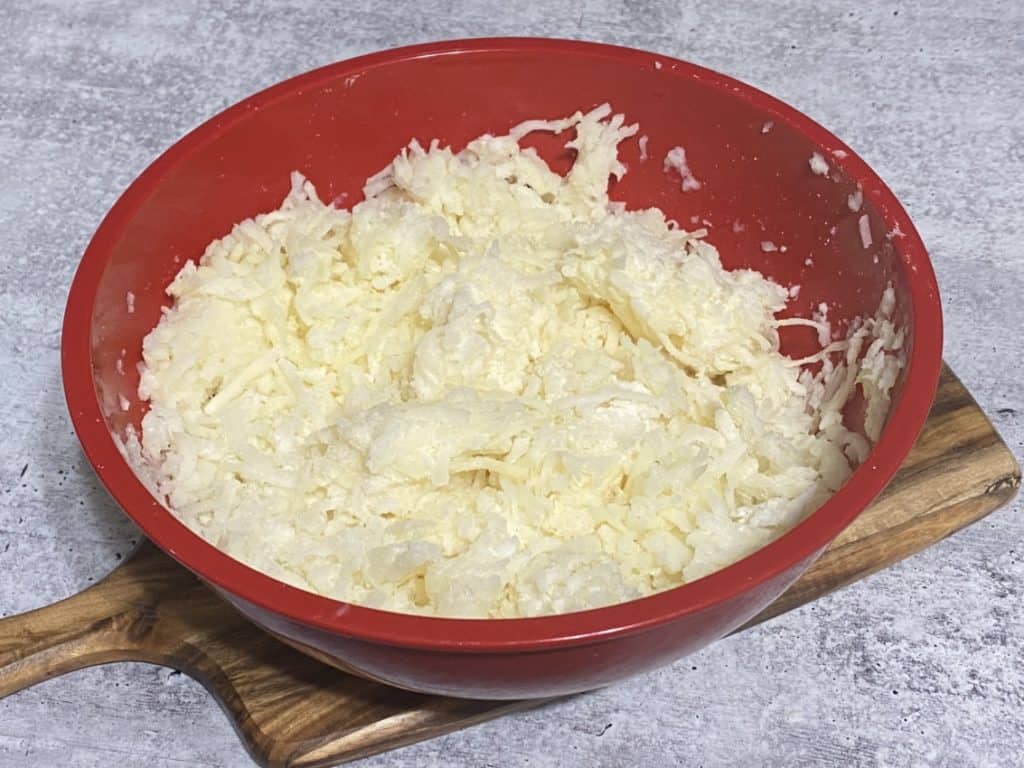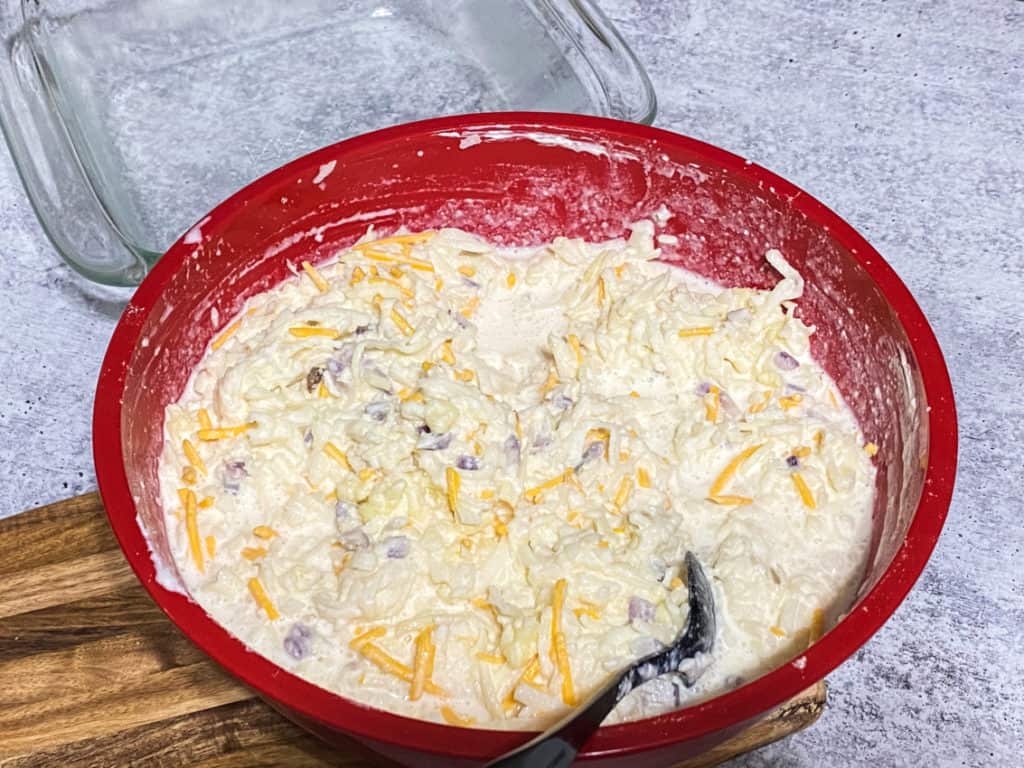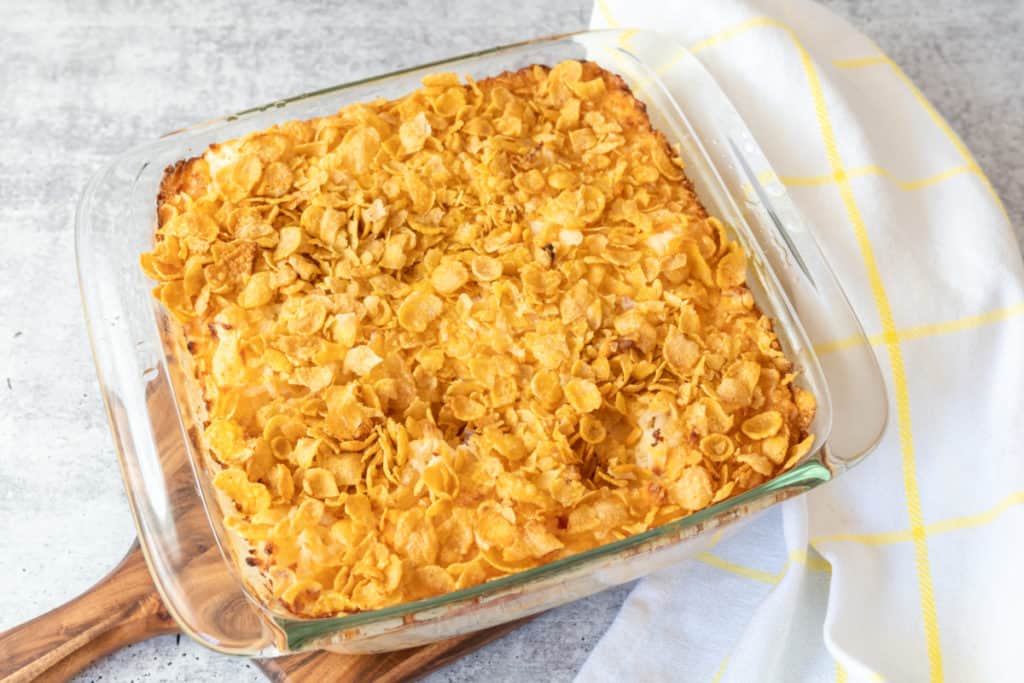 ---
Recipe Pointers For Mormom Potatoes Recipe
This is the perfect dish to take to a potluck dinner!
If you like garlic, you can add some chopped garlic or chives to the mixture before baking.
For extra goodness, you can top the cornflakes with more grated cheese or butter.
To create a meaty version, add chopped bacon or ham to the dish.
If you do not use cornflakes, use your favorite crunchy potato chips.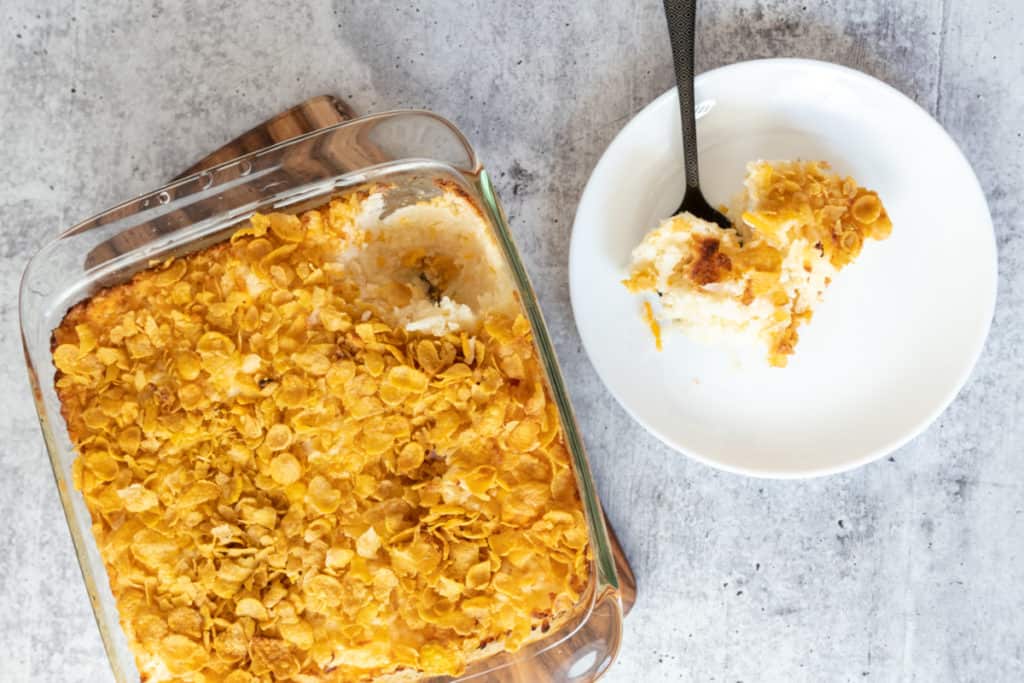 ---
FAQs about Funeral Potatoes
Why are funeral potatoes called Mormon potatoes?
Funeral potatoes are a MidWestern US dish that often served at the dinners held after Mormon funerals. That's why they're often called "Mormon potatoes" or "funeral potatoes".
What can I use instead of cream of chicken soup?
You can replace the cream of chicken soup with 1 cup of stock concentrate and 1 extra cup of sour cream.
Can I make these cheesy potatoes vegetarian?
Yes, to make this potato casserole vegetarian, simply replace the cream of chicken soup with cream of mushroom soup.
Do I have to use frozen hash browns?
No, if you do not want to use frozen hash browns, you can grate fresh potatoes at home and use them instead.
Can I make Mormon potatoes ahead of time?
Yes, you can mix all the ingredients together in the baking dish, and cover it. Store it in the fridge for up to 2 days before you need it. Once ready to bake the funeral potatoes, top with the crushed cornflakes and bake.
How long can cheesy potatoes be stored in the refrigerator?
Cheesy potatoes can be stored in a refrigerator for 2 to 3 days. Cover with saran wrap or cling film before refrigeration. Reheat in the oven at 330°F for 15 to 20 minutes before serving.
Mormon Funeral Potatoes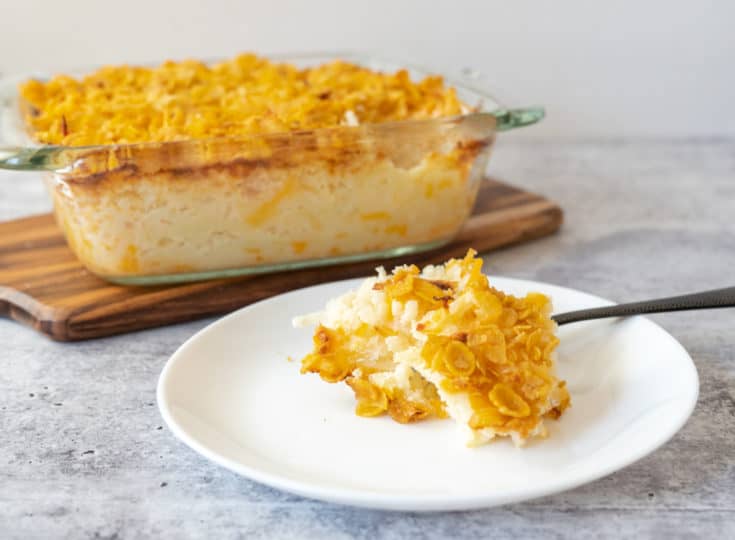 Synonymous with Utah, these cheesy funeral potatoes topped with crunchy cornflakes are a truly comforting dish! Make this ultimate comfort food at home!
Additional Time
10 minutes
Total Time
1 hour
15 minutes
Ingredients
20 oz frozen hash browns, slightly defrosted
2 cups of melty cheese (cheddar, mozzarella, Monterey Jack, or mixed)
1.5 cup of sour cream
1 can of cream of chicken soup (or 1 cup of stock concentrate - but then increase sour cream to 2 cups)
8 tablespoons of butter, melted
1 cup of corn flakes
1 cup of fried onions (best from Asian markets)
salt, pepper to taste
Instructions
Heat up the oven to 330 F and spread butter all over your baking tray.
In a big bowl put hash browns, sour cream, chicken soup, dried onion, butter, salt and pepper and cheese. Mix well and put it all in your baking tray.
Sprinkle cornflakes on top by gently crushing them in your hands.
Bake for 50 minutes. Let cool down for about 10 minutes before serving.