The CPK Spinach and Artichoke Dip is amazingly creamy and highly addictive! It's also easy to make at home in just 35 minutes!
---
The California Pizza Kitchen copycat spinach and artichoke dip is a hit with all customers! Creamy and luscious, it's the perfect accompaniment for some nachos or pita chips.
I actually used to work at CPK years ago, so had inside information on secret ingredients and strategies for their spinach and artichoke dip.
Who invented the first spinach and artichoke dip?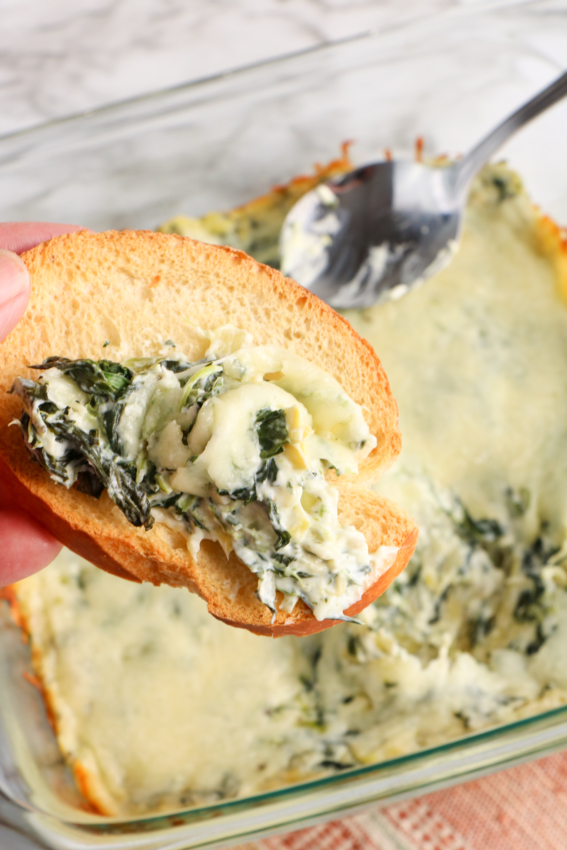 No one really knows, but the spinach and artichoke dip became popular across the US in the 1950s at the same time that TV dinners started gaining popularity.
Many popular brands and restaurants have their own version of the spinach and artichoke dip, but the CPK version is the tastiest!
What's so special about the California Pizza Kitchen spinach and artichoke dip?
A vast majority of CPK employees list this dip as their own and their customers' favorite appetizer. I was one of them when I used to work there.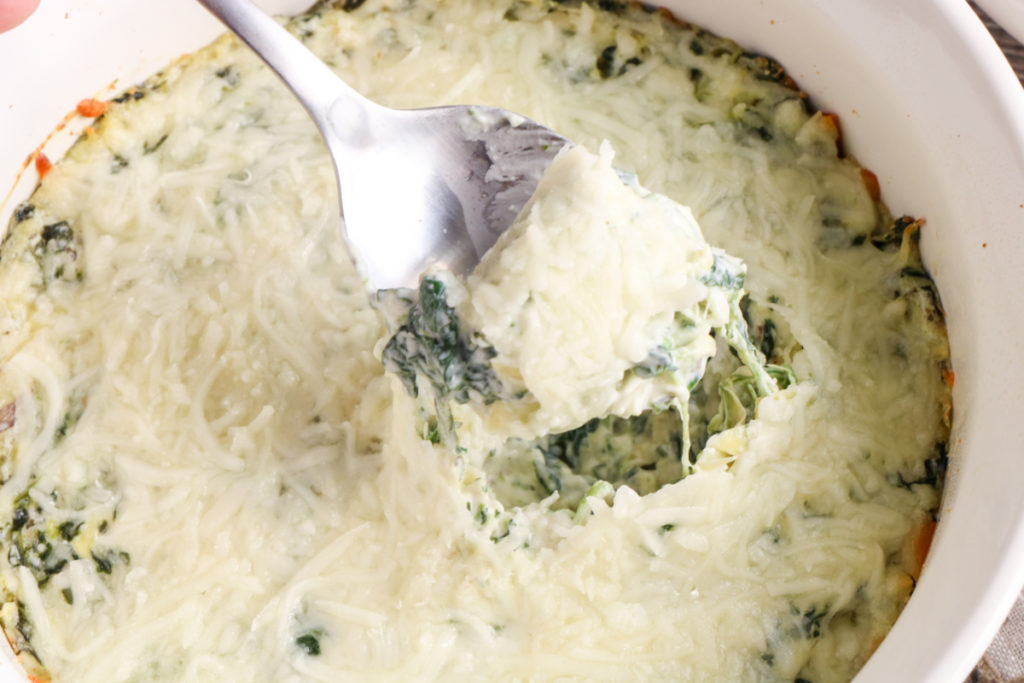 Recipe Pointers For Spinach & Artichoke Dip Recipe
For a lighter option, swap out the sour cream in the recipe for Greek yogurt!
Drain the spinach well so that the dip is not runny!
You can use low-fat cream cheese, but full-fat cream cheese makes it richer!
The Italian cheese blend can be replaced with just Parmesan.
Not a fan of spinach? Use kale instead!
Serve with warm tortilla chips and sour cream!
This dip is perfect for dinners or potluck parties!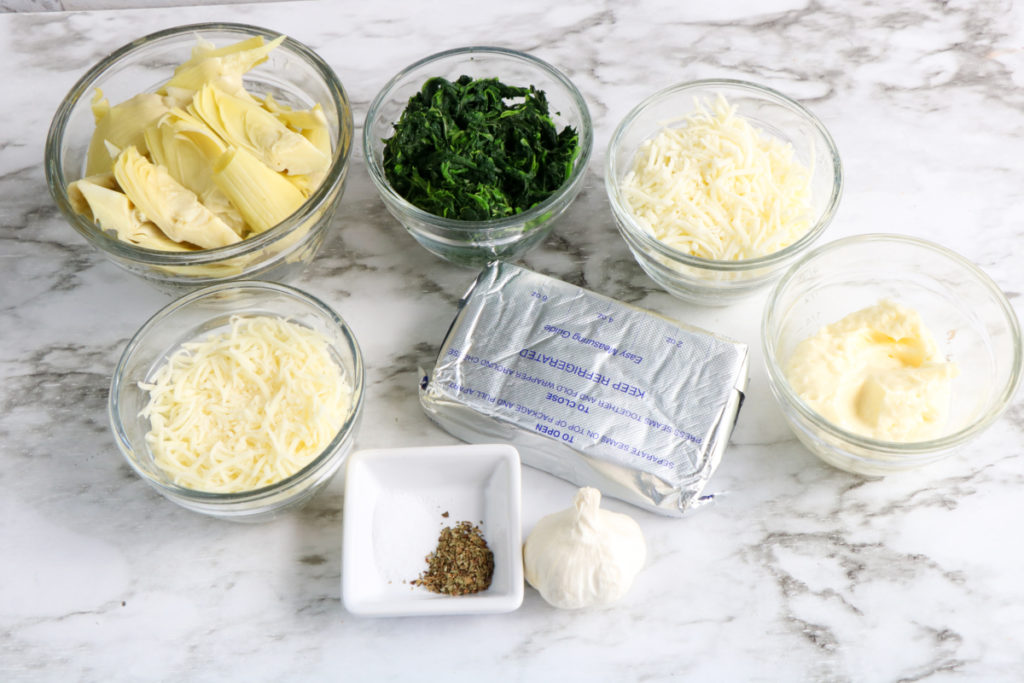 FAQs about California Pizza Kitchen Spinach Dip
Can I make the spinach dip spicier?
Yes, to make the spinach and artichoke dip spicier, add in more Tabasco sauce, or add in a teaspoon of paprika or chili flakes.
How to make this recipe vegetarian?
To make a vegetarian spinach and artichoke dip, replace the chicken stock with vegetable stock and the chicken stock cube with a vegetable stock cube.
Can I use fresh spinach?
Yes, you can use fresh spinach instead of the canned variety. Just chop the spinach and add it to the baking dish. It does not require extra time for cooking.
What can I serve this spinach and artichoke dip with?
Serve the spinach dip with nachos, tortilla chips, or pita chips. You can also serve it with carrot sticks, celery, broccoli, bell pepper strips, asparagus strips, cucumber sticks, or any other veggie sticks of your choice.
Wheat crackers or baked or fried potatoes also go great with this dip!
What can I do with leftover spinach and artichoke dip?
You could use the leftover dip as a sauce for breakfast. Layer a taco with some chopped veggies and an egg, top with the leftover dip, and enjoy a filling breakfast!
You could also use the dip as a topping for some pasta or serve it with these potato dumplings.
The easiest option is to layer it on some crunchy bread and eat as a snack!
How do I store leftover spinach & artichoke dip?
Store the leftover dip in an airtight container in the fridge for a few days. Reheat before serving. It's best not to freeze the dip because the sour cream will split.
CPK Copycat Spinach & Artichoke Dip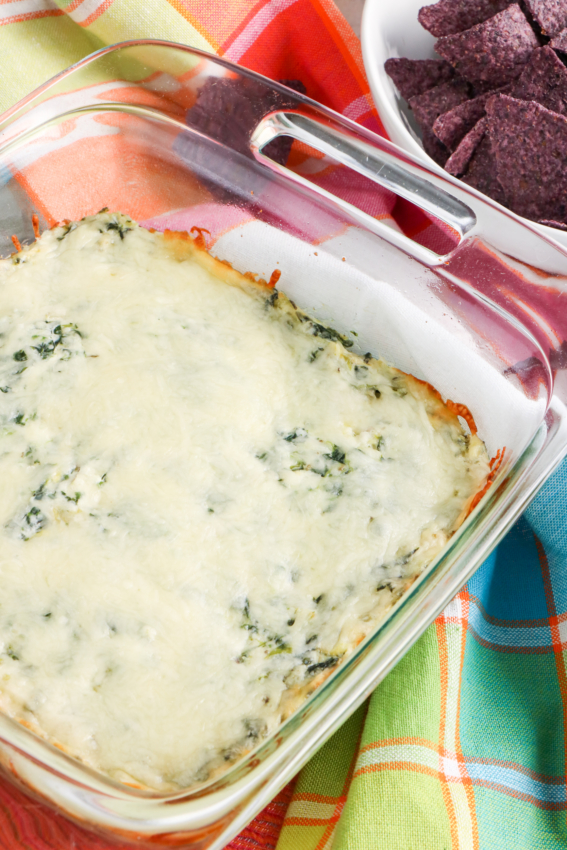 The CPK Spinach and Artichoke Dip is amazingly creamy and highly addictive! It's also easy to make at home in just 35 minutes!
Ingredients
1 (8 oz) package cream cheese, room temperature
¼ cup sour cream
2 tablespoons of butter
2 tablespoons of flour
1 cup shredded Italian cheese blend
½ cup shredded mozzarella cheese
1 clove garlic, minced
½ teaspoon dried basil
1 (6 oz) can artichoke hearts, drained and chopped
½ cup frozen spinach, defrosted, thawed and drained
½ cup chicken stock
1 cube of chicken stock concentrate, crumbled
½ tsp Tabasco
Salt to taste
Instructions
Preheat the oven to 350 degrees.
Prepare a baking dish with nonstick cooking spray.
Melt butter in a frying pan. Add the garlic and wait for it to brown.
Sprinkle the flour on top and continue cooking for about 5 minutes while mixing constantly. Once you see a smooth consistency add the chicken stock.
Once it starts to simmer, remove from heat and add sour cream and chicken stock cube and mix together.
Then add spinach, artichokes, cream cheese, Italian cheese blend, basil, tabasco, and salt.
Spread it in the baking dish and top with the mozzarella cheese.
Bake for 25 minutes or until the cheese has melted.
Serve with tortilla chips,crackers, and/or toasted bread.