A quintessentially British dish, Shepherd's pie is made with ground lamb and seasonal veggies topped with creamy mashed potatoes. Flavorful and easy to bake at home!
---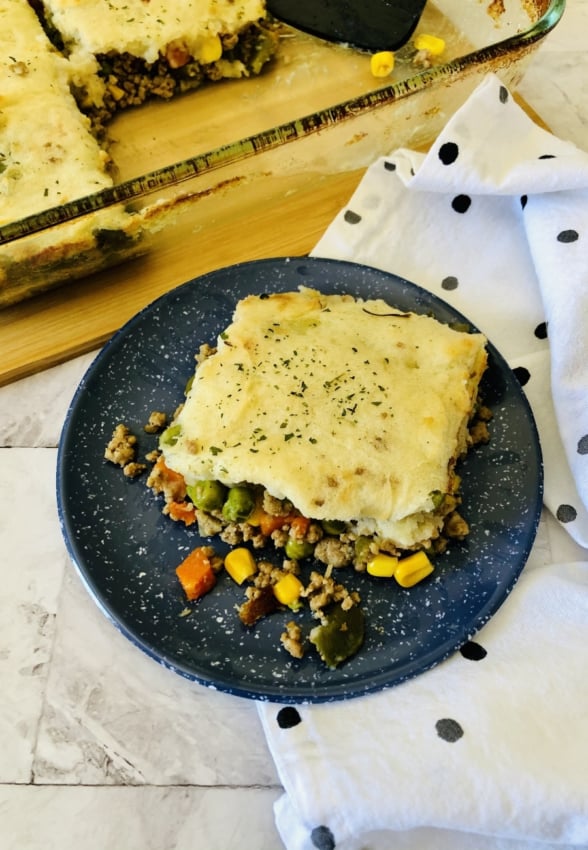 Did you know that what's called Shepherd's pie in America, is actually called a cottage pie in the UK and Ireland?
This casserole-style dish of ground beef covered with mashed potatoes can't really be called a Shepherd's pie. Why? Because an authentic shepherd's pie is made with minced lamb meat. Hence the name 'Shepherd's'.
So how do you differentiate between a Shepherd's pie and a cottage pie?
Simple. If it has ground lamb in it, it's a Shepherd's pie; if it has ground beef in it, it's a Cottage pie.
Irish pubs everywhere serve the best Shepherd's pies. This dish made from ground lamb and winter vegetables is often mistaken to be Irish. Or to be clear, the Irish claim to have invented it.
But history shows that Shepherd's pie was more likely invented by the British.
---
Where did Shepherd's pie originate?
There are two possible scenarios in which this happened, one in the sheep lands of Northern England and Scotland, and the other in British-occupied Ireland.
The Scotland and Northern England version of the pie came into existence in the 18th century. However, at that time, both the lamb and beef versions were called cottage pie at that time.
It was originally made using any leftover ground meat by peasant housewives as a way to reuse leftover meat. The pot was lined with mashed potatoes, filled with meat, and covered with mashed potatoes again.
The Scottish version often used pastry topping instead of mashed potatoes.
When the pie made its way from Scotland to Ireland, it lost the traditional pastry topping and was replaced by mashed potatoes. You'll find both variations of the pie to be popular in different regions.
The other version of this pie's history is this.
By the 15th century, the British ruled over Ireland. The conquering British became landowners while the impoverished Irish worked their farms.
In 1589, the English writer-poet, politician, and soldier Sir Walter Raleigh introduced potatoes to Ireland. At the same time, the British who missed their beef dishes increased the production of beef in Ireland and brought the shepherd's pie with them.
Even though the Irish couldn't afford beef back then, they definitely do now! And the hearty warming pie is as popular as ever!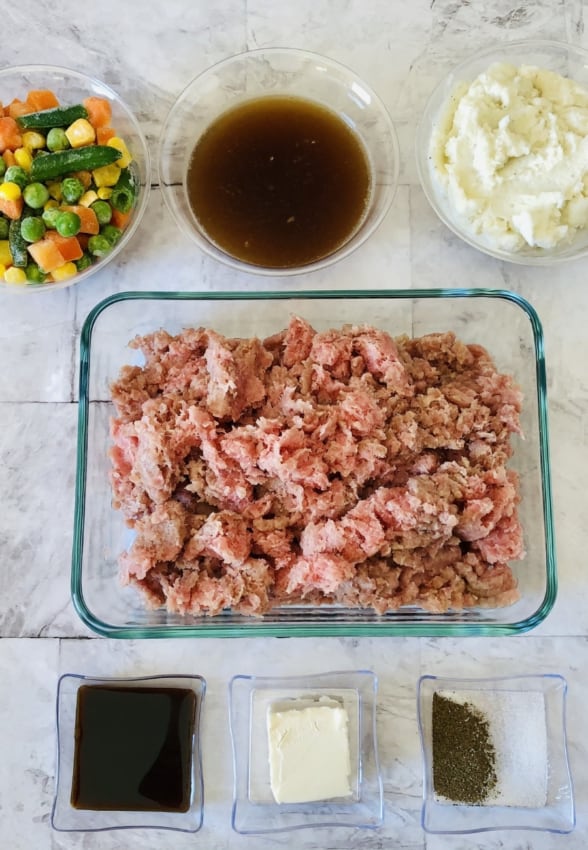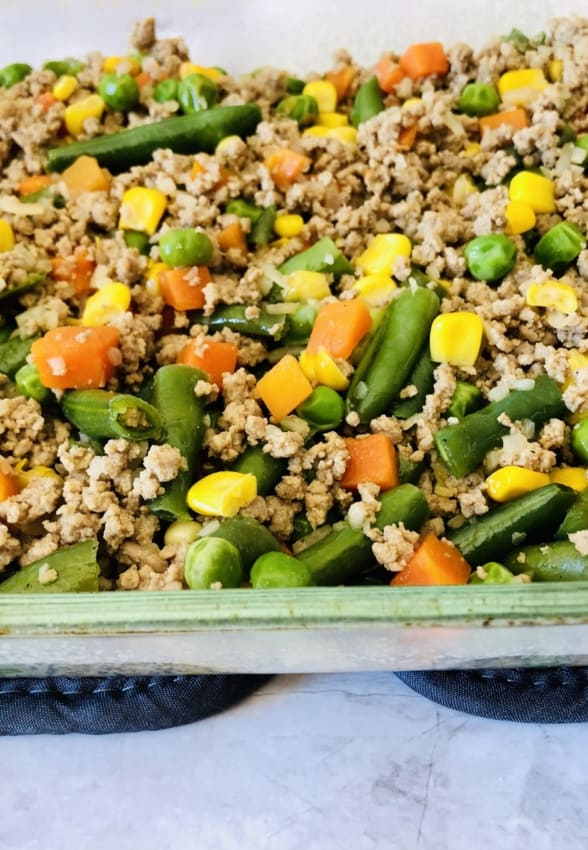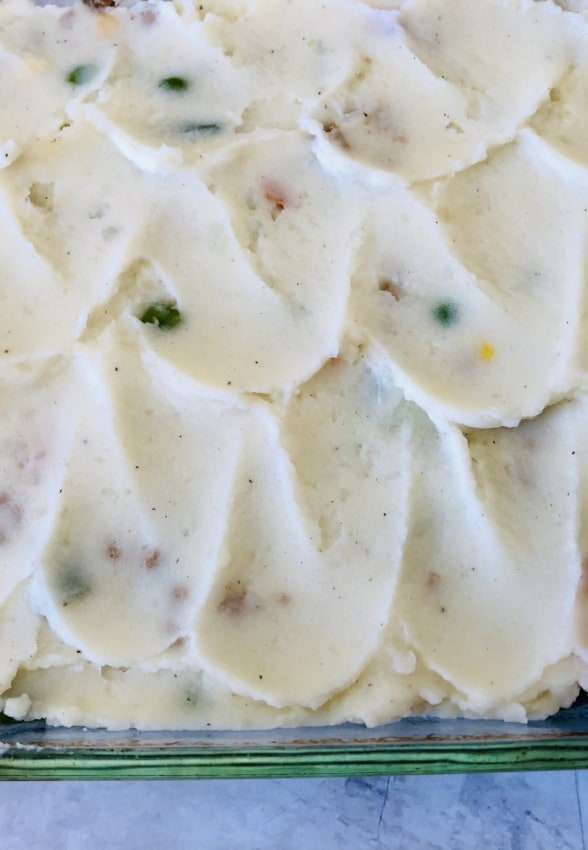 Recipe Pointers For Shepherd's Pie
You can use beef broth or lamb broth.
You can add chopped mushrooms to the pie.
If you prefer, top the upper layer of mashed potatoes with a thick layer of cheddar cheese.
You can also sprinkle some chopped chives on top.
For a naturally sweeter pie use mashed sweet potatoes.
Shepherd's pie is gluten-free!
If you replace the lamb meat with beef meat, you can use the same recipe to make a cottage pie.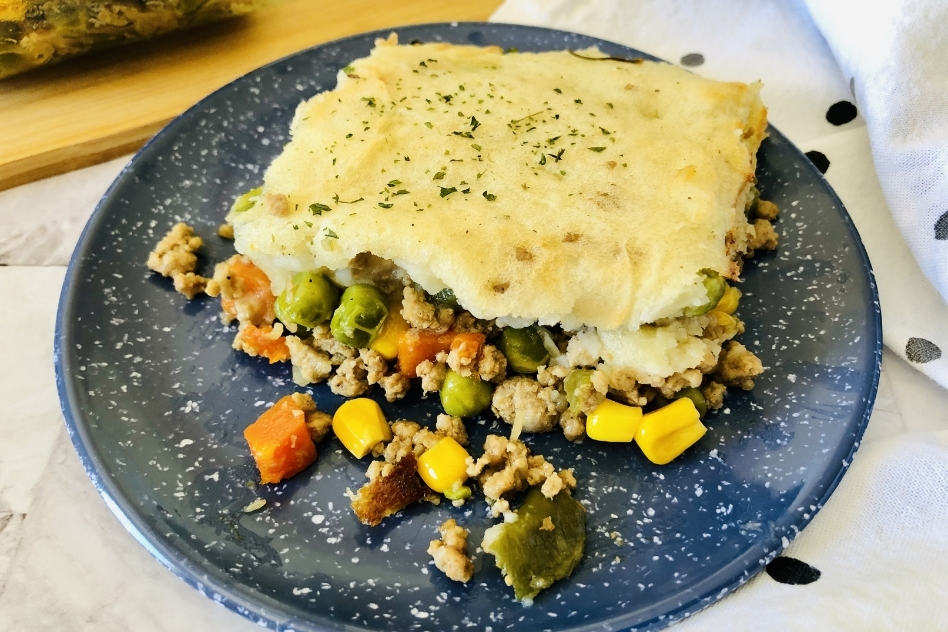 FAQs about Shepherd's Pie
What is the difference between shepherd's pie and cottage pie?
Shepherd's pie and cottage pie are both baked pies made of a layer of minced meat and a layer of mashed potatoes. The difference between them is that shepherd's pie is made with minced lamb meat while cottage pie is made with minced beef.
Is Shepherd's pie British or Irish?
Shepherd's pie is a British dish that was invented in Scotland and Northern England where lamb is popular. The British ruled Ireland for a while and the British landowners introduced this pie there.
Can I freeze leftover Shepherd's pie?
Plain potatoes don't really freeze well, but when they're mixed with butter to make mashed potatoes, they freeze well. That's why you can freeze the leftover shepherd's pie for up to 3 months.
Can I make shepherd's pie vegetarian?
Yes, there is a modern vegetarian version of shepherd's pie. Called Shepherdless pie, you can make it by replacing the minced lamb with mushrooms, kale or lentils, and the beef broth with veggie stock.
Can I use olive oil instead of butter?
You could use olive oil, but please don't. It won't taste anything like the original. Butter is best!
What to serve the shepherd's pie with?
Shepherd's pie is fine on its own; but you can serve it with a green salad, baked beans, roasted cauliflower, diced carrots or parsnips, mushy peas, soda bread, and some good red wine.
Are there similar pies in other countries?
There are many pies similar to the Shepherd's Pie in other countries, but some of them use different meats. They are called Hachis Parmentier in France, Pâté Chinois in Canada, Escondidinho in Brazil, Pastel Tulup in Indonesia, Pastel de Carne in Uruguay, Filosoof in the Netherlands, Pióg an Aoire in Ireland, Cumberland pie in Cumbria, and pastel de papa in Argentina.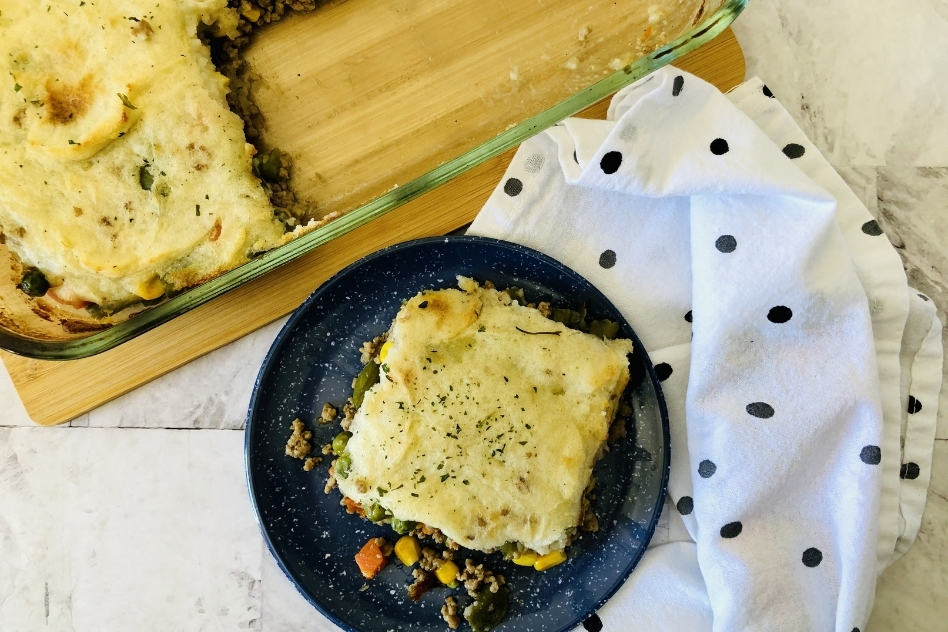 Shepherd's Pie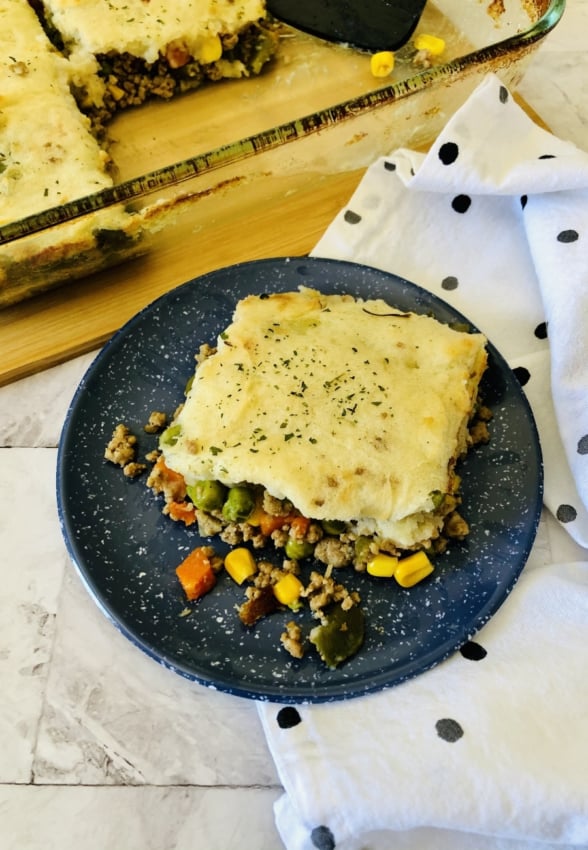 A quintessentially British dish, Shepherd's pie is made with ground lamb and seasonal veggies topped with creamy mashed potatoes. Flavorful and easy to bake at home!
Total Time
1 hour
10 minutes
Ingredients
4 cups of prepared mashed potatoes
2 tablespoons butter
1 onion, chopped
2 cups mixed vegetables
1 ½ pounds minced lamb
½ cup beef broth or lamb broth
1 teaspoon Worcestershire sauce
Salt & Pepper to taste
Dry parsley
Instructions
Preheat oven to 400 degrees.
Saute the onion in butter until tender.
Add the minced lamb and cook until browned.
Stir in the vegetables and cook until tender or warmed through.
Add in worcestershire sauce, broth, and salt & pepper to taste.
Simmer, uncovered, on low for about 10 minutes.
Spray a baking dish with nonstick spray and starting with the meat, layer the meat mixture and mashed potatoes until all used. (The top layer should be mashed potatoes).
Bake for about 40 minutes, until the potatoes are golden brown on top.
Let stand for about 10 minutes before serving.
Notes
Homemade or instant mashed potato both work well.
Fresh, frozen, or canned mixed vegetables work just fine.