Mushroom Wellington is the perfect meatless snack. Made without meat, this version using filo pastry and mushrooms is rich, hearty and flavorful!
The tasty vegetarian Mushroom Wellington is a popular twist on the Beef Wellington that was named after Duke Wellington's defeat of Napoleon at the Battle of Waterloo in 1815. The beef Wellington in turn is an anglicized version of the French filet de boeuf en croute.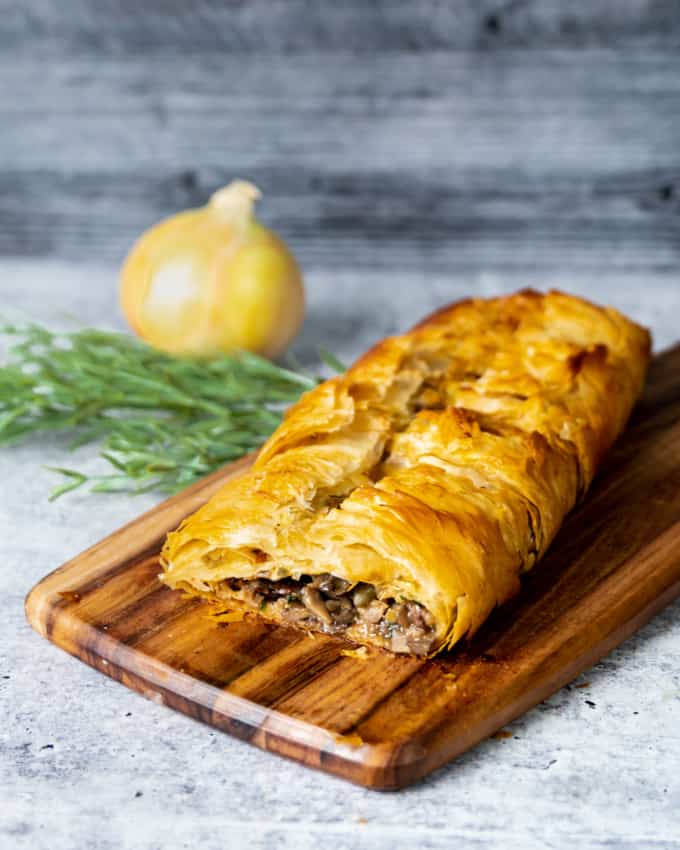 The mushrooms in the vegetarian Wellington give it all the hearty meatiness of the beef dish, without actually containing any meat.
Mushroom Wellington's are usually made using puff pastry and sometimes using filo dough. I've made both versions, and my family loves the dish using filo dough more.
What is Puff Pastry?
Puff pastry, also known as pâte feuilletée is a French pastry made by rolling dough with layers of butter or fat.
What is Filo Dough?
Filo dough, also known as phyllo is a Greek or Middle-Eastern pastry made by rolling out unleavened dough into very thin sheets. These sheets are often thin enough to read a book through them.
Filo Dough vs. Puff Pastry
Both filo dough and puff pastry are used in a range of dishes. But the difference lies in the way the doughs are prepared.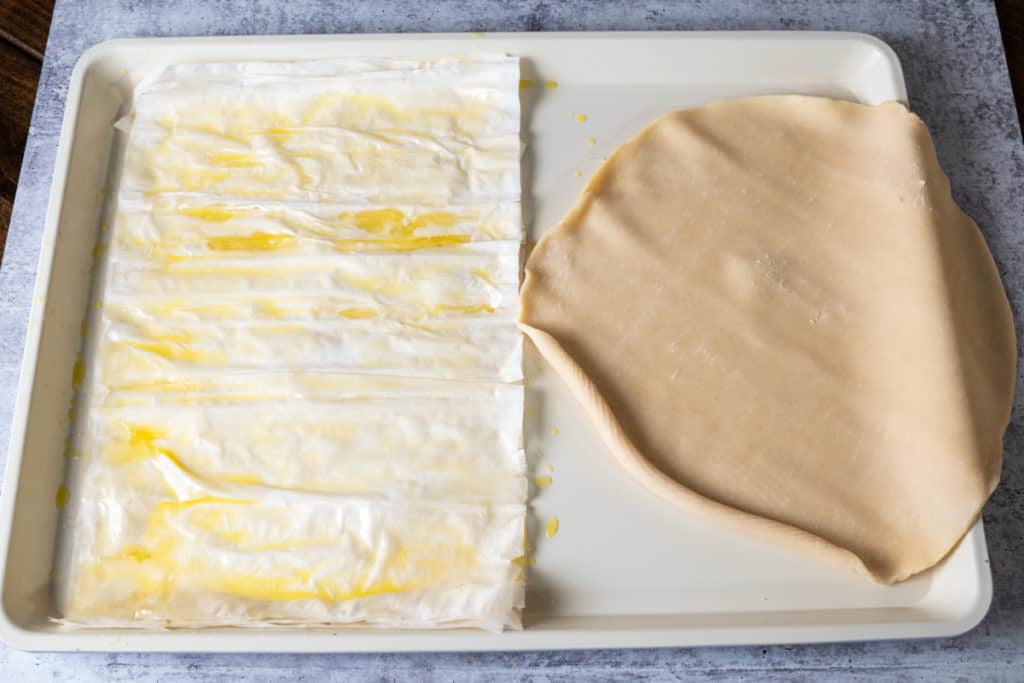 For the puff pastry, the dough is rolled and folded over and over again until it forms many thin alternating layers of dough and butter/fat. This process is called lamination. The resulting dough turns into a flaky puff pastry when baked.
The filo dough on the other hand is made with water, flour, and a very small amount of oil. The dough is rolled to an almost paper-thin sheet that is then cut into smaller sheets and stored till it's ready to use.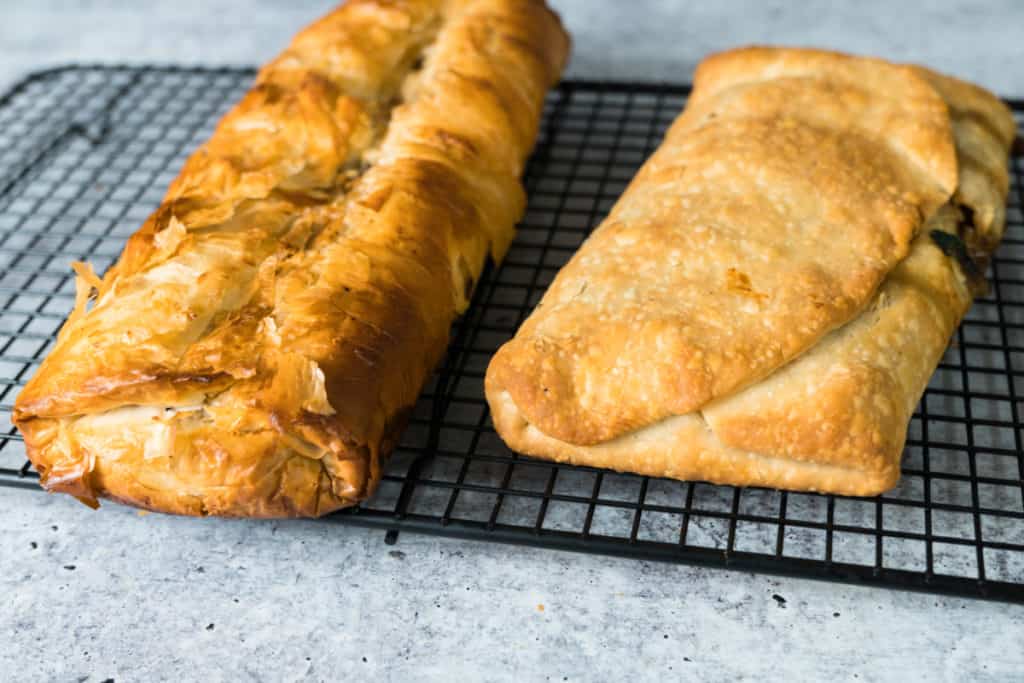 When the phyllo dough is used, every layer is brushed with oil or butter before stacking the next layer on top of it.
When baked, the filo pastry results in a flakier, crispier, and crunchier pastry that feels lighter than the denser and richer puff pastry.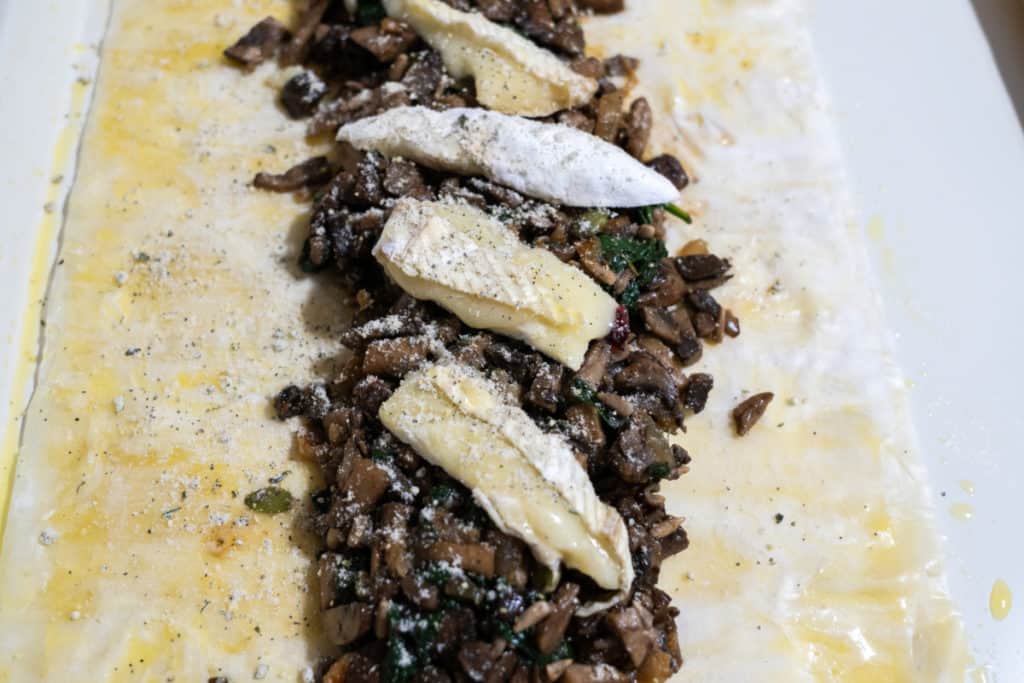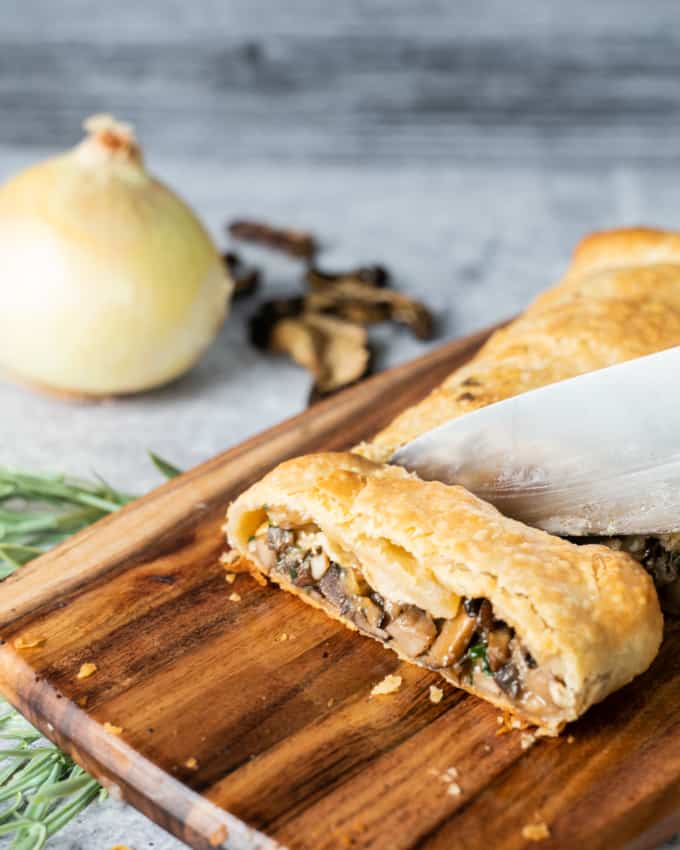 Recipe Pointers For Mushroom Wellington Recipe
You can make your Wellington as flat or raised as you want. My husband said the taller the more it falls apart so we prefer a flatter version.
You can make your own filo dough if you want to, but store-bought is easier!
Melt the butter and have it ready before you start layering the filo pastry.
Filo pastry dries really fast when exposed to air. So it's important to work quickly when layering the pastry with butter.
You can replace Camembert with Brie.
Some recipes will tell you to wrap your filling in a foil and freeze it for an hour. I don't do this because I think it just creates more of a mess and doesn't help at all.
You can use any other seasonal herbs instead of thyme.
This mushroom Wellington recipe is vegetarian!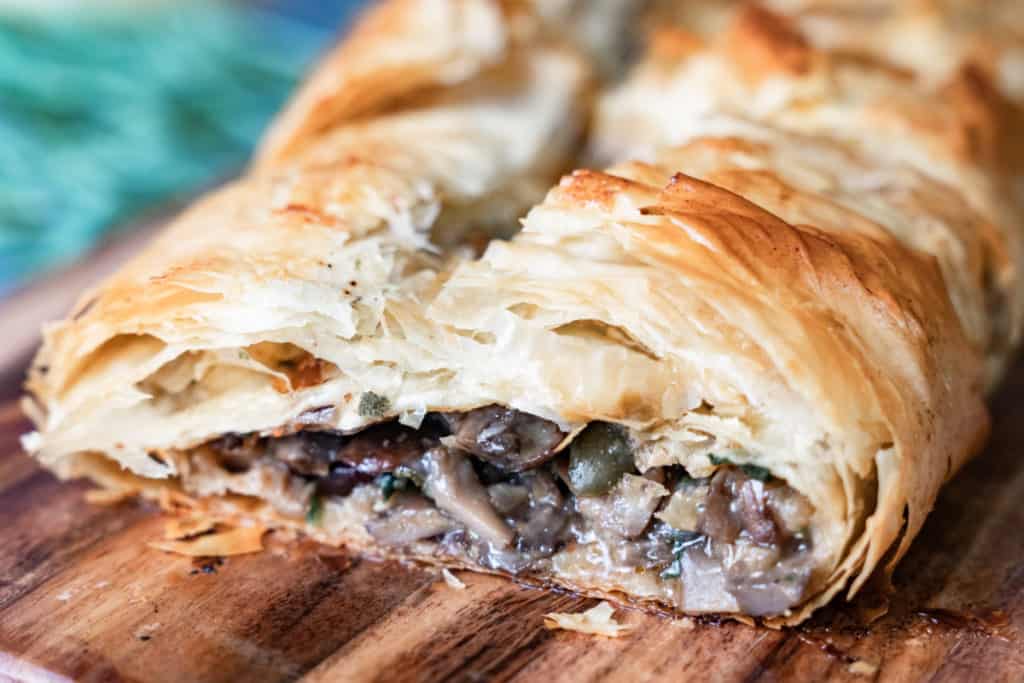 ---
FAQs about Mushroom Wellington
Can I make this recipe vegan?
To make this recipe vegan, use a vegan filo pastry and a vegan butter.
What do you serve with mushroom Wellington?
Mushroom Wellington is perfect on its own. But you can also serve it with these kopytka dumplings, roasted cauliflower, a fresh salad, or some creamy mashed potatoes and gravy.
Which mushrooms should I use?
You can use any mushrooms you prefer. I like to use either portobello, button mushroom, or baby bella mushrooms. You can also use a mix of different mushrooms.
Do I have to use pine nuts or cashew nuts?
You can replace pine nuts or cashew nuts with any other nuts you prefer – chestnuts, walnuts, or pecans. If you are allergic to nuts, you can skip them altogether.
Can I make the vegetarian Wellington ahead of time?
Yes, you can make the Wellington a day or two ahead. Just put everything together and refrigerate till you are ready to bake it.
Can I store leftover mushroom Wellington in the fridge?
Although mushroom Wellington is best eaten fresh, yes, you can store leftovers in the refrigerator. Cover it with a foil before refrigeration. Reheat in a microwave or oven before serving.
Yield: 1 Wellington - about 4 portions
Mushroom Wellington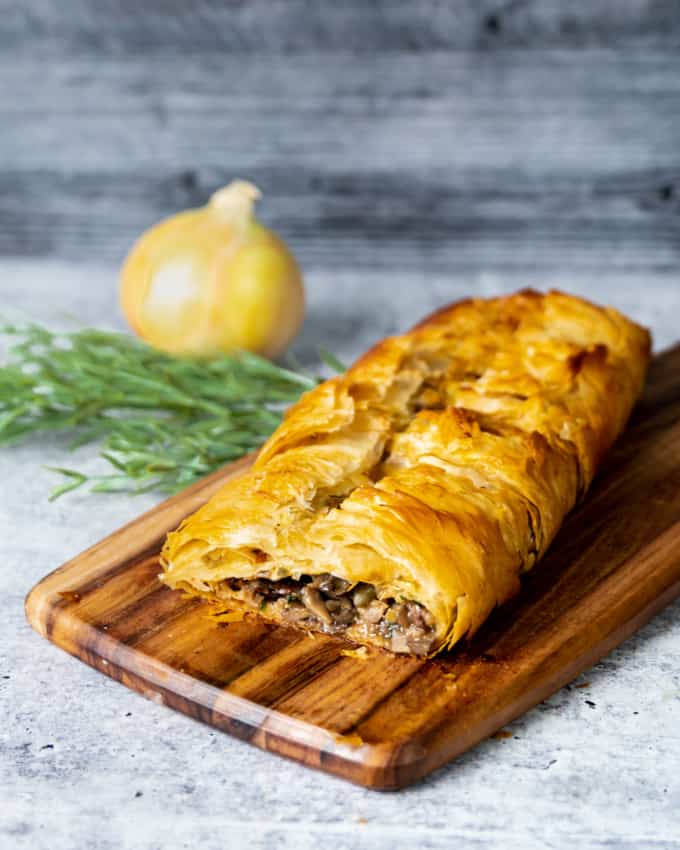 Mushroom Wellington is the perfect meatless snack. Made without meat, this version made using filo pastry and mushrooms is rich, hearty, and flavorful!
Additional Time
10 minutes
Ingredients
1 roll of filo pastry
1/2 cup of salted butter
1.5 lbs of mushrooms, finely chopped (you can reserve 4 mushrooms to add to the center)
1/2 cup of dry wild mushrooms
2/3 cup of spinach (fresh or frozen)
1 onion, chopped
1/2 camembert
3 cloves of garlic
1 tablespoon of Worcestershire sauce
3/4 of chopped cashew or pine nuts
spices (1 teaspoon each): salt, thyme, sweet paprika
Instructions
Soak wild mushrooms overnight, then chop them finely. Let your filo defrost for the time specified on the box.
Heat up oil on a frying pan and saute onions, mushrooms (fresh & wild) with garlic and spices for about 5 minutes.
Remove the mushrooms and cook your spinach on the same frying pan, then drain it from water and oil excess.
Put the mushrooms, onion and spinach in a bowl and mix together with Worcestershire sauce and nuts. Let it cool down a bit.
Meanwhile, melt your butter and unroll the phyllo sheets, then moist each sheet with butter using a brush and stick it all together.
Place your mushroom & spinach in the filo, then put sliced Camembert on top. Wrap it all together to create a loaf and brush it with some butter (some people want to brush it with egg or egg white to close better, but butter will do just fine).
Bake for 25-30 minutes in a conventional oven 400 F.
Notes
I dislike pepper, so I don't add it, but feel free to add some to taste.
Most Wellington recipes use puff pastry instead. I tested both (see photos) and every single family member told me they prefer the phyllo. It takes a bit more work than puff pastry, because you need to butter every single sheet but it's worth it!
Nutrition Information:
Yield:
4
Serving Size:
1
Amount Per Serving:
Calories:

435
Total Fat:

34g
Saturated Fat:

18g
Trans Fat:

1g
Unsaturated Fat:

13g
Cholesterol:

74mg
Sodium:

540mg
Carbohydrates:

28g
Fiber:

7g
Sugar:

9g
Protein:

9g