Who doesn't love French macarons? They're two almond meringue discs filled with a layer of ganache filling.
If you're visiting France you'll most likely stop at Laduree bakery and realize that macarons are incredibly expensive.
I always thought that the price tag was caused by a trend until I did a macaron making class at Le Cordon Bleu school in Paris.
Let me tell you – the price is absolutely justified because macarons take a long time to make and it's not an easy job.
French macaroons are incredibly sensitive to moisture above everything. As a result one of out three will come out in a perfect shape.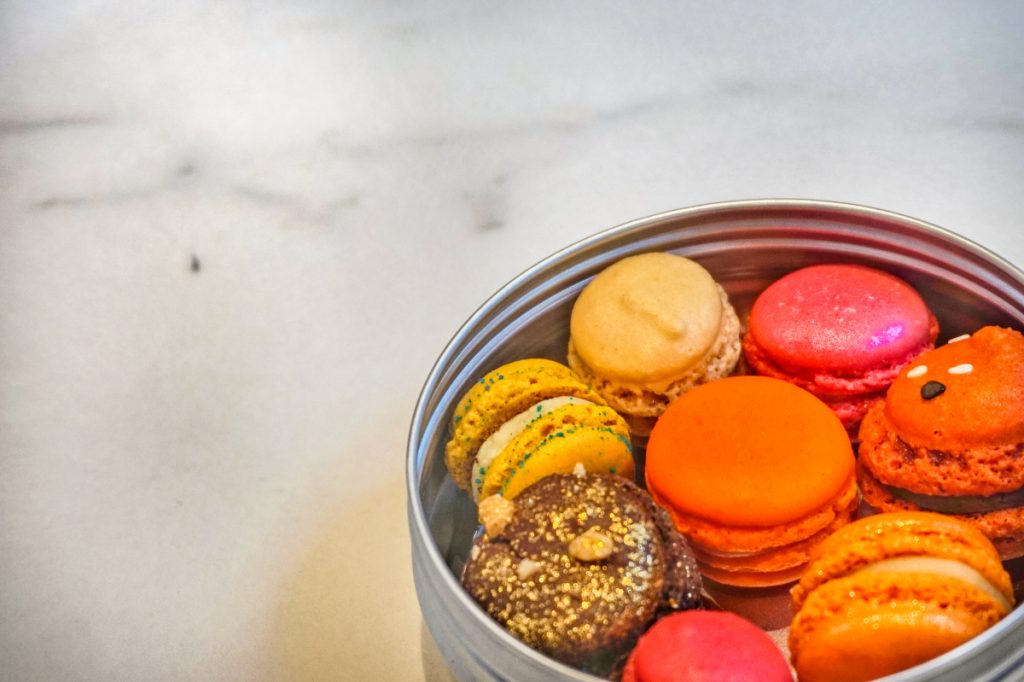 ---
Short History of French Macarons
How did macarons become so trendy? They actually didn't even come from France, but Italy. It's believed (although not confirmed) that there were likely brought to France by the Italian-born Queen Catherine de Medici during the early 16th century.
The word macaron is derived from the Italian word, maccherone, meaning fine dough.
It was a single pressed almost cookie and had nothing to do with the modern version. The cook was similar to the Italian Amaretti biscuit, but softer.
The original macarons in France were baked by a group of nuns in St-Emilion. The nuns were baking and selling cookies to support themselves during the French revolution.
It was only from the 1830s that the "modern" macaron first appeared in France as a sweet accompaniment to its tea service.
---
Macaron Recipe Pointer
Don't worry if your macarons don't come out in an exact shape. It took me about 30 to master the shape.
If you're making macarons, make a LOT. They can last for a while and if it's your first time you'll have more room for error.
Being very accurate with your measuring and procedures is crucial. Use a scale.
The recipe can easily be changed from chocolate to vanilla, pistachio, raspberry, or anything else. Simply use a different food coloring and main ingredient of the filling.
French Macarons - Chocolate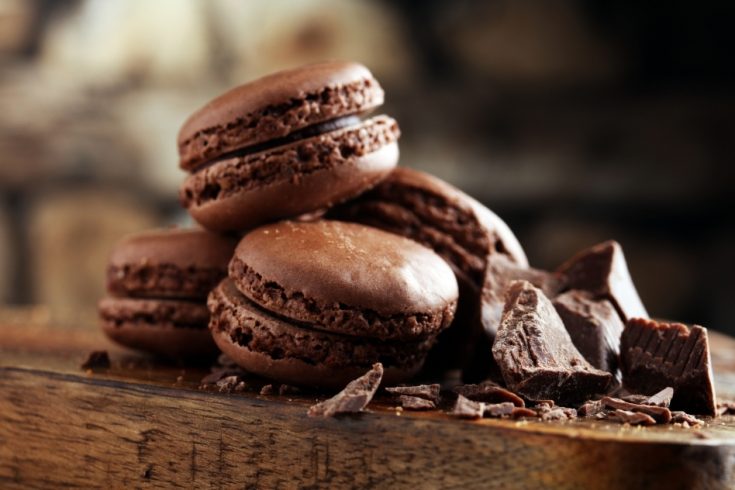 Additional Time
20 minutes
Total Time
1 hour
40 minutes
Ingredients
1 cup ground almonds
3 cups powdered sugar
3/8 cups caster sugar (if you have none, you can use more powdered sugar)
6 oz egg whites
1 tablespoon cocoa powder
red food coloring
CHOCOLATE CREAM:
3 lbs whipping cream
1/2 cup of sugar
2/3 cups dark chocolate couverture, chopped
2 tablespoons softened butter
2 egg yolks
Instructions
1. Preheat oven to 280° F.
2. Whisk the egg whites. Add caster sugar and continue to whisk until stiff peaks form. Then add a few drops of food coloring.
3. Sprinkle in the almond and icing sugar mix and fold in with a spatula. If you think your batter is too dry, add some more liquid egg whites. It should have a soft consistency that smooths on top when mixed.
4. Place the silicone mat or baking paper onto a baking tray. Fill a piping bag fitted with an 8mm nozzle with your mixture and pipe out into even-sized pieces. Gently tap the tray on the counter to smooth out the surface of your macaron shells. Leave to crust for 15-20 minutes or until the shells are not sticky to the touch.
5. Bake at 140 degrees for 12 minutes or until firm enough to peel off the mat, but not golden.
CREAM:
6. Whisk egg yolks with some sugar. Boil cream and the rest of the sugar, and mix together with whisked eggs.
7. Put everything into the chocolate while still warm, so the chocolate melts.
8. Let cool down a bit, then insert into a popping bag and fill the macaron shells with chocolate ganache. Decorate if you wish.