This delicious Turkish dessert made of layers of phyllo pastry covered with honey syrup and garnished with pistachios and walnuts. Crunchy and sweet, the flaky pastry is not that difficult to make at home!
---
That famous phyllo pastry dessert that's loved all over the world? Baklava. Half the world thinks it's Greek. But did you know that the other half believe that baklava was really Turkish?
What is Baklava?
Baklava is a tasty Turkish dessert made by filling layers of flaky phyllo pastry with a mixture of chopped nuts. This stuffed pastry is baked to perfection and covered with a delicious honey syrup.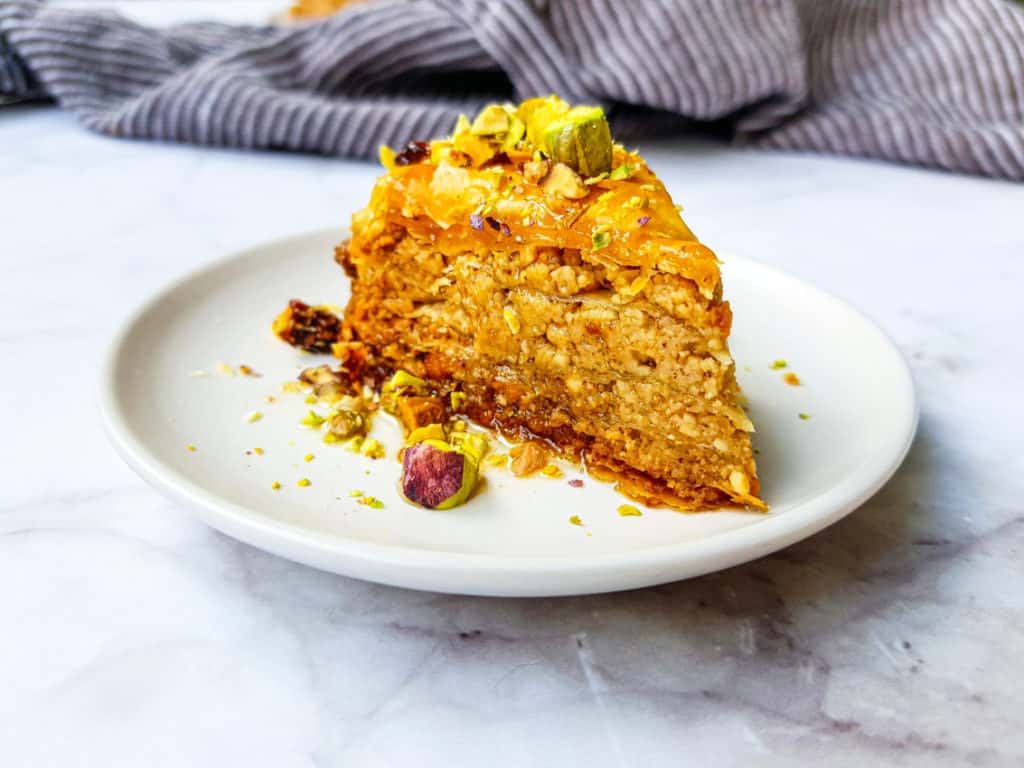 Where Did Baklava Come From?
Baklava originated in the Turkish imperial kitchens in Istanbul in the 15th century. The Sultan would present trays of baklava to his elite infantry called Janissaries. This was done on the 15th of Ramadan in a procession called the Baklava Alayı.
But baklava probably originated many centuries earlier in 800 BC in the Assyrian Empire. At that time, the pastry was made by stretching layers of bread thin and baking them with honey and chopped nuts.
Influences from the spice route soon added rose water, cardamom, and cinnamon to flavor the popular pastry.
But there was also a dessert called lauzinaj in the 13th-century Arabic cuisine that was made of very thin pastry but contained an almond paste. Whether or not it was related to baklava is a matter of debate.
Or did baklava really originate in the ancient Greek kitchens of the 2nd century BC as plakous? This version now has 33 layers of phyllo pastry to represent the years of Jesus Christ life.
Or did baklava originate even before that as the Ancient Roman placenta cake? We'll leave that to the historians to decide.
How is Modern Turkish Baklava Made?
In current times, Turkish baklava uses a filling of walnuts, almonds, or pistachios. Hazelnuts are also used as a filling in the Black Sea region, for the baklava and for its cousin the sutlu nuriye that uses milk instead of sugar syrup.
The clotted cream called kaymak or ice cream are often used to top the baklava before serving.
---
Recipe Pointers For Authentic Baklava
Do not thaw the phyllo pastry for too long before using or it will get sticky.
To make it more decadent, increase the quantity of walnuts and pistachios.
It's essential that you cut the baklava into pieces before baking because if you try to do it after baking, it'll simply crumble.
You can use only walnuts or pistachios if you prefer.
You can also use almonds in the filling.
Add some lemon juice to the honey-sugar syrup for more flavor.
There'll be a sizzling sound when you pour the sugar syrup on the baklava. Don't worry about it.
If you plan on serving baklava for a dinner or party, it's always best to prepare it a day or two beforehand. This allows the baklava to completely soak up the honey syrup.
---
FAQs about Authentic Baklava
Which Turkish city is famous for baklava?
Baklava from most Turkish cities is pretty amazing; but the pistachio baklava from Gaziantep or Antep that was created by chef Çelebi Güllü in 1871 is the best. This Gaziantep baklava is so famous that it received a protected status from the European Commission.
Which other countries consider baklava a part of their culture?
Baklava is a big part of the culture in Central Asian, Caucasus, Balkan, Iranian, and Arabic cuisine.
What are the different types of Baklava?
There are many different types of Turkish Baklava. Some of the popular ones include durum, visneli, ceviz dolma, kestaneli, basma, or ozel kare.
Can I make baklava without nuts?
Yes, you can use a cherry or coconut filling instead of nuts. When Turkish baklava is made without nuts, it's called visneli and uses a sour cherry filling.
What is durum baklava?
Durum baklava is a type of baklava made by rolling a single layer of phyllo pastry around a big amount of pistachio nut mixture. The rolled pastry looks like a green-colored log and is called durum baklava.
Why is my Baklava soggy?
To prevent the baklava from getting soggy, making sure the honey syrup has cooled down a bit before spreading it over the baklava.
How long will the baklava last?
Baklava will last for 2 weeks at room temperature, or for longer if stored in the refrigerator.
Can I freeze the baklava?
Yes, you can. If you want to store leftover baklava for longer, move it to an airtight container and store in the refrigerator. It will keep for months. Reheat in a microwave before serving.
Authentic Baklava Recipe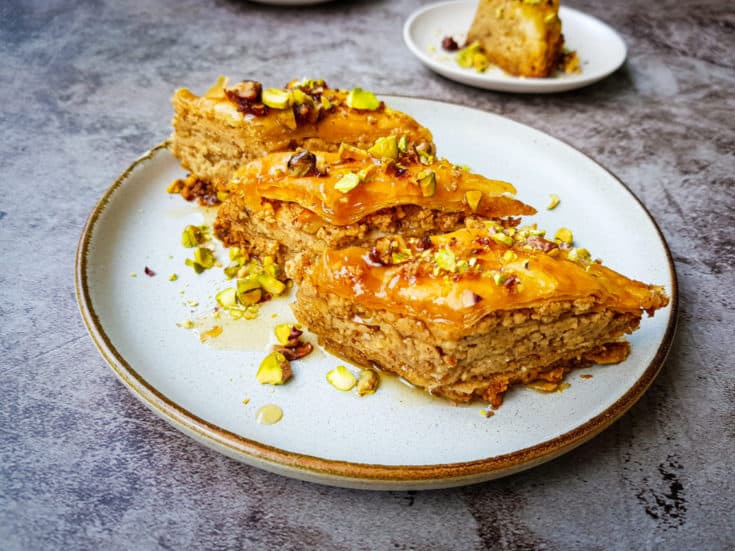 This delicious Turkish dessert made of layers of phyllo pastry covered with honey syrup and garnished with pistachios and walnuts. Crunchy and sweet, the flaky pastry is not that difficult to make at home!
Additional Time
30 minutes
Total Time
1 hour
35 minutes
Ingredients
Baklava
2.5 c walnuts or your choice of nuts, chopped
1 pack frozen phyllo dough, thawed
4 oz unsalted butter, melted
1 tsp ground cinnamon
1 tbsp candied walnuts/pistachio, finely chopped
Honey syrup
1 c water
1 c sugar
1/2 c honey
Instructions
Prepare the Baklava
Preheat oven to 350F. Lightly grease baking pan with butter or vegetable oil (pan size used in this recipe: 8x8 in).

Using a pizza cutter to trim phyllo dough to fit your baking pan.

In a food processor, pulse walnuts or your choice of nuts until finely chopped or coarsely ground (based on your personal preference).
Place 5 sheets of phyllo in the bottom of the baking pan. Brush each sheet with melted butter.
Add 1/2 c of chopped walnuts and spread them evenly on the surface of phyllo.
Keep the remaining phyllo dough cover by its own plastic wrap come with the package or a damp towel to prevent them drying out.
Add another 2 sheets of phyllo followed by 1/2 c of nuts. Remember to brush each phyllo with butter before putting the other one on top.
Repeat the process until all the chopped nuts are used (approximately 5 to 6 layers).
Finish baklava with at least 5 layers (max 10 layers) of phyllo on top. The more phyllo you put on top, the crispier baklava will be.
Use a knife to cut the baklava into diamond or square shapes.
Bake baklava for 40 to 45 minutes or until the top turns golden brown.
For Honey Syrup
While waiting for baklava to bake, in a small saucepan combine water and sugar. Simmer the mixture until sugar dissolved completely.
Add honey, continue simmering the mixture for another 5 minutes. Turn off the heat and let it cool down to room temperature. Set aside for later use.
For garnishing the Baklava
When the baklava is done cooking, take it out from the oven and immediately pour the room-temperature honey syrup on top of the baklava.
There'll be a sizzling sound. Let the baklava sit at room temperature and soak in the honey syrup, for at least 30 minutes.
Garnish baklava with chopped nuts before serving.