This popular vegetarian Middle Eastern dish is fluffy, crispy, and full of the goodness of spices. Deep-fried falafel is easy to make at home as a snack or light meal!
---
What is Falafel?
Falafel is a traditional Middle Eastern dish made of chickpeas, fava beans, and fresh and dried spices and seasonings. The savory and crispy dish started as a popular street food snack in countries like Syria, Israel, Palestine, Jordan, Egypt, and other Arabic countries.
The Egyptian version uses both chickpeas and fava beans, while the Syrian, Israeli or Palestinian version uses only chickpeas.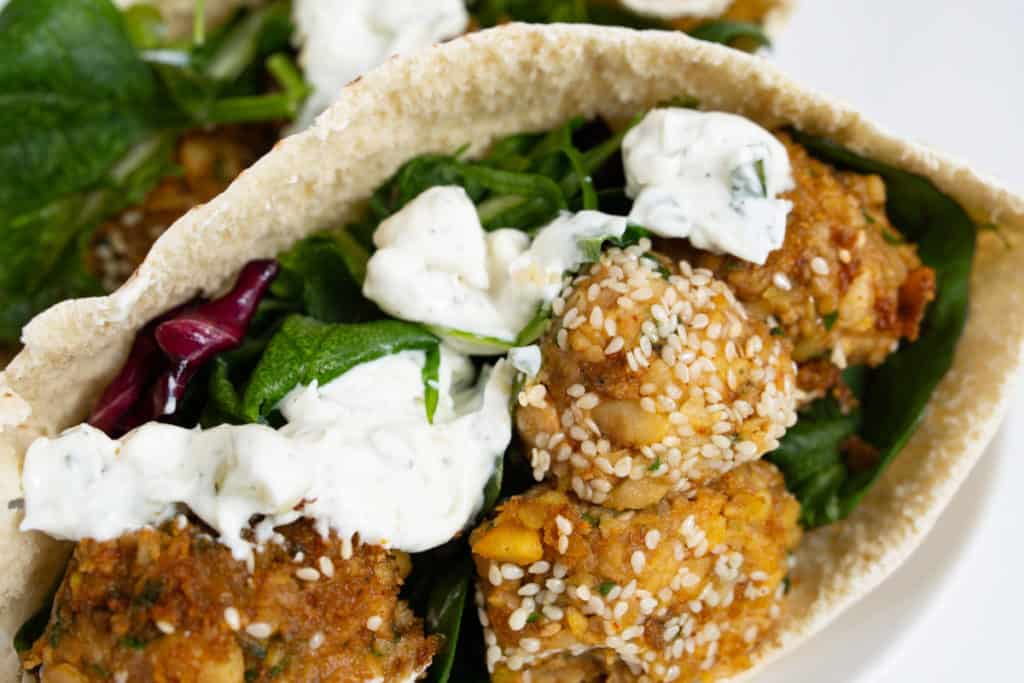 Where Did Falafel Come From?
The answer to who invented this popular dish is a matter of much debate. Considered a national dish by Israelis, Palestinians, and Egyptians, all of these countries have laid claim to its creation.
The strongest evidence for the origin of the falafel comes from Alexandria, Egypt where the Coptic Christians are said to have created the dish as a meat-free dish for Lenten fasting. But it's quite possible the dish originated much-much earlier in the courts of the Pharaohs.
But historians Paul Balta and Farouk Mardam Bey found that falafel didn't show up in Egyptian literature till the 1882 British occupation. So the falafel might just be a modern creation. Shaul Stampfer, another historian found the falafel to be very similar to the 'parippu vada' made by the Indian Jews in Calcutta and Kerala in the late 19th-century.
Anyways, from Alexandria, falafel spread throughout the Levantine region, including Turkey, Yemen, Libya, and Israel.
In Israel, falafel was often made by the Mizrahi Jews. But it became even more popular in the 1950s when the Yemeni Jews started selling them in pita bread.
Falafel is now an international dish that everyone loves. Fried crispy chickpea balls that you can dunk into tahini sauce or add to a tasty pita bread sandwich. What's not to love about it?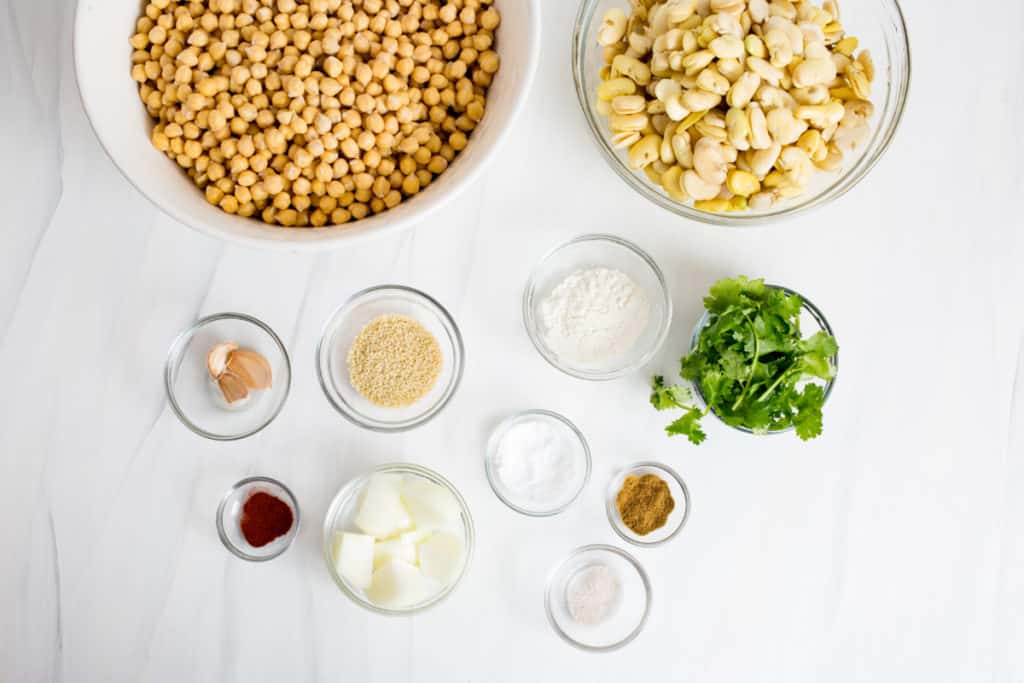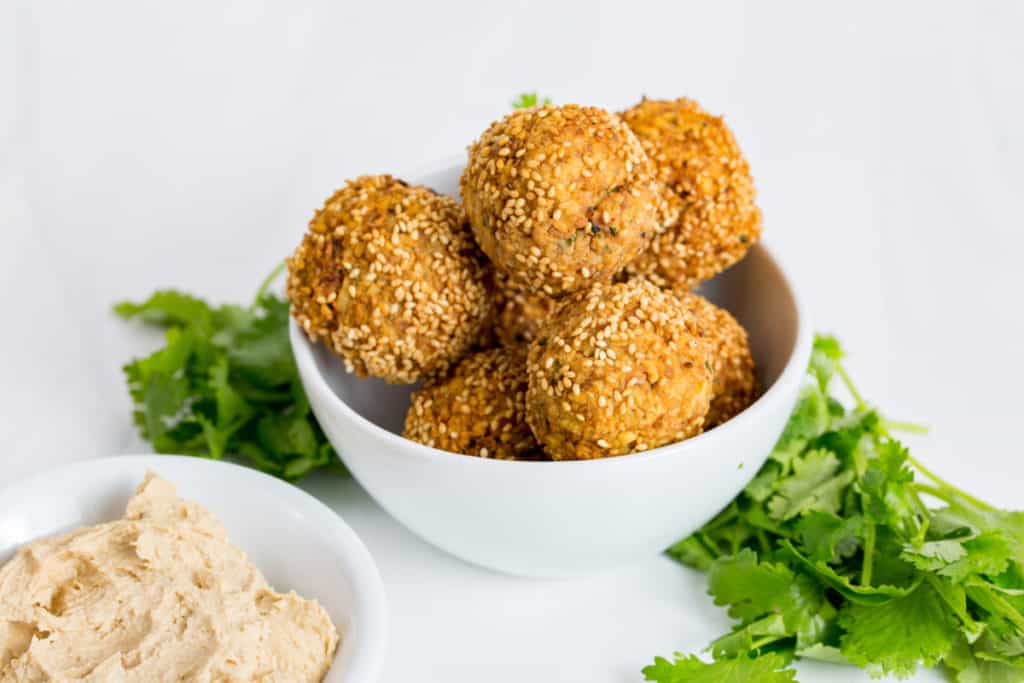 ---
Recipe Pointers For Falafel Recipe
Make sure the chickpeas are soaked overnight or they'll be difficult to grind.
You can use parsley or coriander leaves in place of cilantro.
Add lemon juice to the ingredients in the food processor for a zesty flavor!
Use coconut flour or almond flour to make the recipe gluten-free and vegan.
Serve the falafel with a dip of hummus, tahini, or tzatziki, or other yogurt-based dips.
Or you can have a light meal by stuffing the falafel in a loaf of pita bread or other flatbreads with feta cheese, lettuce, cucumber, tomatoes, onions, parsley, and tahini paste.
If you're cutting carbs, skip the pita bread and serve the falafel with a simple salad!
---
FAQs about Falafel
Can you use canned chickpeas?
No, you shouldn't use canned chickpeas. It just won't taste the same. And the falafel will fall apart as it's pre-cooked and won't stick as well.
Do you need to add fava beans?
Not at all. The authentic Lebanese recipe adds fava beans, but you can make falafel with just chickpeas. Egyptians prefer to use just fava beans, while Syrians, Israelis, and Palestinians only use chickpeas.
Why is there no baking soda in your falafel?
I try to limit the ingredients and make things healthier, so I skip the baking soda. But if you want to fluff-up your falafel, you can add half a spoon of baking soda.
Can I make the falafel mixture ahead of time?
Yes, you can make the falafel mixture 2 to 3 days ahead of time. Refrigerate it till you're ready to form into balls and fry.
Can you bake the falafel instead of frying?
You can, but… you shouldn't. It might seem trendy, but your falafel will simply crumble and dry out. There's a reason nobody in the Middle East bakes it 😉
Can you refrigerate or freeze falafel?
You can store fried falafel in an airtight container the refrigerator for 4 to 5 days. If you freeze falafel, they will last for 2 to 3 months. Reheat before serving.
Falafel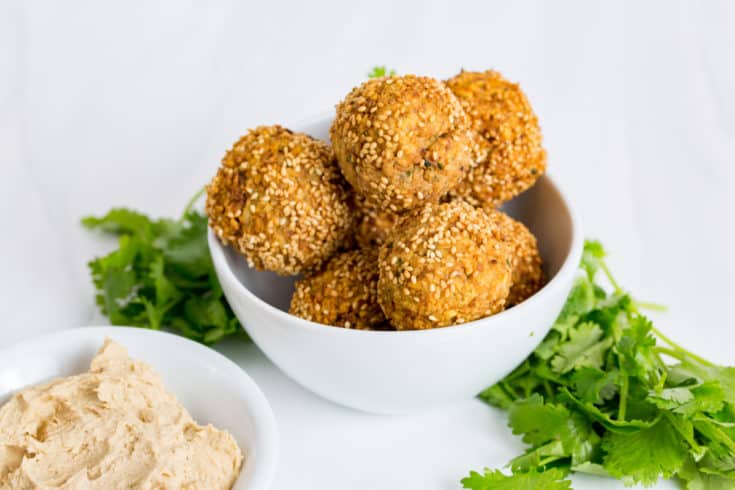 This popular vegetarian Middle Eastern dish is fluffy, crispy, and full of the goodness of spices. Deep-fried falafel is easy to make at home as a snack or light meal!
Ingredients
2lbs Dry Chickpeas
1lbs Dry fava beans (peeled)
1 Onion
3 cloves of Garlic
2 spoons of Flour
1 Fresh cilantro
1 spoon of cumin
1 spoon of chilli
3 spoons of Sesame seeds or zaatar
Salt
Optional
Instructions
Soak the chickpeas overnight. (If using baking soda to soften them add it now). If using fava beans as well, soak them too. (But without baking soda).
In the morning, rinse and put in a food processor until smooth and no large pieces remain. Set aside.
Put garlic, onion, and cilantro in a food processor as well and mince until a paste is created (alternatively, you can press the garlic instead).
Mix everything together with hands in a big bowl.
Form balls (you can use a falafel scooper, but it's not mandatory. An ice cream scooper works just fine, so does a simple spoon).
Dip the balls into either sesame seeds or zaatar.
Fry in hot oil for 3 minutes on each side until brown.
Dry on a paper towel before serving.
Eat with tahini, tzatziki, hummus, in a pita bread.