A steaming mug of frothing bulletproof coffee filled with ghee and MCT oil is the perfect way to start your day!
---
Why is it called Bulletproof Coffee?
What's so special about bulletproof coffee? Who invented it?
This high-fat coffee drink was named Bulletproof coffee by its creator Dave Asprey. He had traveled to Tibet earlier and tasted yak-butter tea drinks before coming back to the US and experimenting with grass-fed buttered drinks.
Asprey created Bulletproof coffee as a part of his bio-hacking Bulletproof diet in 2009. He recommended it as a method of losing weight through ketosis while also increasing one's IQ.
The drink is as popular to followers of the keto diet as hot chocolate bombs are for Tiktok fans.
All you need is a simple blend of black coffee, ghee, and MCT oil.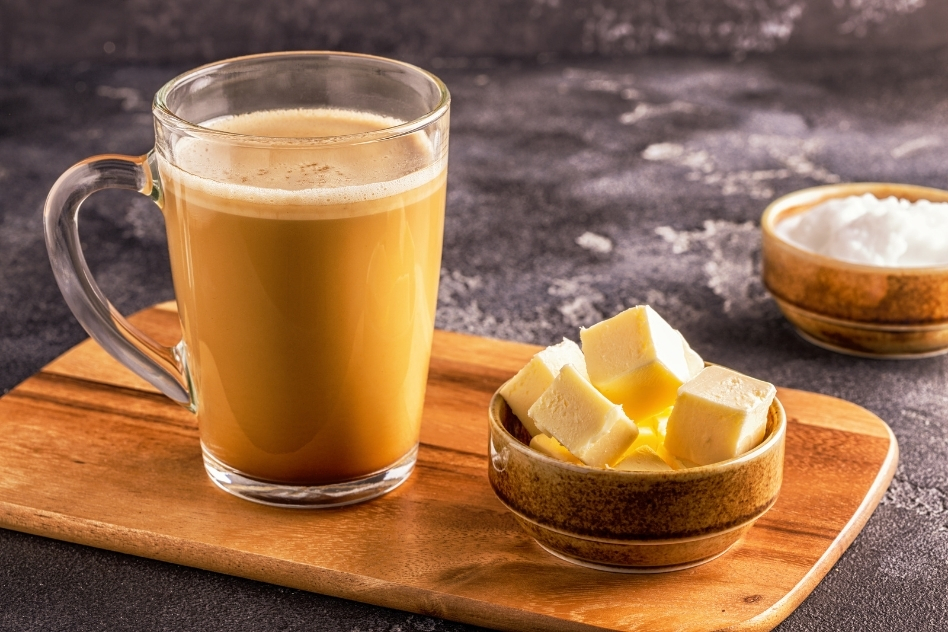 What's the difference between MCT oil and coconut oil?
MCT oil or Medium-chain Triglyceride oil is a manufactured oil.
Since MCTs are only naturally found in palm oil and coconut oil, every type of MCT oil is a mix of coconut oil and palm oil that has been processed to remove the LCTs from them.
LCTs are found in most meat, fish, seeds, or nuts that we eat. So coconut oil, avocado oil, fish oil, olive oil, and most other healthy oils that we consume naturally contain LCTs.
Since coconut oil contains both MCT oil (Medium-chain Triglycerides) and LCT oil (Long-chain Triglycerides), it takes time to process and has to go through the digestive process before being absorbed by the body.
MCT oil, on the other hand, goes straight to your liver as it doesn't require any enzymatic reactions or bile juices to act on it before being absorbed into the body. This means the fat from MCT oil is turned into ketones and available for use as energy instantly.
Why is bulletproof coffee popular on the keto diet?
The ingredients in bulletproof coffee help the body to enter a metabolic state called "ketogenesis" while still making you feel full. At this point, your body will burn fat when it does not receive an intake of carbs. So bulletproof coffee is a popular breakfast drink for weight loss on the keto diet.
Disclaimer: Although MCT oil is also believed to promote weight loss, scientific studies have not proven anything conclusively yet.
Other benefits of having bulletproof coffee are increased metabolism, more strength, and better gut health.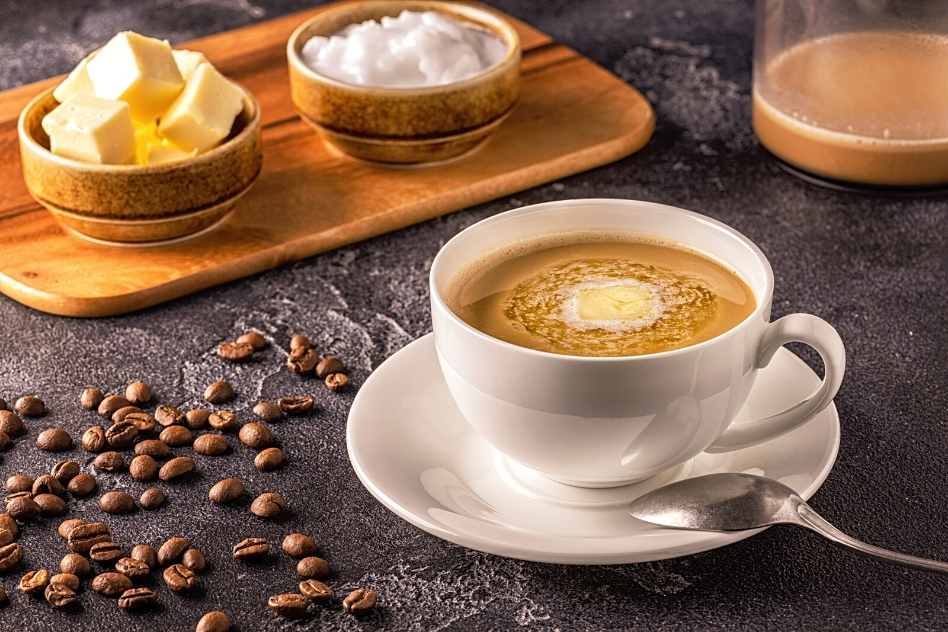 Recipe Pointers For Bulletproof Coffee
Use this vanilla-flavored MCT oil.
If you cannot find MCT oil in your region, coconut oil is the best natural alternative.
If you cannot find ghee, use grass-fed butter.
Use stevia or honey as a sweetener!
The calorie count is quite high. Don't go back for seconds!
FAQs about Bulletproof Coffee
Why is coconut oil used as a substitute for MCT oil?
With 54% of the fat from the coconut's kernel containing MCTs, coconut oil is the richest source of naturally occurring MCTs. So if you don't want to use commercially produced oils, coconut oil is the perfect natural substitute for MCT oil.
What's the difference between bulletproof coffee and butter coffee?
Both bulletproof coffee and butter coffee work on the same principles of ketosis and are based on old Egyptian and Tibetan recipes. They both provide longer-lasting energy through slower absorption of the coffee and fat into the system.
While bulletproof coffee requires the use of a special bulletproof coffee, MCT oil, or bulletproof grass-fed butter, butter coffee is a home version of bulletproof coffee that doesn't require any special ingredients.
Can I use the same recipe for bulletproof tea?
Yes, to make bulletproof tea, just replace the black coffee in this recipe with green tea.
Yield: 1 portion
Bulletproof Coffee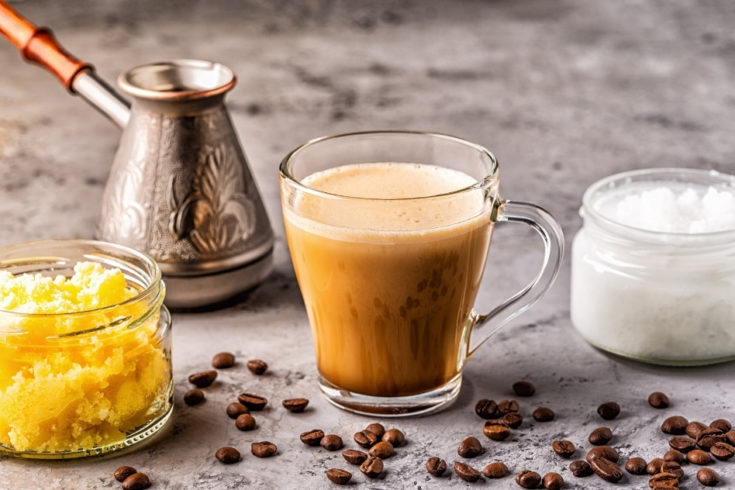 Ingredients
1 cup (8oz) of black coffee
1 tablespoon of ghee (unsalted butter)
1 tablespoon of MCT oil
Optional: sweetener to taste eg. Stevia or Honey and 1/2 tablespoon of cinnamon on top
Instructions
Brew your coffee.
Put the coffee, along with all other ingredients into the blender and blend until smooth. If you don't have a blender use a milk frother.
Pour in a cup and enjoy!
Notes
You can use vanilla MCT oil for a better taste. I recommend this one.
Nutrition Information:
Yield:
1
Serving Size:
1
Amount Per Serving:
Calories:

303
Total Fat:

26g
Saturated Fat:

19g
Trans Fat:

0g
Unsaturated Fat:

5g
Cholesterol:

33mg
Sodium:

6mg
Carbohydrates:

22g
Fiber:

0g
Sugar:

18g
Protein:

0g