A classic Italian dessert, panna cotta is rich, creamy and the perfect dish when you need something impressive that's easy and quick! Serve topped with a raspberry sauce to make it more heavenly!
What is panna cotta?
Literally translating to "cooked cream" panna cotta is a traditional Italian dessert made of cream that is sweetened and thickened with gelatin.
Although it was traditionally only made using cream, milk is often added to current recipes to make it lighter.
The resulting rich dessert is silky smooth and the perfect sweet dish that you can top with chocolate sauce, fresh berries, or a rich fruit sauce.
Where did panna cotta originate?
While it's origins aren't entirely known, panna cotta is claimed to have originated in the Region of Piedmont in Italy, and has been listed as one of its traditional foods since 2001.
The custard-like preparation is said to have been made of a mixture of cream, milk, sugar, vanilla, gelatin, rum, and marsala that has been left to set in a mold coated with caramel.
Whatever its origins may be, panna cotta is a delight for the eyes and the stomach.
It's also the perfect dessert to fit into individual-sized molds for friends and family when having a dinner party. Just make this panna cotta recipe in advance and refrigerate!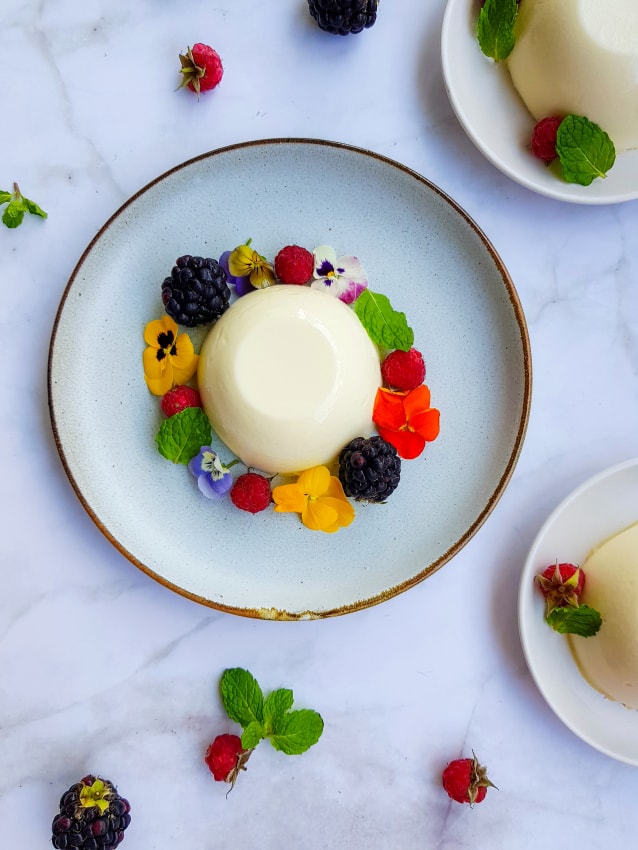 ---
Italian Panna Cotta Recipe Pointers:
Spray your mold with a light, flavorless oil before pouring the panna cotta mixture into it. This will help it unmold faster.

Panna cotta takes 5 to 6 hours to set. So make sure you have enough spare time between preparation and serving of this panna cotta recipe.

If you want your panna cotta to set faster, use a shallow dish.

To remove panna cotta from the mold, dip the mold in a bowl of boiling water for a few seconds. Then tip the mold over on a plate and shake loose.

Panna cotta shouldn't be too firm or too soft. It's perfect when it has just the slightest jiggle.

Serve with fresh berries and a topping of raspberry sauce.

Cover the panna cotta with a plastic wrap or seal and store it in the fridge for up to 3 days.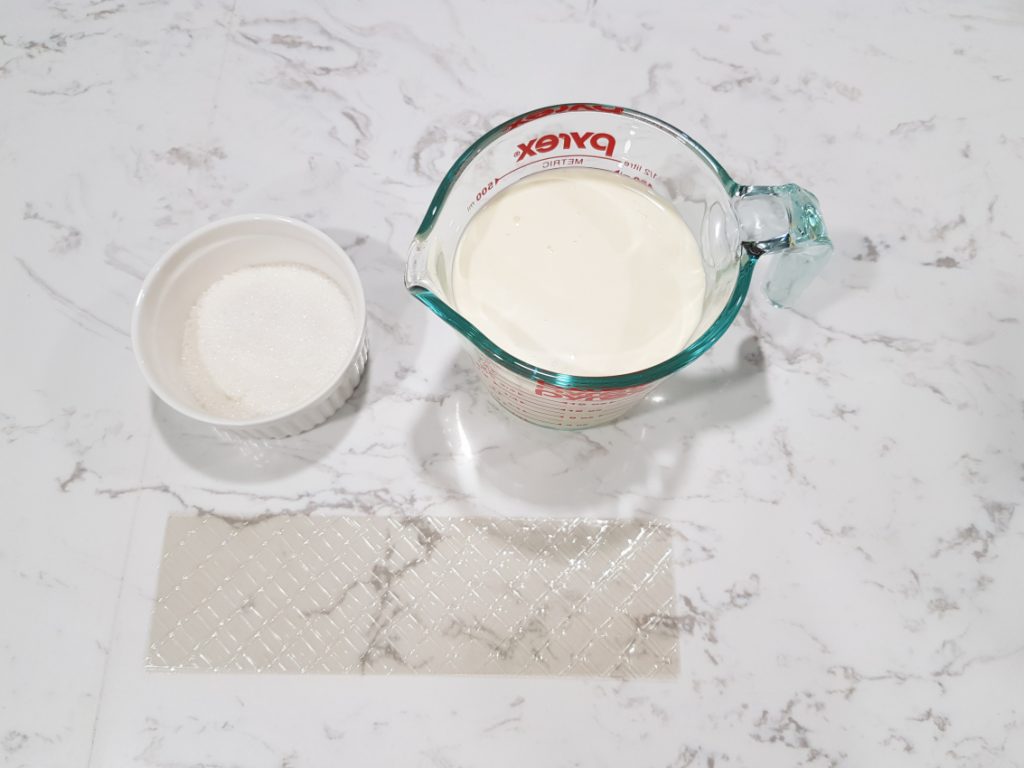 ---
Panna Cotta FAQ
What type of gelatin sheets should I use?
In this recipe, gold ranking gelatin sheets were used (200 bloom), but you can change it up.
If you're using a different ranking of gelatin, just add or subtract 1 sheet for every lower or higher ranking sheet.
Why are my gelatin sheets falling apart after I bloomed them?
In order to incorporate gelatin sheets into any mixture, they must be bloomed or softened in ice-cold water.
If your gelatin sheets falling apart, it means you have over bloomed it or used room temperature water.
Discard the gelatin and start over again if this happens. The gelatin sheets take somewhere between 2 to 5 minutes to become soft, use this as a guideline when you're blooming them.
I don't have gelatin sheets, can I use gelatin powder?
Absolutely. You can substitute every gelatin sheet for 3/4 teaspoon of gelatin powder. In this recipe, 4 gelatin sheets were used – that means you can substitute 3 teaspoons (or 1 tablespoon) gelatin powder.
Do I need to bloom gelatin powder like gelatin sheet?
Yes, you do. Every kind of gelatin needs to be bloomed before incorporating it into the recipe.
The amount of water should be at least double or triple the amount of gelatin powder in order for it to be bloomed successfully.
Why does my panna cotta not set even when I bloom the gelatin correctly?
In order for gelatin to work its magic successfully, you need to dissolve the already-bloomed gelatin in hot, but not boiling liquid.
If gelatin is added to boiling water, it will lose its strength and won't set.
Can I use this recipe to make chocolate panna cotta?
To make chocolate panna cotta take about 100 grams of dark chocolate and melt it over a bowl of hot water or in a double boiler.
Once melted, stir in the chocolate with the rest of the ingredients before adding the gelatin.
I'm vegetarian / vegan. Can I use the seaweed agar-agar instead of gelatin?
Yes. Substitute one teaspoon of gelatin for one teaspoon of agar-agar powder.
If you're using agar-agar flakes, substitute one tablespoon of agar-agar flakes for each teaspoon of gelatin powder.
I'm vegan. Can I still make this panna cotta recipe?
Yes, you can make this panna cotta recipe vegan by substituting the milk with coconut milk or almond milk, and substitute the cream with coconut cream.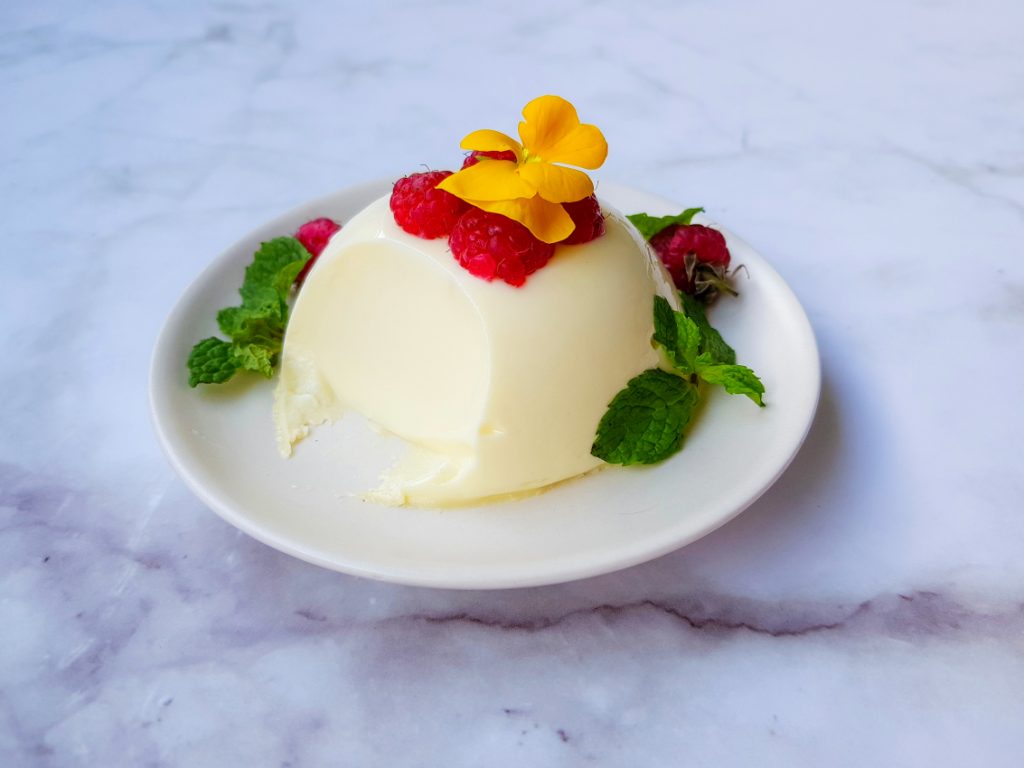 Yield: 4 Servings
Classic Panna Cotta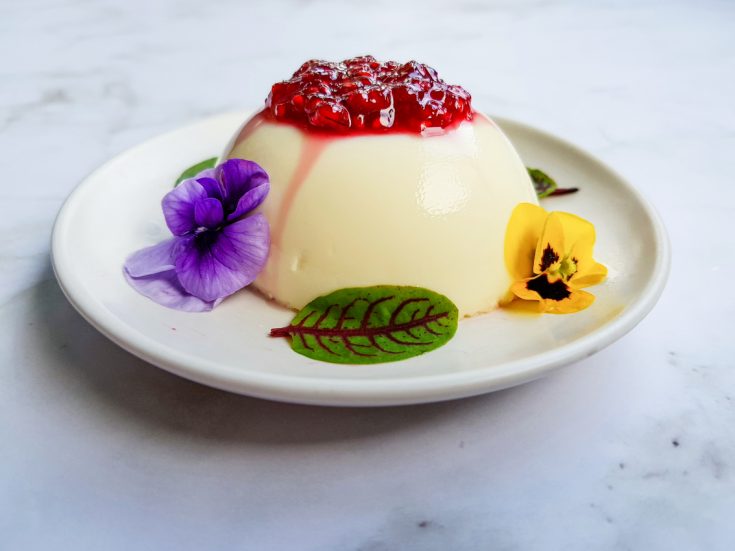 A classic Italian dessert, panna cotta is rich, creamy and the perfect dish when you need something impressive but and quick!
Serve topped with a raspberry sauce to make it more heavenly!
Ingredients
Panna Cotta
1 cup of whole milk
1 cup of heavy cream
1/4 cup of sugar
4 sheets of gelatin
ice water (for gelatin)
Raspberry Sauce
1/2 of raspberries (fresh or frozen)
1/2 cup of water
1/4 cup of sugar
Instructions
Bloom gelatin sheets in ice water.
In a medium saucepan, combine heavy cream, whole milk, and sugar. Bring the mixture to boiling point on medium-high heat. Approximately 3-5 minutes. Stir occasionally. Don't let the mixture boil so hard or it will be separated.
Remove the saucepan from heat.
Gently squeeze the gelatin sheets to remove any excess water. Add bloomed gelatin to the cream mixture.
Mix well using a whisk or a hand-held blender on slow speed.
Strain the mixture through a fine sieve mesh.
Carefully divide the cream mixture into 4 4-oz hemisphere molds.
Place the panna cotta in the refrigerator to set, about 6 hours.
Make the raspberry sauce:
In a small saucepan, combine all ingredients and bring to boil. Lower the heat and let the mixture simmer to reduce more than half (approx. 10 minutes).
Remove from heat and let the raspberry sauce cool down to room temperature. Reserve for later use in an airtight container, under refrigeration.
Serve:
To serve, place panna cotta in the middle of the plate. Scoop a teaspoon of raspberry sauce and place on top of it.
Nutrition Information:
Yield:
4
Serving Size:
4 oz
Amount Per Serving:
Calories:

360
Total Fat:

23g
Saturated Fat:

15g
Trans Fat:

1g
Unsaturated Fat:

7g
Cholesterol:

73mg
Sodium:

60mg
Carbohydrates:

30g
Fiber:

0g
Sugar:

30g
Protein:

10g