A rich roux-based sauce, the creamy Besciamella or Bechamel Sauce goes well with almost every dish, be it meat, fish, veggies, or pies. All you need is 15 minutes on the stove and your silky sauce is ready!
---
Easy to make at home, the creamy bechamel sauce doesn't need many ingredients. Just cook butter, flour, milk, and salt together and it's ready. Season with nutmeg, bay leaves, or pepper and you're in creamy Italian heaven.
What is Bechamel Sauce?
Known as besciamella, bechimella, or balsamella in Italy, the bechamel sauce is a traditional creamy white sauce made with butter and milk, optional seasonings, and a little flour for thickening.
It's one of the 5 French mother sauces that form the basis of every other sauce used while cooking; these 5 main sauces being Bechamel (White sauce), Hollandaise, Espagnole (Brown sauce), Veloute (Clear sauce), and Tomato sauce.
---
Who Invented Bechamel?
That's a good question. The answer depends on which country you love more than the other; – France or Italy.
France says that béchamel sauce was invented by Louis de Bechamel, a financier who was Louis XIVs honorary chief steward in the 17th century.
The Italians would say otherwise. They believe that the besciamella or bechamel sauce was invented by Italian cooks; the personal chefs of the Italian-born Catherine de Medici who became Queen of France.
Who really invented the bechamel sauce? Only travel back in time will tell. But who can prepare the sauce now? Anyone who loves this creamy rich flavored sauce can have it ready in a matter of minutes.
---
Recipe Pointers For Bechamel Sauce Recipe
You can add bay leaves or pepper as spices instead of nutmeg.
You can add finely chopped onion to bechamel for more flavor.
Cheddar cheese is often melted into the bechamel sauce before adding flour, and this is called Cheese Sauce.
To make this sauce gluten-free, replace the flour with gluten-free flour, cornflour, or rice flour.
You can add this bechamel sauce to souffles, pasta, or mac and cheese.
Serve with baked veggies or fried peppery chicken!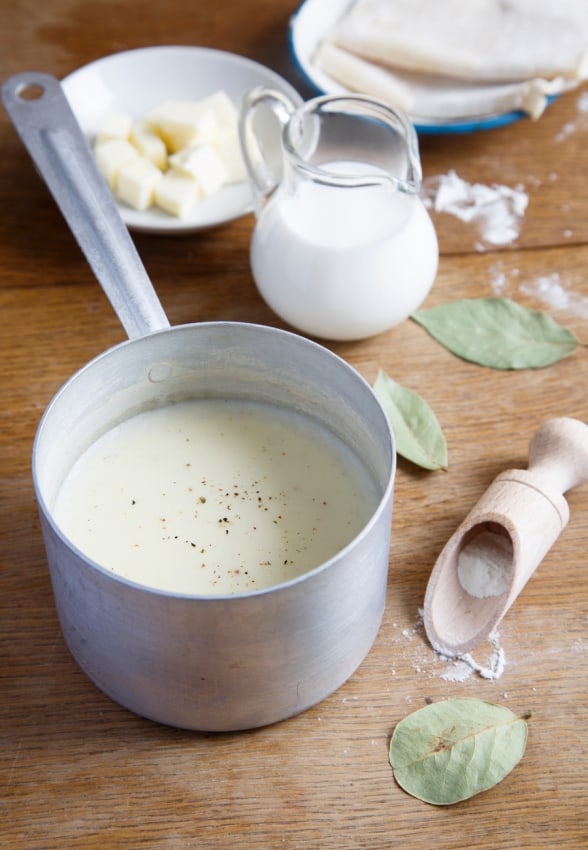 ---
FAQs about Bechamel Sauce
What does bechamel sauce taste like?
Bechamel is silky, buttery and creamy. But it takes on the taste of the spices added to it. For example, pepper, bay leaves, or nutmeg flavors.
What sauces can you make from bechamel?
You can use the bechamel as a base to make many different sauces. The most popular variations include Soubise sauce, Moutard (Mustard) Sauce, Ecossaise Bechamel, Mornay Sauce, Bechamel Cheddar Sauce, Nantua Sauce, and Persil Sauce.
Are bechamel sauce and alfredo sauce the same?
The two sauces are different. Bechamel sauce uses butter, flour, milk and nutmeg or bay leaves as the main ingredients, while alfredo uses cream, parmesan, butter, milk, and garlic.
How do I make the bechamel sauce smooth?
The secret to getting a really smooth bechamel sauce is to have the milk already hot when you add it to the flour and butter mixture. If you have an extra pot to do this, then perfect!
Where can I use the bechamel sauce?
You can add the bechamel sauce to cheese souffles, pasta, lasagna, mac and cheese, or even pizza. It can also be used in the Greek moussaka.
Can I refrigerate the bechamel sauce?
Yes, you can transfer the bechamel sauce to an airtight container and store it in the refrigerator. Use the sauce within 4 to 5 days.
Is it possible to make vegan bechamel sauce?
Yes, you can make the bechamel sauce vegan by replacing milk with almond milk and replacing butter with olive oil or nut butter. It doesn't taste exactly the same, but it's almost there!
Bechamel Sauce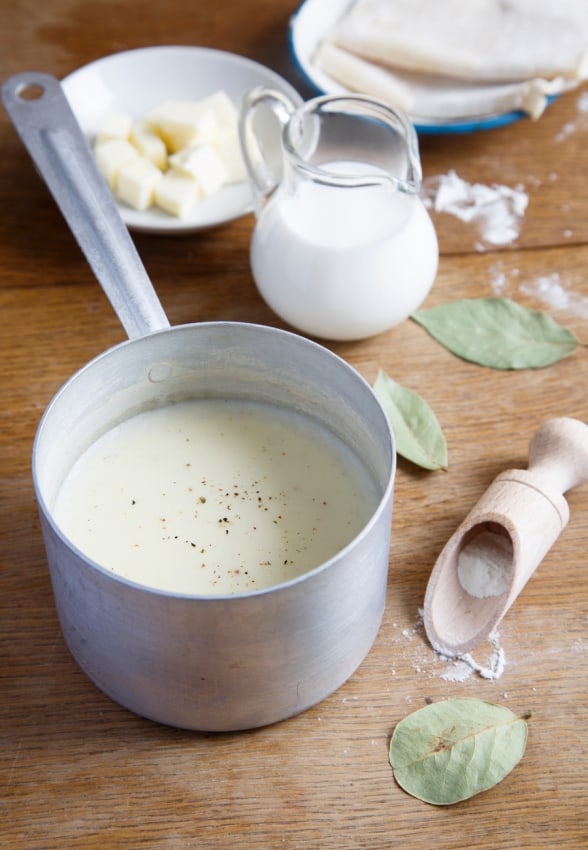 A rich roux-based sauce, the creamy Besciamella or Bechamel Sauce goes well with almost every dish, be it meat, fish, veggies, or pies. All you need is 15 minutes on the stove and your silky sauce is ready!
Ingredients
2 cups of milk
4 tablespoons of butter
7 tablespoons of flour
nutmeg
salt
Instructions
Melt the butter in a pot.
Once the butter is bubbling, add the flour stirring constantly so that no lumps are formed.
Pour in milk and keep stirring everything for about 7 minutes until smooth and creamy.
Finally, add a pinch of nutmeg and salt.