Fluffy and light, the Racuchy z Jablkami are sweet Polish apple pancakes that can be made in less than half an hour. Enjoy them for breakfast or as a snack!
Racuchy z Jablkami reminds me of home and family. What are Racuchy z Jablkami? They are sweet, light and fluffy Polish pancakes made with sliced, chopped, or grated apples for that perfect flavor!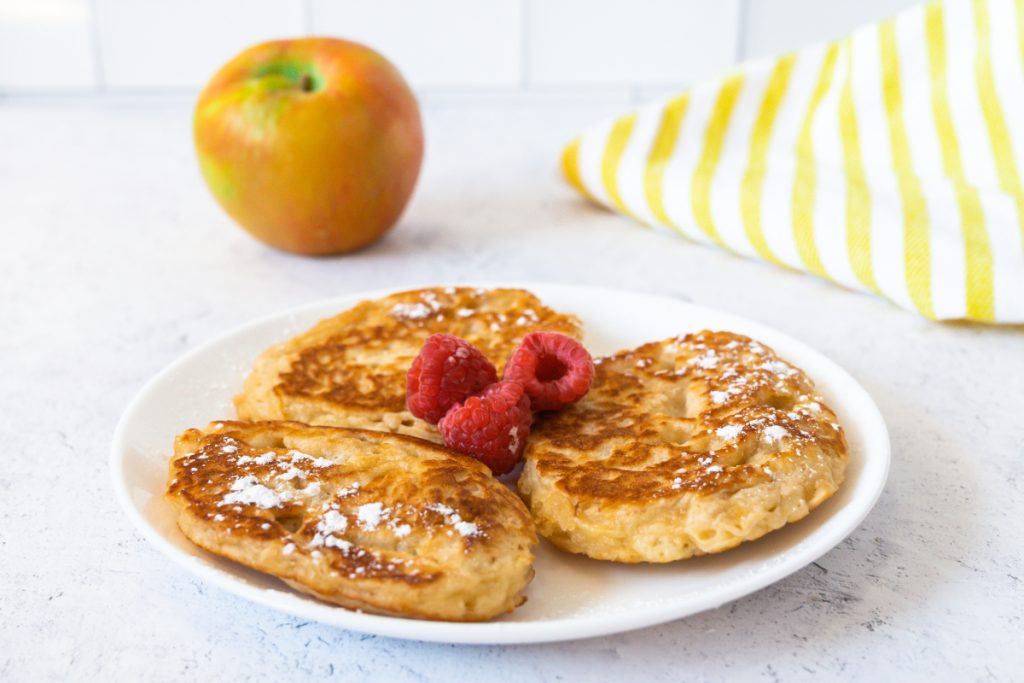 ---
History of Racuchy z Jablkami – Polish Apple Pancakes
Originating in the Silesian region near Częstochowa in Southern Poland, the Racuchy z Jablkami were food often eaten by the common-folk as appetizers on New Year's eve. In some parts of Poland, racuchy were served as part of Christmas dinner along with mushroom soup or fish soups.
The traditional yeast dough version were called Racuchy Drozdzowe or Yeast Pancakes.
They were also nicknamed Dolki or Holes because they were fried in a pan with hollow molds; and are still called by that name in Poland.
The version including apples is called Racuchy z Jablkami which literally means 'pancakes with apples'.
Make this piece of history a part of your morning breakfast routine with this recipe from my grandma!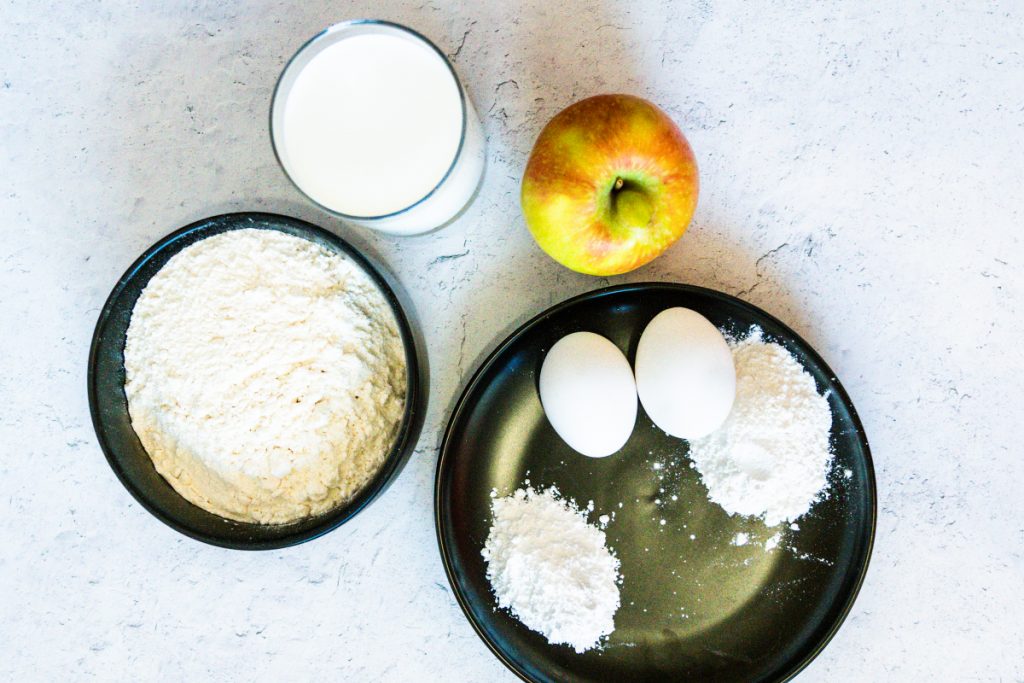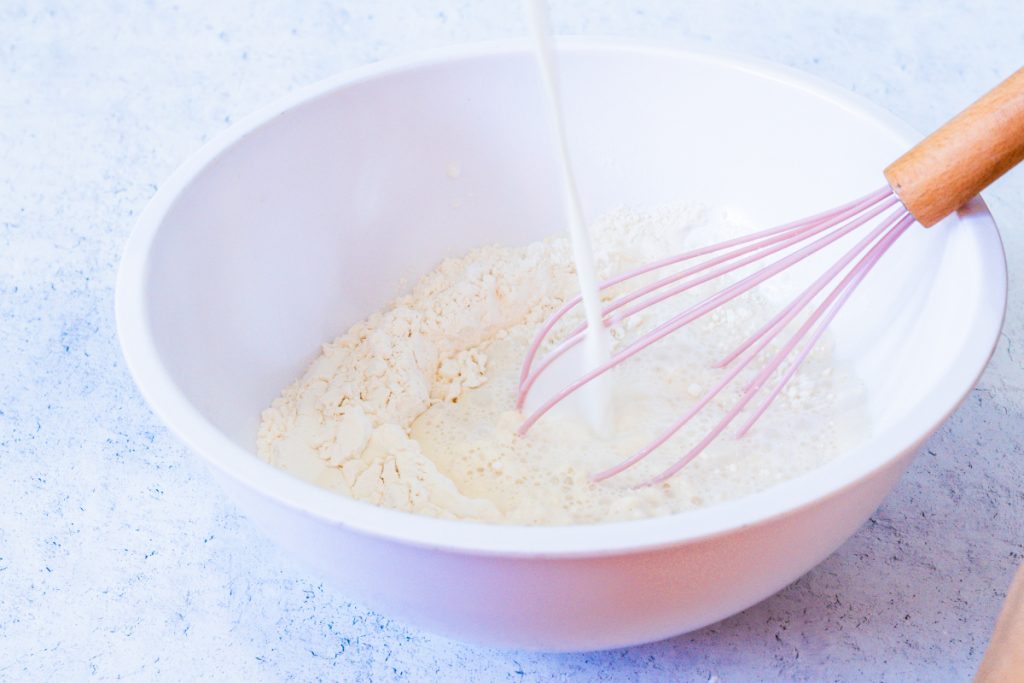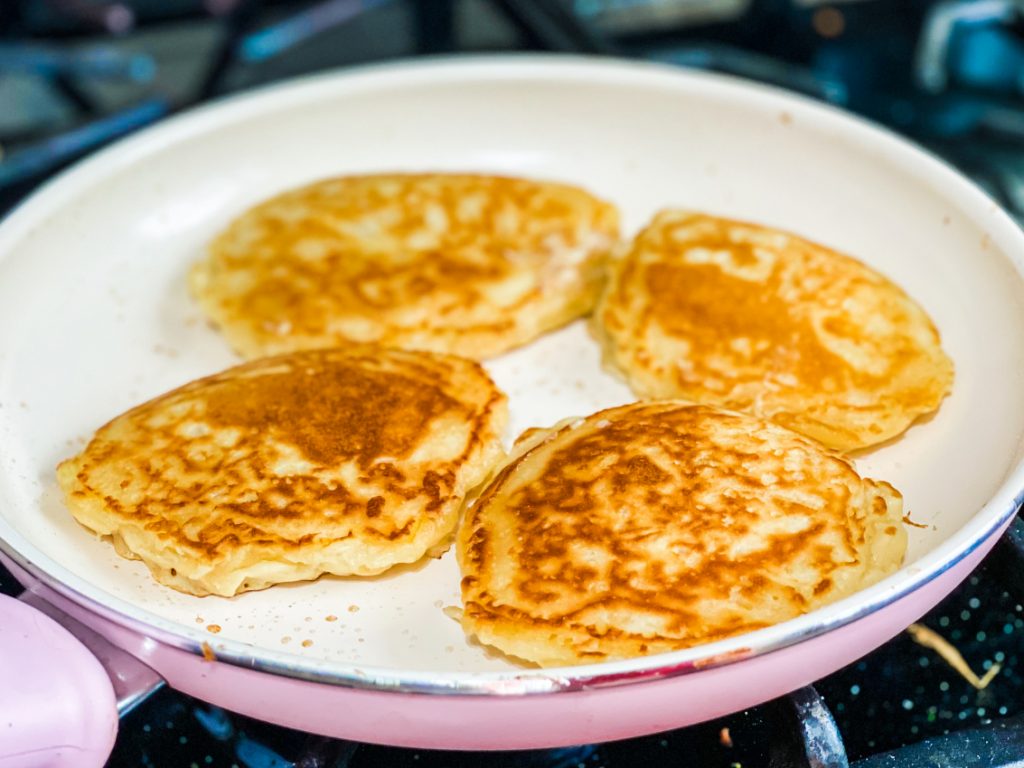 ---
Recipe Pointers For Apple Pancakes Recipe
The optional spoonful of cinnamon powder contrasting with the apple takes the recipe to a whole different level!
Although the traditional version uses yeast, I prefer to use baking powder as it eliminates the waiting time.
If you're in too much of a hurry, you can dice or slice the apples instead of grating them!
Fry the pancakes in coconut oil for a delicious twist of flavor!
The best way to serve Racuchy is dusted with powdered sugar. Why? It's tradition!
If you don't have powdered sugar on hand, use castor sugar.
These pancakes also go perfectly well with jam or chocolate sauce.
For something more traditional, serve with a dollop of butter, fresh cream, or farmer's cheese!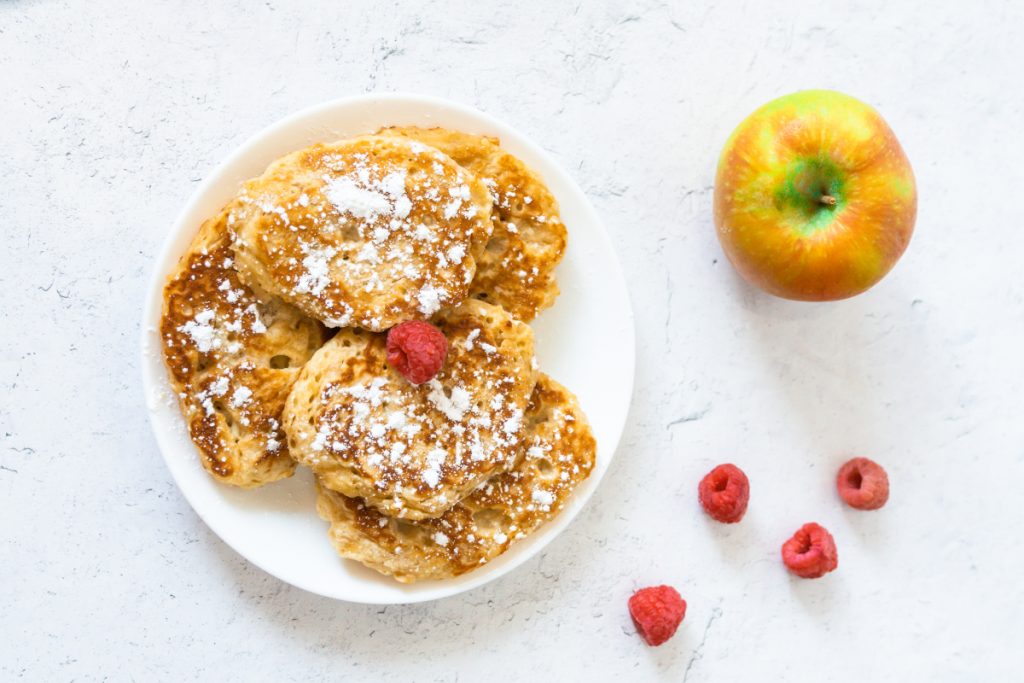 ---
FAQs about Racuchy
What's the difference between dolki and racuchy?
Technically, there is no difference. Dolki and racuchy are both made from the same basic ingredients – flour, eggs, milk, sugar, and perhaps a dash of cinnamon. But dolki or yeast dough pancakes are round in shape and don't include the apples that racuchy z jablkami or apple pancakes do.
How do you say racuchy?
Racuchy is pronounced 'rah-tsu-he'.
Can I make this recipe without apples?
Yes, you can make racuchy without apples. You'd just lovingly call them dolki then, as they do in Poland.
Can I use other fruits in this recipe?
Yes, if you don't like apples, you can use plums or rhubarb, or for savory racuchy use mashed potato as a filling.
Can I store leftover racuchy?
Leftover racuchy can be stored in the refrigerator in an airtight container for a few days.
If storing in the freezer, they will last for a few months. Reheat before serving.
How do I reheat racuchy?
Reheat racuchy back on the frying pan in a microwave for less than a minute. You can also eat them cold.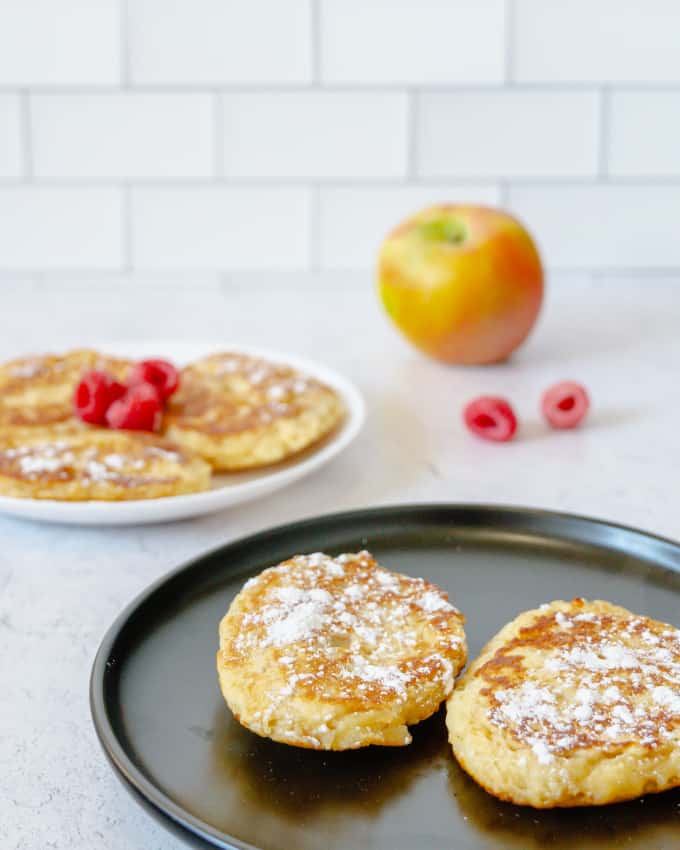 Yield: 20 medium pancakes
Racuchy: Polish Apple Pancakes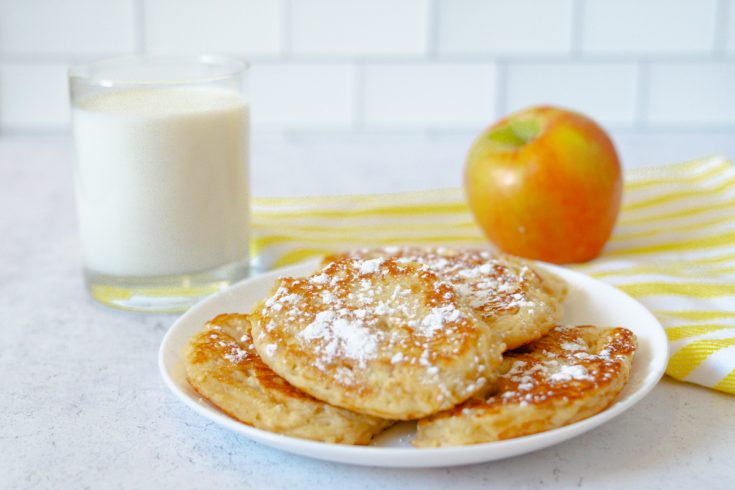 Fluffy and light, the Racuchy z Jablkami are sweet Polish apple pancakes that can be made in less than half an hour. Enjoy them for breakfast or as a snack!
Ingredients
2 eggs
3 apples
1.5 cups of flour
1 cup of milk
2 tablespoons of powdered sugar
1/2 tablespoon of baking powder
oil to fry (about 5 tablespoons)
1 tablespoon of cinnamon (option)
Instructions
Warm the milk slightly, then beat it together with eggs.
Add flour, sugar and baking powder to the mix. Mix together until smooth (mixer is recommended for this step).
Meanwhile, peel and grate apples. Add to the mix and stir with a spoon.
Heat up the oil on a frying pan and using a spoon or medium-size spatula put pancakes on the frying pan (about 4 per frying pan).
Fry for 2-3 minutes until brown, then flip.
Serve with powdered sugar on top.
Notes
If you want a fun twist on your recipe, fry the pancakes in coconut oil.
Nutrition Information:
Yield:
4
Serving Size:
4
Amount Per Serving:
Calories:

451
Total Fat:

12g
Saturated Fat:

3g
Trans Fat:

0g
Unsaturated Fat:

9g
Cholesterol:

98mg
Sodium:

314mg
Carbohydrates:

76g
Fiber:

7g
Sugar:

18g
Protein:

12g